Hard Surface Green Options
Home

>

Hard Surface Green Options
When it comes to your hard surface flooring options, environmentally friendly does not have to mean a sacrifice in style.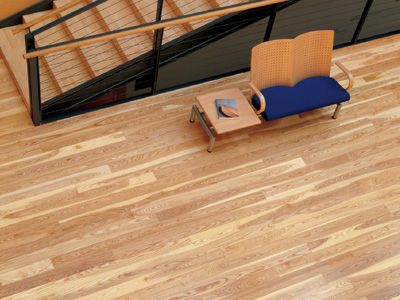 Bamboo
A Truly Renewable Resource. Bamboo, a member of the grass family, is one of the world's most environmentally friendly building products. Every April, new bamboo shoots grow out of the extensive bamboo root systems found on many mountains in Southeast China. Hundreds of different species of bamboo are found in many countries through out the world; however, China is the major producer of bamboo construction products and its history of bamboo utilization covers thousands of years. Initially, there were relatively few manufacturers and production was of questionable quality. After it became apparent that bamboo flooring would be a viable product in the world market, better-qualified entrepreneurs entered the industry. Our manufacturers are among the most successful of these new investors. Maturation to the point of harvesting requires at least four years. The cut bamboo is processed into flooring that can be compared in hardness to domestic hardwood. However, unlike wood, bamboo will continuously develop new growth from its underground root system… truly a renewable resource! During the manufacturing process, almost 100 % of the bamboo is utilized. The material that is too small or weak for flooring production is used for many diverse products such as furniture, paper, chopsticks and toothpicks.
Cork
Cork is environmentally correct as well as improving health and comfort for human indoor living. In our homes, cork floors create a warm, comfortable, resilient surface that is gentle underfoot, and is anti-microbial. Cork is highly durable, comfortable, sound, and thermally insulating. Cork flooring is available in dozens of very rich colors. From harvest to production to installation, cork is environmentally sustainable, non-toxic, and healthy. Cork is a truly sustainable "green-building" material. Trees are grown and the bark is harvested in the centuries old tradition without harming either the trees or their habitat. Bark is initially sent to a factory to create stoppers for wine bottles. Cork flooring is then created from post-industrial by-product of the bottle-stopper industry. This 'waste' material is ground up and then formed into sheets using minimal amounts of adhesive to bind the particles together under high pressure. Cork flooring is a beautiful, healthy alternative for any home.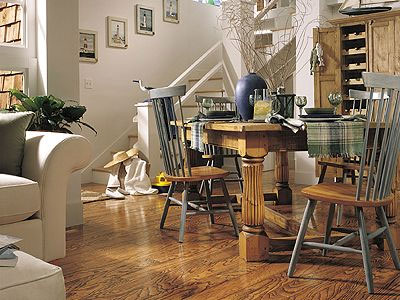 Hardwood Flooring
For every package of flooring that environmentally conscious companies sell, they plant a tree to replace the one they use. Their facilities utilize the latest equipment and technologies, and that translates into minimal waste and air pollution. It also means they produce some of the highest quality flooring in the world. How many top quality flooring products can you think of where your purchase actually contributes to helping the environment? Certainly, there are not many.
Reclaimed Wood
Most reclaimed wood flooring is milled from structural beams and timbers that were used in warehouses and factories in the early 1900's. Some of the flooring has also been salvaged from tongue/groove planks that lived their previous life also as flooring. Woods from sustainably harvested forests are offered as well. The wood is milled into tongue-groove flooring planks and is sold unfinished.
Limestone Composite Tiles
Limestone Composite Tile has a through-pattern construction of color and pattern extending through the thickness of the tile. Exciting colors to create lively floor designs that are durable and economical. Composed of 85% natural limestone (readily available) and contains post-industrial recycled vinyl content
Tile
Choosing tile flooring which is eco-friendly will not only be helping the environment in which you live, it can also be a much healthier option for the whole family. Certainly a lot of the options we provide below are specifically good for people who suffer from allergies, as many of them do not use toxic chemicals unlike more traditional types of flooring do. Eco friendly tile flooring is one that is either made from recycled products or it can be easily replenished.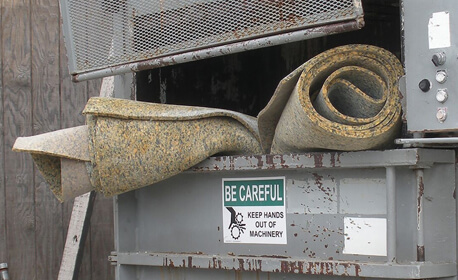 Rubber Tiles
Rubber Tire Tiles are a durable, anti-slip flooring made for the most demanding applications with outstanding sound absorption. Rubber Tire Tiles may be used as a walk-off mat for entryways, lobbies, concourses, and foyers in shopping malls, grocery stores, airports, factories, office buildings, skating rinks, schools, theaters, bowling alleys, ski lodges, and other demanding indoor and outdoor applications. It also can be used in areas subject to cleats and spikes, such as golf pro shops, locker rooms, sports complexes, and athletic equipment rooms. The added traction of the surface makes Rubber Tire Tiles extremely useful for inclined ramps, walkways, stairwells, and airport passenger loading bridges. Rubber Tire Tiles can be installed on flat surfaces or in recessed areas. The tiles can be trimmed or cut easily for borders or other hard-to-fit areas. Inside or out, Rubber Tire Tiles can stand up to the toughest commercial traffic. Its non-skid, ribbed construction is soft enough to be comfortable to walk on, but sturdy enough to withstand the heaviest wear.