Pet owners shopping for new carpet generally have two main priorities: stain resistance and durability. After all, pets pit a lot of wear and tear on your home. From accidents to four-legged traffic, they can really take a toll on your carpet, though many would agree their furry family members are worth it.
The good news is, you no longer have to choose between your pets and your home. Finding a carpet that can stand up to active and messy pets is getting easier every day. Mohawk is committed to creating innovative products that make life better for you and your pets. That's why they offer carpets backed by their All Pet Protection & Warranty. It's the only pet-friendly protection system that covers all pets, all accidents, all the time.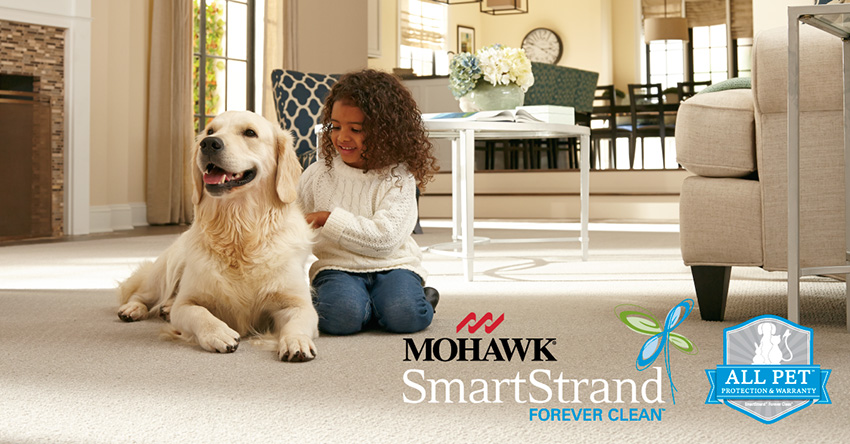 All Accidents. All Pets. All the Time.
SmartStrand Forever Clean carpet has always been one of most durable, easiest to clean carpets on the market – but it just got better. Now, it features All Pet Protection and Warranty, the only pet-friendly carpet protection system that covers all pets, all accidents, all the time.
0% moisture absorption to reduce pet odors in the carpet fiber
Nanoloc™ spill and soil shield for quick and easy cleanup
3X easier to clean dirt, hair, and pet dander.
Lifetime, built-in stain protection
SmartStrand Forever Clean has no dye sites for spills to adhere to, which stops pet accidents from absorbing into the fiber. This added protection from moisture and liquid spills prevents and reduces common pet-related odors. Advanced Nanoloc™ technology completely encapsulates the fiber, so it's also three times easier to remove pet hair, soil and dander.
Many pet owners think of their dogs as family members, as they should! But this means making sure their pet is happy, healthy and comfortable. SmartStrand Forever Clean carpet is the perfect way to keep your pets happy and healthy without sacrificing your home and sanity doing it!