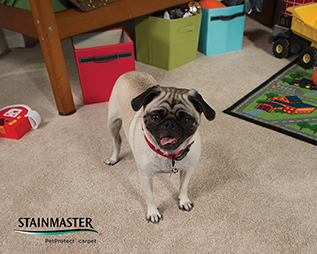 The Coles family has been a longtime supporter of the San Diego Humane Society and SPCA, so it only makes sense that we sell flooring that can withstand the messes that come with being a pet owner.
STAINMASTER® PetProtect™ carpet has built in stain protection to resist even the toughest pet stains and easily releases pet hair during vacuuming. The STAINMASTER® carpet cushion has a breathable barrier that helps keep moisture and spills from soaking into the cushion and subfloor which makes the carpet even easier to thoroughly clean and reduces odors.
Using SuperiaSD™ commercial grade fibers with built-in stain protection PetProtect™ carries the best pet warranty offered by the STAINMASTER® brand. Urine, vomit and feces are all covered under the PetProtect™ warranty, along with limited warranties covering soiling, food and beverage stains, fading, texture loss, abrasive wear and static shock.