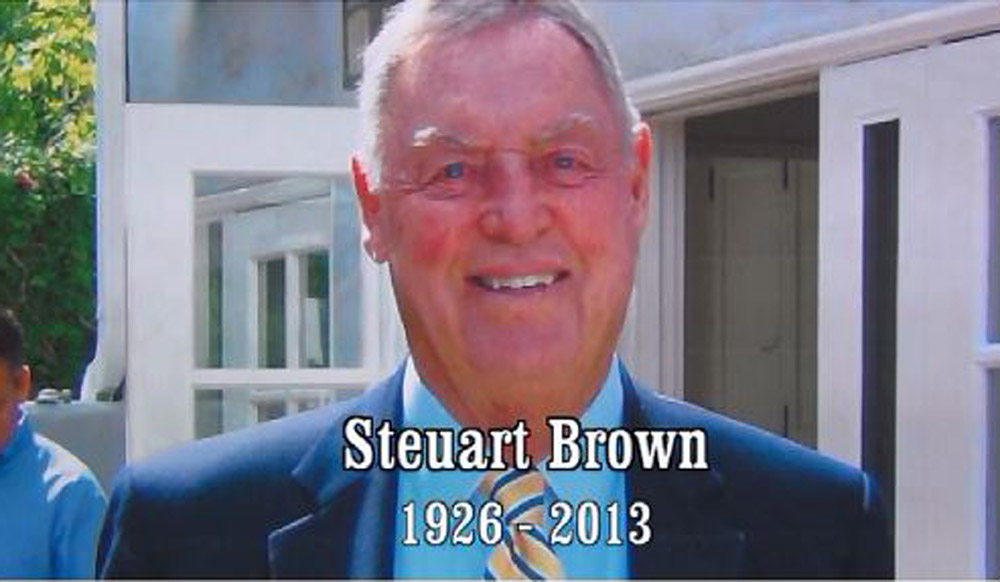 Steuart Brown was a charter member of The La Jolla Golden Triangle Rotary Club, Founded in 1986. Throughout the years, one of his passions was to support the San Diego Police and Fire Departments. He delivered pastries to the officers and firefighters and became known as "The Muffin Man". He also initiated Rotary repair and refurbishing projects at several divisions.
Stu, a veteran and POW during the WWII Battle of the Bulge in Europe, passed away on July 3, 2013.
On Saturday, March 1, 2014, to commemorate Stu's commitment to "Service Above Self", the La Jolla Golden Triangle Rotary Club, together with the Rotaract clubs of The University of San Diego and The University of California, San Diego, conducted a refurbishing project of the 22,000 square-foot Police Department's Family Justice Center in downtown San Diego.
In just over 12 hours, volunteers prepped, primed and painted many of the interior walls within the complex. Over several more days, volunteers and other businesses replaced over 2,500 square feet of carpeting, cleaned the remainder of the carpeting and added 12 pieces of large wall art with inspirational quotes from famous world leaders.
The work was performed for the San Diego Police Department in order to better serve the families traumatized by domestic violence and in anticipation of a worldwide convention of Family Justice Centers held recently in San Diego.
The Value of all donated goods and services was over $50,000, according to Rotarian Kevin Carlson, who spearheaded this volunteer effort.
Former SDPD Asst. Chief of Police, Mr. Boyd Long, and Valley View Casino purchased over 80 gallons of paint, painting implements and prepping materials from Vista Paint. David Atherton and the staff of Dave's Quality Painting, and Charlie Hagan of Vista Paint provided professional paint prep and supervision. Margaret McPherson-Diggs and the Rock Church provided new signage to include 11 pieces of wall art to replace vinyl lettering with quotes from famous individuals, and a replacement sign for the Dress for Success Program, which shares the space and services with the Family Justice Center. Steve Thompson and Patti Kingsbury of Stanley Steemer provided the carpet cleaning and application of carpet soil retardant.
Steve Coles and Liz Hyma of Coles Fine Flooring provided the new flooring materials.
A memorial plaque was hung in the lobby of the Family Justice Center in honor of Mr. Brown's legacy.
The San Diego Family Justice Center is a public safety initiative launched by the City of San Diego to assist victims of family violence. It was the first comprehensive "one-stop shop" in the nation for victims of family violence and their children. Under one roof, more than twenty-five agencies have come together to provide consolidated and coordinated legal, social and health services to women, men, children and families in need.