Tips to make a small bathroom live large!
Bathrooms are the bottleneck in most family morning routines. No matter the day, everyone in your house somehow needs to get into the bathroom at the exact same time. If your bathroom is small in size, this may start your morning off on a chaotic note. Not to worry though, because we have a few tips to make your small bathroom feel the largest and look the best it ever has.
Cabinets
Cabinets are crucial for just about every room in your home, especially the bathroom. There are a myriad of things each family member wants to keep in a bathroom, which can clutter the counter tops and other surfaces. In order to avoid this, installing cabinets under the sink or in the walls will allow for each person to have their own space. The less chaotic the appearance of your bathroom is, the less chaotic your morning routine will feel. Check out our bathroom cabinet options here.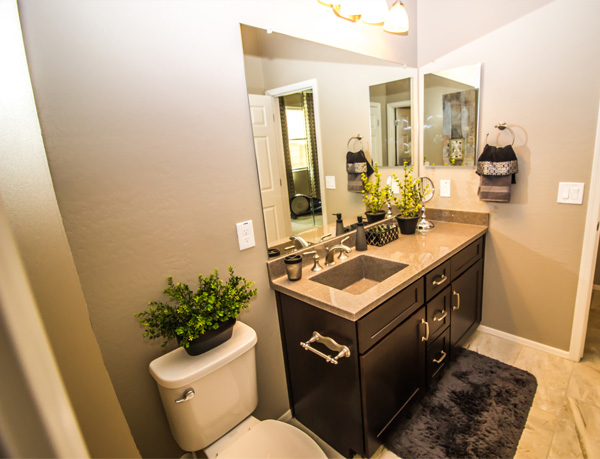 Light Fixtures
Lighting in a bathroom is absolutely crucial. If you've ever tried to get ready with  bad lighting, you know it makes everything take even longer when you can't see correctly. Better lighting will help you speed up everyone's morning routine. Additionally, the light will make the bathroom appear more open. The best place to install light fixtures in a small bathroom is on both sides of the mirror in order to cross illuminate. Check out some of our favorite lighting in our Bath Design Gallery.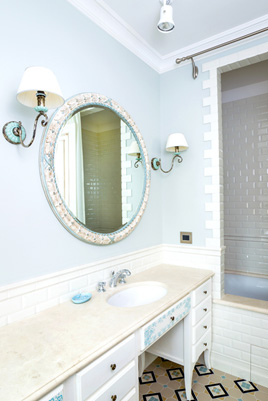 Mirrors
Mirrors are often the focal point of the bathroom space as most people's eyes gravitate towards their own reflection. In a small bathroom, it is important to keep the balance with the mirror and refrain from dedicating an entire wall to it. The balance created by the mirror will also open up the space and allow for more lighting around it. We suggest using a geometrically shaped mirror to accent your bathroom and give it more of a crafted feel.  If your considering a bathroom remodel, visit our website for tips on getting started.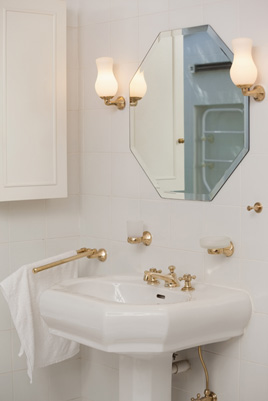 We hope these tips can be utilized in your bathroom and make your mornings run smoother!