Choosing flooring for your home is a big deal. When you have a pet to consider, it becomes even more important. Pets – like people – tend to be hard on flooring surfaces, but there are a few extra things to consider if you have a furry roommate to accommodate. Hair, odors, comfort, water/stain resistance and durability are just some of the things you need to think of when looking at floors for a pet friendly home.While budget and installation will always be factors in deciding on flooring for your home, considering the best flooring options for pets beforehand may save you money in the long run. Cutting corners to save money won't help if the flooring needs to be replaced before its time due to wear and tear from pets.
Hardwood
Although hardwood is one of the most popular flooring types for homes, it is not the best choice for ones with pets. Urine can stain the hardwood and leave behind odors. Even if accidents are cleaned up quickly, the urine could still cause damage, soaking into the wood.
Scratches are also something to consider on hardwood floors. Keeping pets' nails trimmed will help you avoid extraneous scratches on the flooring. A wood floor coated with a high-quality urethane, would help with scratch and stain resistance.
Bamboo is a much harder option and is much more pet-friendly.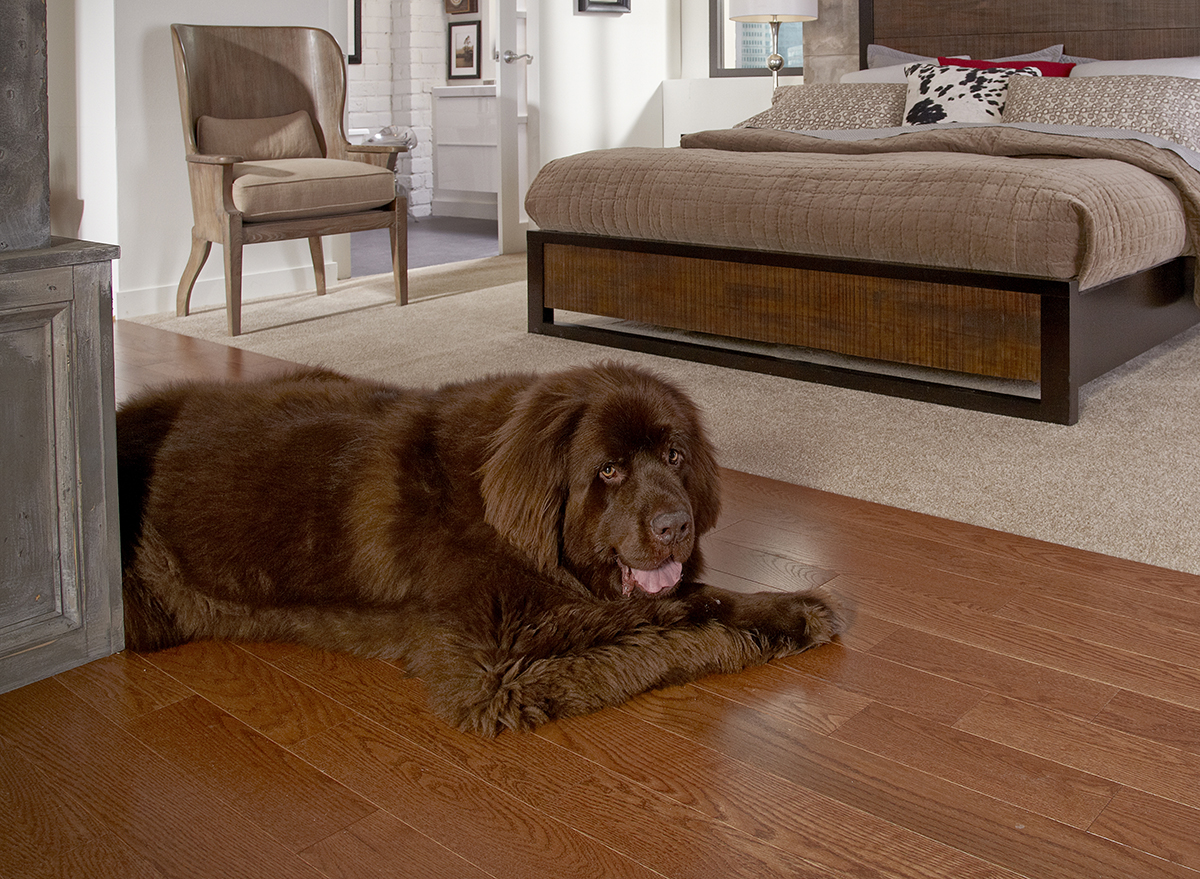 Laminate
Laminate is much harder than traditional hardwood, thus being a popular choice for pet owners. With several different finishes and textures to choose from, laminate doesn't show scratches as easily as some other surfaces. However, a high gloss might be slippery and may be hazardous to dogs running across your floors. Runners or Area Rugs throughout your home can help with slipperiness and will also give them a more comfortable surface to lie on.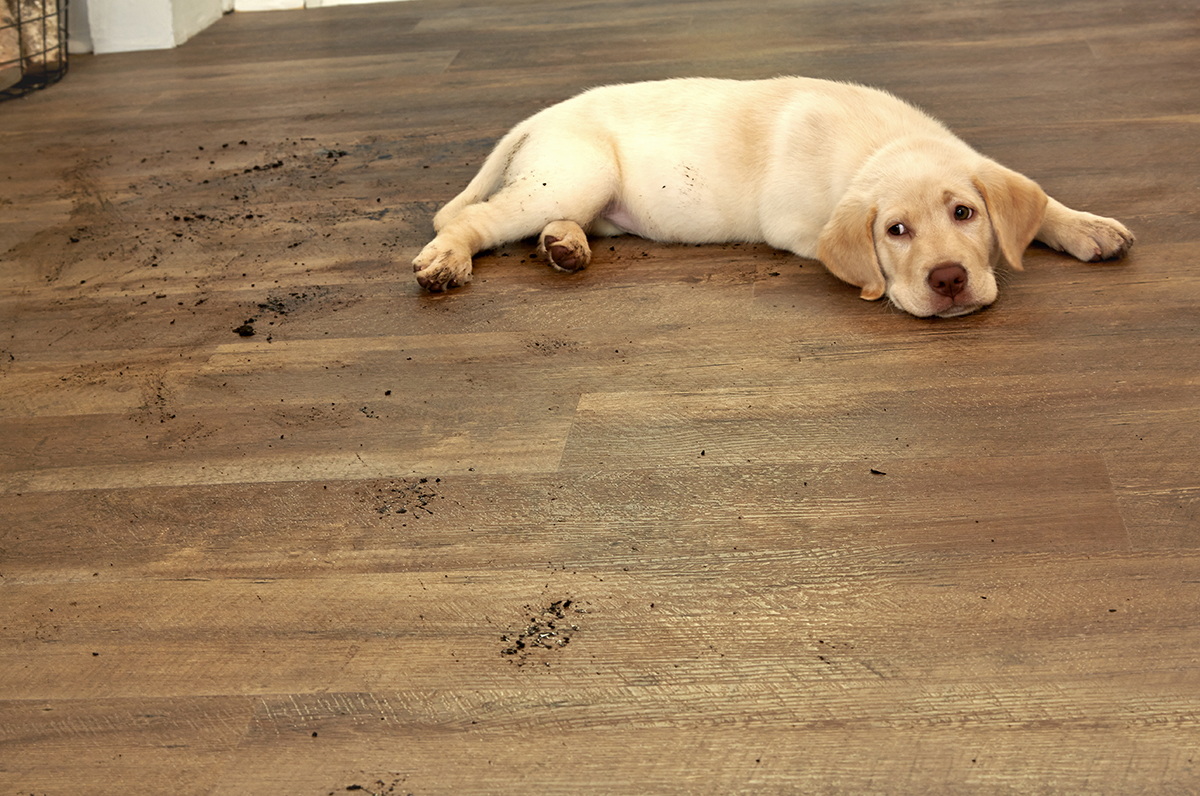 Tile & Stone
Tile (stone, ceramic or porcelain) is a great option for pet owners. It doesn't scratch easily and urine won't damage the condition of the floor as it would with hardwood. The only thing to keep in mind with tile or stone floors is that, unless you they're heated by radiant heat, they tend to be very cold. This problem, of course, can be helped with Area Rugs.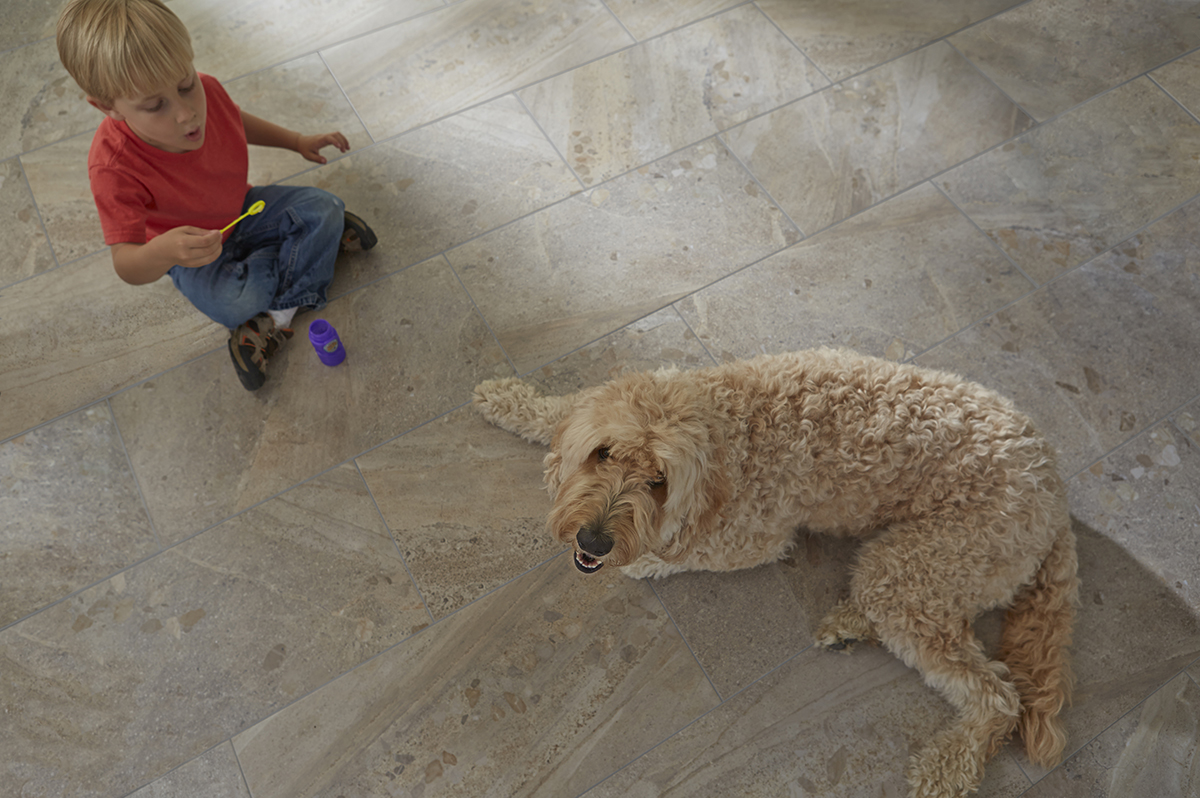 Vinyl
While vinyl flooring may not be the first thing that comes to mind when looking for pet friendly flooring, the new luxury vinyl flooring is an excellent choice for homes with pets and small children. Luxury vinyl is scratch and stain resistant, low in allergens, easy to clean and maintain, quiet to walk on, and even comes in water proof options.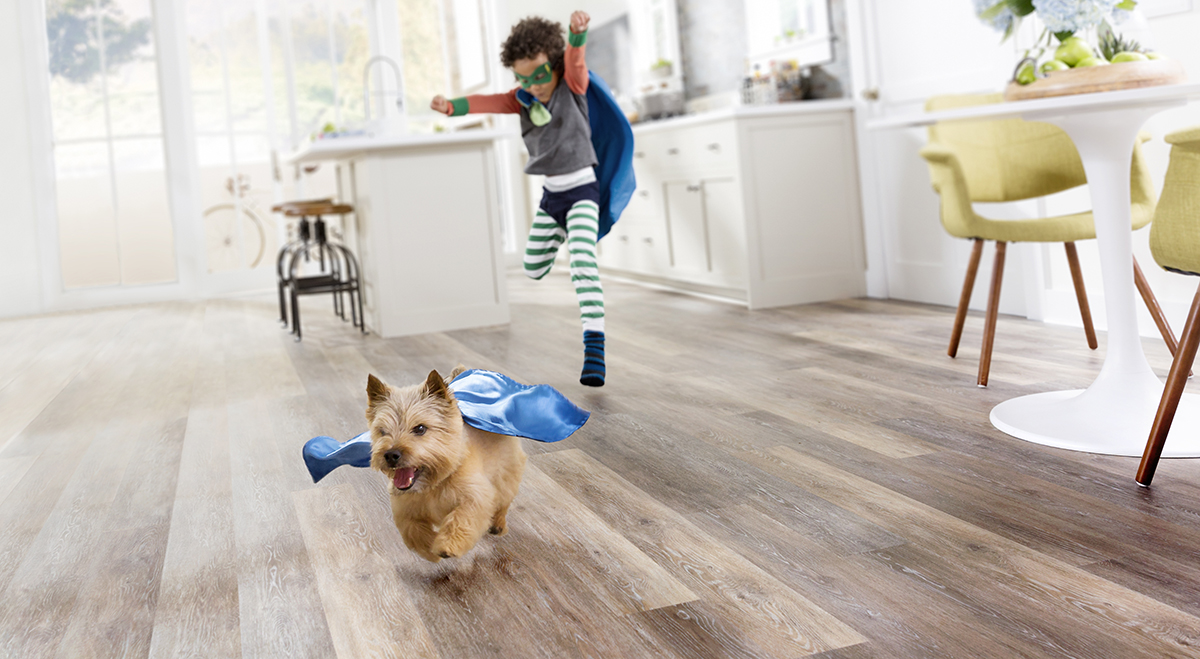 Carpet
When it comes to pets, carpet can easily become the worst flooring choice one can make. Even normal wear and tear in a pet-free home occurs faster on carpet than with other flooring options, but when you add pets to the equation, it inevitable speeds up the wear process. However, carpet is often a more budget friendly option, so luckily manufactures have come up with pet friendly options too.