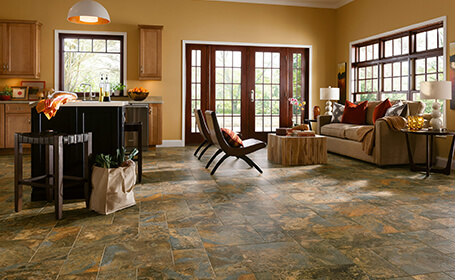 Stone can be a beautiful addition to a home, adding elegance reminiscent of castles or the ancient architecture of Greece or Rome. It's classical as well as classy, improving the intrinsic value of your home as well as the comfortable relaxing atmosphere to unwind and enjoy with the whole family. It's a perfect way to add a custom touch of originality to your home, creating a texture that's as uniquely ornamental as the iconic past. Stone adds a touch of personality that's been shared for centuries, adding a noble touch of comfort and elegance. With so many colors, styles and patterns to choose from, you can choose from classical designs to more contemporary constructions that have all the taste of modern art and sculpture.
Stone Tile in the Kitchen
Considering how many times you drop things, leaving dribbles of spaghetti sauce here, grape juice spills there; putting stone in the kitchen is a natural step. There's no reason to cry over spilled milk when all it takes is a paper towel to clean the damage. Natural stone has the capabilities to handle any stain in the kitchen, plus its classical, sound structure makes it feel like you're cooking a medieval feast.
Making a Monumental Backyard
Stone is a perfect addition to the scenery in a backyard, creating structures that are monolithic in shape and influence. You can add stone to create a scenic backyard waterfall, build seating areas or places for plants to catch their rays. Stone is a perfect way to sculpt walking areas, separate flower beds, and tie the backyard together in a shape of wonder and nostalgic classicalism. You can add birdbaths and sundials for more scope in an outdoor garden.
If you create your own cement blocks, you can get creative and submerge items of interest for decoration. This could include other ornamental stones, statuary or rubber balls for a fun approach to style. Children's toys make a nice addition, as do figurines or plants that leave fossil like impressions.
Fireplaces as good as a classical novel
Nothing creates classical beauty like a hearth made of impressive granite, marble or other solid stone. It's perfect for gathering in front of the fire to tell stories like the days of yesteryear, a romantic evening in front of the glow of a fire, or just cuddling up to a hot cup of chocolate and a good book. Stone fireplaces can take a home back to life's basic meanings with a solid goodness that's been fashionable for centuries.
Stone for Bathrooms
Absorbing dampness yet following the suggestion of classical beauty, stone is perfect for the bathroom setting. It's easy to cover up the surface of most bathrooms, yet suggests a classical feel that's feels good on your feet coming out of the bath. It adds a decorative touch to meet the designs of most bathrooms. There's something solid about stone that's as functional as it is decorative.
Proper Installation a Plus
As equal as choosing which type of stone to use, proper installation is integral to the job looking great. Make sure you hire a professional as it means all the difference. If you are going to make the investment, be sure to do the job right. Stone lasts a long time, so be happy with the job because it may have a longevity that outlasts even you.
Solidness that lasts
When properly cared for, natural stone lasts virtually forever. It's the stuff of castles and Greek monuments, surviving through the years to tell the legacy of the tale. Stone is classic because it is so enduring. Choose what you want wisely and carefully. What you create out of stone will definitely stand the test of time.