There is more than one way to achieve the look and feel that natural hardwood provides and among them Luxury Vinyl Plank (LVP) is a top contender. Flooring can be a big investment, so making an educated decision is important. A good investment should retain its value well, cost a reasonable price for materials, installation, and maintenance, and meet all of your style, budget, and lifestyle needs.
Hardwood floors can be made of various species of solid wood or an engineered form with a hardwood veneer over layers of plywood. Luxury vinyl planks realistically mimics the appearance of real hardwood and comes in easy-click or glue-down styles. LVP consists of several layers, including a protective wear layer, the wood-look design, a vinyl core, and attached backing on some products. Both flooring types come with their own pros and cons, so consider your own personal requirements when choosing the best investment for your home.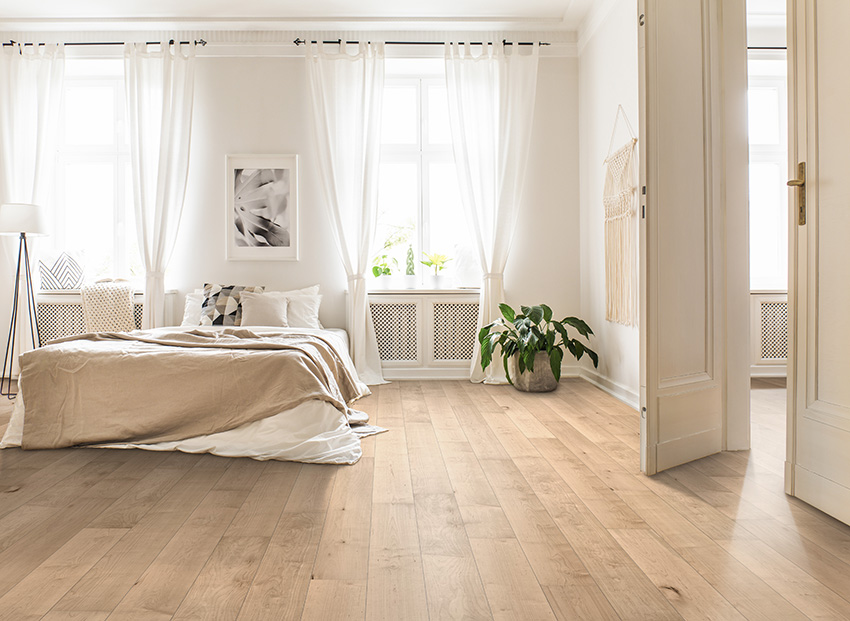 With the right tools, DIYers can save money on installation with either LVP or hardwood. However, floating or click vinyl is easier to install than real wood. Not only can it be installed over wood or concrete subfloors, it can even be installed over your existing floor tile, which will save you time and reduce demolition and removal costs. Easy-click LVP doesn't require a perfectly level floor, just a clean surface, but glue-down LVP requires both.
Hardwood used to be very difficult to install, but more and more modern wood flooring options come in pre-cut pieces with tongue-and-groove planks similar to floating LVP. A level plywood or cement subfloor is still important though, since hardwood bends over time and isn't very forgiving when installed over uneven surfaces.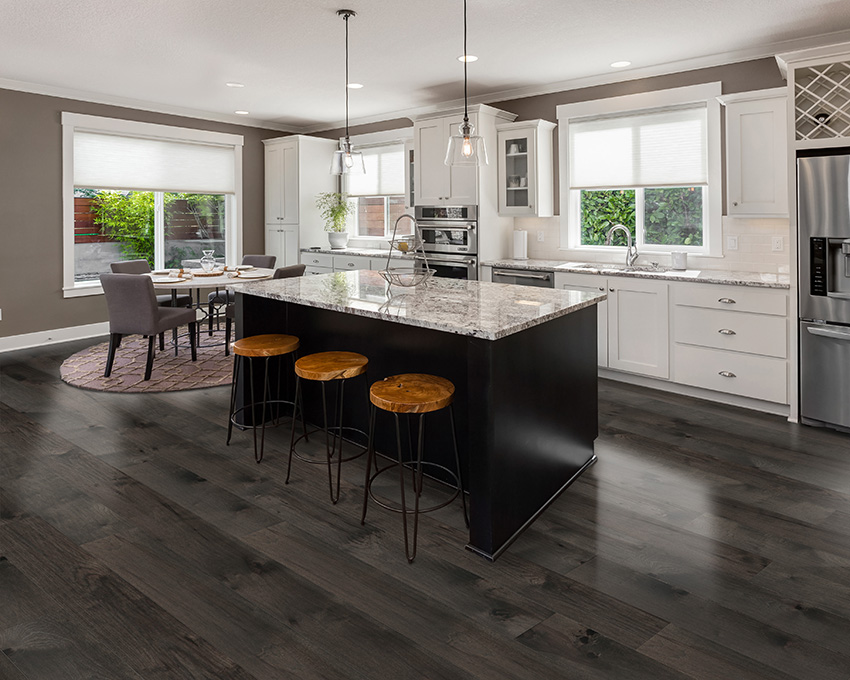 Luxury vinyl tile (LVT) and planks cost a lot less than real wood, with glue-down being the most cost-effective materials over floating LVP. Although market demand influences prices, many exotic wood-look styles cost the same as other plank designs because LVP can be printed to look like virtually any wood species.
Wood varies on price because the harder the hardwood is the more money it costs. And, if hardwood isn't pre-finished, then expect labor costs to increase.
Water damage in homes is more common than you think, and the biggest difference between hardwood and LVP is moisture resistance. Since vinyl flooring is waterproof, it can be installed in any room in the home, including spaces where moisture is a concern like bathrooms, kitchens and laundry rooms.
Hardwood however can be damaged, warped, or even grow mold when exposed to water or moisture because it absorbs liquids easily. While sealing the floors regularly will certainly help, hardwood still shouldn't be installed in areas like kitchens or bathrooms.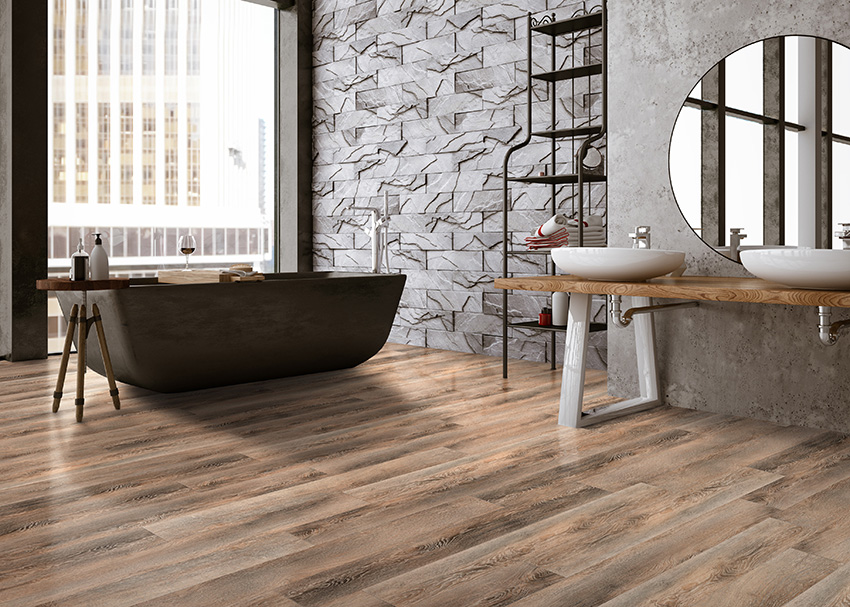 Vinyl flooring care and maintenance can be simple. Regular sweeping and mopping will keep it clean. Vacuuming is also a great way to keep up with excess dirt as long as you ensure that the beaters are turned off to help protect the planks. Adding area rugs to heavy traffic areas can help extend the life of your vinyl since it can't be refinished and can be susceptible to cuts and scratches. However, replacing damaged planks is both fast and inexpensive.
Hardwood floors are infamous for their high-maintenance upkeep. Regular sweeping and dusting help keep floors clean and prevent scratches from dirt and dust particles. If a cleaner is needed, then be sure to check that the product is designed specifically for use in wood since excess moisture can cause damage. Even things like high heels and pet claws can wreak havoc on hardwood floors, so it's important to consider your lifestyle before purchasing. However, hardwood can be refinished if damaged and appear like new. Regardless, refinishing should be done approximately every decade and repaired if needed.

Today's technology allows for luxury vinyl planks to realistically mimic the look and texture of real hardwood floors. From the lower costs to the easy maintenance and the waterproof capabilities, some luxury vinyl plank and luxury vinyl tile benefits simply have real hardwood beat. While LVP makes for a better financial investment, your budget, space, and personal aesthetic also all come into play when making your new flooring decision.