Moving beyond fabric, color and finish changes, in 2019 homes are focusing on functionality, personalization and wellness. Function and fashion are finally merging to change the way we live with cutting edge products from rose gold faucets to smart toilets and customizable bathtubs and refrigerators. Hidden appliances and storage options are cutting down on visual clutter in the kitchen, textures and warm finishes are offsetting the effects of computers and phone screens and home automation is taking the effort out of everything from cooking to grocery shopping.
COLOR
Add energy to your kitchen, or set a mood in your bathroom with color. Choosing a color palette can be a frustrating process when there are so many shades to choose from, but the good news is that some colors just work better in certain rooms.
When it comes to kitchens, white, gray, blue, red, yellow, and green really shine. Each of these colors have the ability to do something different for the room, but they all help create a warm and welcoming space.
Warmer colors such as red and yellow have been proven to stimulate the appetite which is always welcome in the kitchen! Yellow is very versatile and there are multiple shades that could really pop in a kitchen or bathroom, whether on the cabinets or the walls.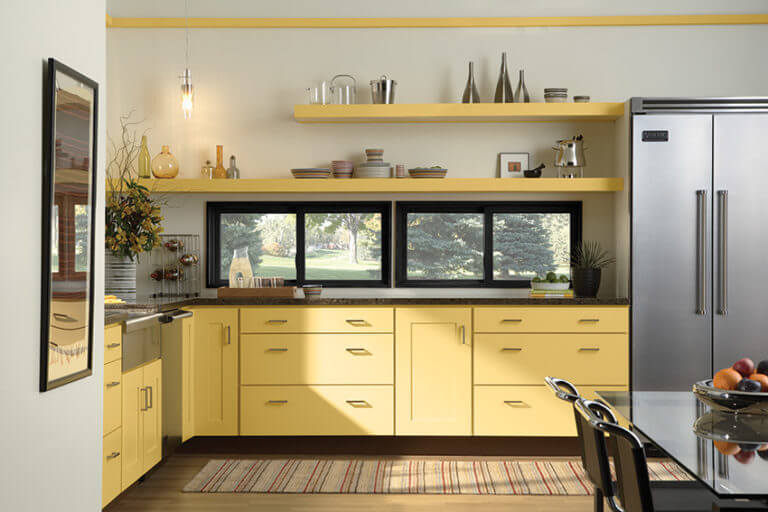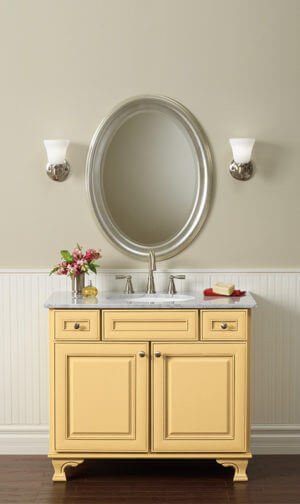 METALS
Go beyond the classics and let your metals shine with textured bronze, champagne, rose gold and more! A mix of two to three different metal accents used throughout a room will always be a timeless and tasteful way to create balance and definition in an environment. For example, brass, gold or nickel accents mix well with either oil-rubbed bronze or aged iron accents. Metals like silver and pewter can mix well with bronze and black brown metals. It's all about moderation and context.
MATTE BLACK
Make a dramatic statement with a new spin on an old classic. Matte black may be naturally modern but it works well in a traditional space too. Every space needs a little bit of black so adding in black hardware, faucets and other fixtures is a great way to include this trend in your space if you aren't ready to commit to black cabinets. Whichever way you go, pair this look with mixed metals to maximize the effect.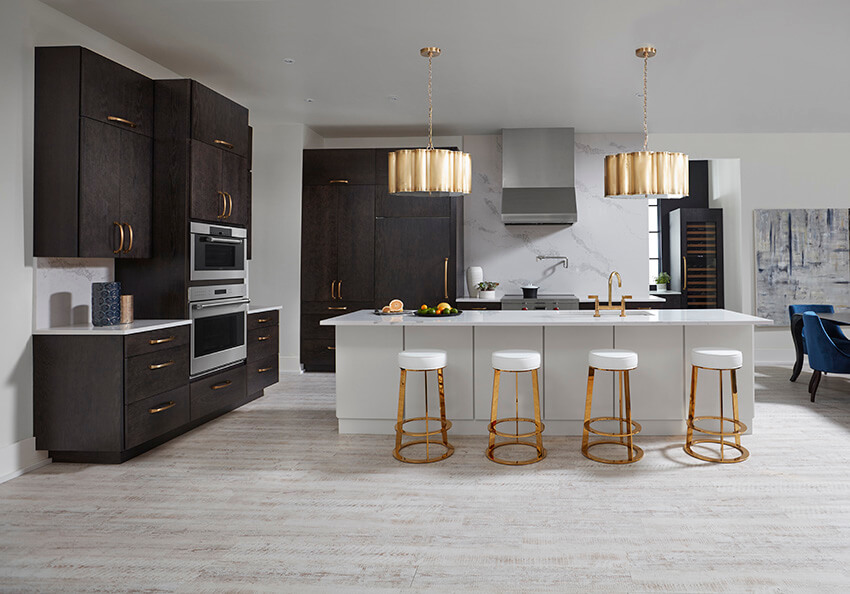 SMART HOMES
These days, kitchens and bathrooms are smarter than ever. Innovators are beginning to turn technology into a connector rather than an isolator. Now, you can control the temperature of your shower, video chat with your family, control music, start your laundry, or make a grocery list, all with the touch of a button – or better yet, voice command!
HIDDEN APPLIANCES
As we lean towards open concept floor plans, we're looking to make the visual boundaries between living and kitchen more seamless. Disguising your appliances with custom panels can help them match your cabinets or even your furniture. You can also get microwave drawers or fridges, freezers and wine coolers that fit underneath your kitchen island.