You may be aware of one thing receiving all the buzz in the flooring market, Waterproof Flooring. At Cole's Fine Flooring in San Diego, CA our goal is to connect you with your best flooring options for your budget no matter what you're looking for, Waterproof Flooring is no exception. Bring home the best in cozy wood to keep your family moving cleanly no matter what comes at your floor, saving you from having to part with your dream floor.
Stop the argument before it even begins by preparing for your next spill with the finest in waterproof flooring.
Everyone has experienced their own flooring problems; whether it was the unsightly plush carpeting which has seen the years share of stains, almost seeming to be a magnet for new food and pet messes, or the warped and tattered hardwood or laminate flooring which aches with every step. We live our lives with pigments and furry friends and they're unavoidable at times. But you could take home an alternative that will stay stain-free for years to come?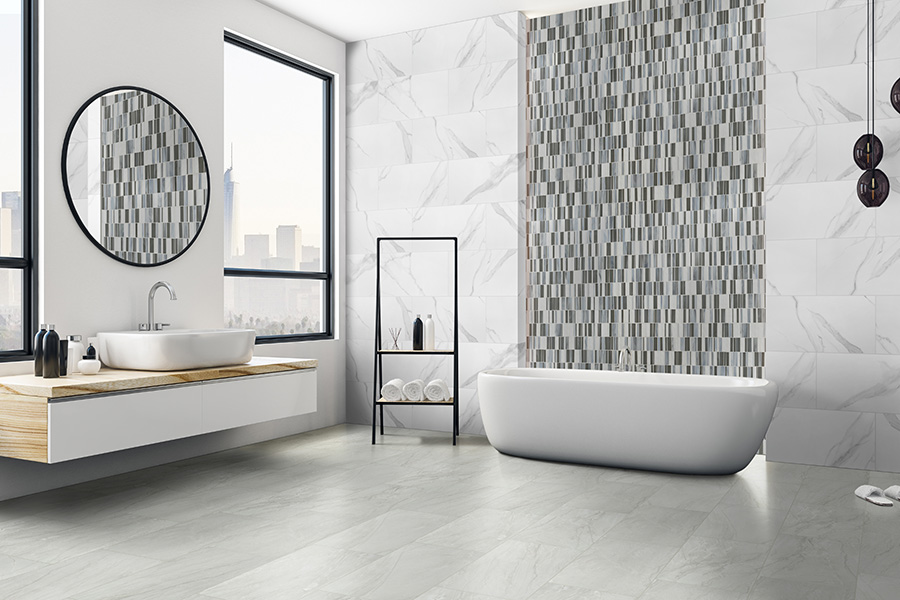 Best Waterproof flooring options in San Diego, CA
The starring role of most bathroom floors, and for good reason! Tiles outlast other flooring options when it comes to wet environments. Porcelain tile specifically holds the leading role for requirements in the industry, generally seeing around 0.5% absorption rate, outlasting most other forms of flooring. Ceramic, however slightly more absorbent than porcelain, at around 3-7%, also offers a variety of beautiful designs ranging from contemporary to eclectic glory. 
Whichever choice you make, it is recommended that you choose unglazed tile which is also denser than the glazed alternative. It is also more slip resistant, key in a safe household wherever you may encounter spills or moisture.
A great waterproof flooring option composed of multiple synthetic layers. Whichever name you've heard it by: vinyl plank, vinyl tile, luxury vinyl tile (LVT), this flooring represents waterproof quality in all forms.
Rigid core vinyl flooring is produced with an inflexible core to ensure fluctuations in humidity won't cause warping of the planks. 
Vinyl flooring has the added advantage of click-and-lock systems, which provide a waterproof seal to preserve the underlying baseboards. Proper installation makes all the difference when working to waterproof your vinyl flooring.
Vinyl generally comes in styles mimicking wood flooring, however this is not always the case. Vinyl comes in all designs ranging from stonework to metallic to even fabric-like flooring. Whatever best suits your flooring needs, vinyl will likely have a waterproof option so you can enjoy the looks of your floors long into the future.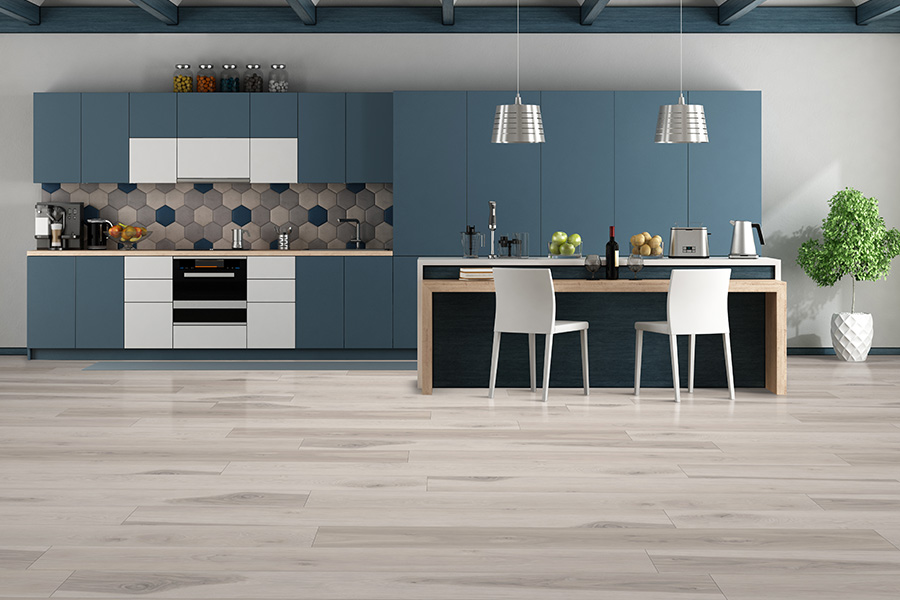 Vinyl plank has become such a hot topic in part due to its waterproof ability. Sheet vinyl, however, is also waterproof while having the added benefit of coming in 6 or 12-foot rolls, meaning fewer overall seams and heightened security for your subfloor and baseboard.
You've likely encountered vinyl flooring before, a plasticky flooring which comes in an extremely wide variety of colors and textures. Vinyl sheeting can add pops of color and design to any room no matter what it's furnished with.
Due to the bulk-quantity rolls sheet vinyl is produced in, this flooring type provides one of the most cost effective ways of making flooring renovations. No matter your budget you can find a vinyl flooring solution that works for you and maintains its manufactured lustre while providing waterproofing all at once.
Laminate flooring is generally not considered waterproof however this is a common misconception. Waterproof and Water-resistant laminate products exist for when it is necessary to fit your look or budget.
Laminate can resist minor spills but often leaves subflooring relatively open to seepage and the resulting warping, wherever the seams may allow liquid to collect and breach their weak seal. Waterproof varieties can secure your baseboards marginally but for high-traffic, high-moisture areas can very quickly meet the same fate as your average laminate option.
Natural stone tile comes in a variety of types of stone. Some popular options include: granite, marble, travertine, sandstone, slate, and limestone. Stone as a flooring provides an eco-friendly alternative which can still stand up to daily locomotion with generally less wear and tear than synthetic flooring. 
For waterproofing a homeowner must be wary of the absorption rating of the stone which they plan to install. Semi-vitreous, vitreous, or impervious stones will provide your best protection against spills and moisture, with impervious being the most rugged variety. Stone finishes can vary as well, from Tumbled stone, to Polished stone which is more susceptible to blemishes and scuffs.
Stone tiles come with the added cost and labor of requiring sealant. This furthermore extends the longevity of your stone floor.
More Leisure Less Hassle
Waterproofing can allow you to spend more time with your feet kicked up admiring your clean floors and less time on your hands and knees hoping that you haven't managed to ruin your beautiful new investment in revitalizing your home.
If you have any questions, please don't hesitate to contact your team at Cole's Fine Flooring with 4 locations in San Diego, CA.