Hardwood flooring makes for a beautiful upgrade in just about any home or room and this article is meant to highlight the differences between narrow plank and wide plank flooring so that you can have peace of mind knowing you selected the right type for your home, lifestyle, and climate. Coles Fine Flooring has a team of experts ready to help you find your perfect flooring so stop in or take our flooring quiz as a starting point to finding the best flooring for you.
Wide Plank Flooring
Wide plank flooring has many benefits, making it an extremely popular choice for homeowners. The large boards create a luxury feel compared to narrow planks and can bring a sense of elegance to any room. Because wide plank flooring is installed with fewer seams between each board, it creates a smoother, cleaner look than narrow plank flooring.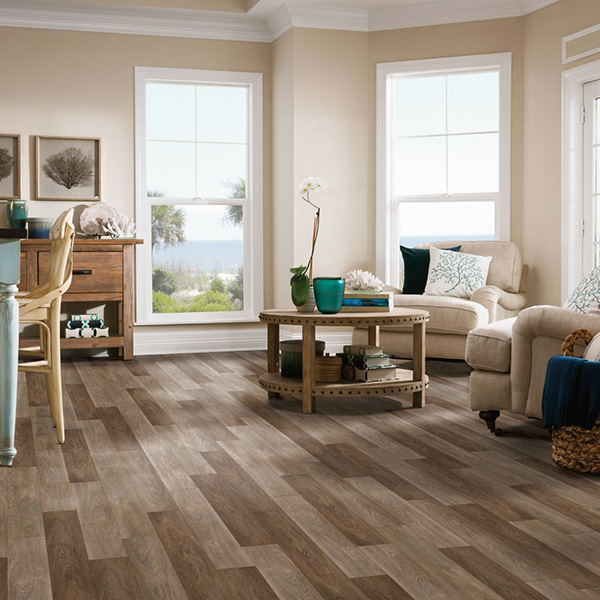 The larger surface of wide plank flooring also allows for greater durability as there are fewer places for dirt and debris to collect, which can cause wear on the floor over time. This translates into less maintenance overall with wide planks as most hardwood flooring may require sanding or recoating periodically depending on the traffic in your home. .
Overall, there are many benefits to wide plank flooring however, you should keep in mind that it can be generally more expensive than narrow plank flooring as it is harvested from larger, older trees and there are fewer of those to go around.
Narrow Plank Flooring
Narrow plank flooring is a great choice for those looking to keep costs low while still achieving a beautiful look. As narrow planks typically measure between 3 and 5 inches in width, they require less material to cover the same space as wide planks which means homeowners can save money on installation costs and on the overall purchase price of the flooring.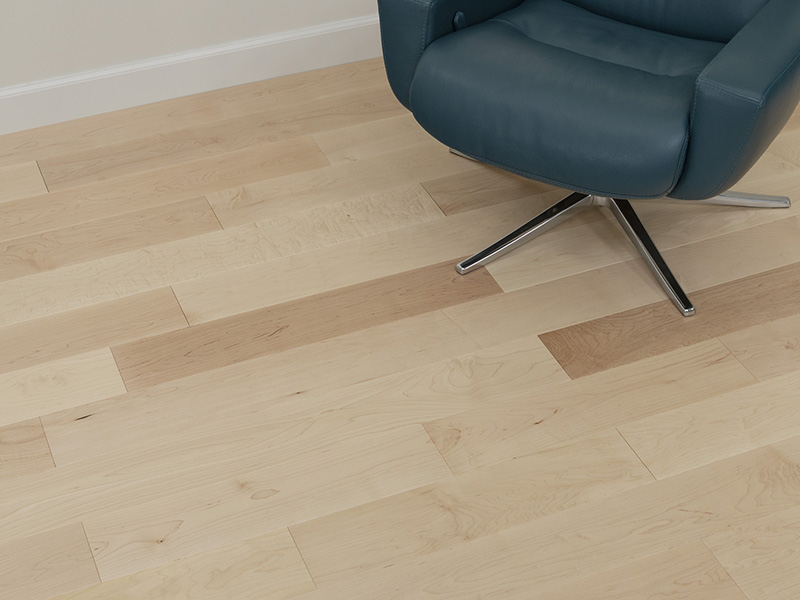 Narrow planks also provide greater flexibility when it comes to design, allowing for more intricate patterns such as herringbone or chevron. These patterns create visual interest and can help break up a large area, making them perfect for any space where wide plank flooring might appear overwhelming.
Overall, narrow plank flooring provides many benefits including cost savings, design flexibility, and easier maintenance making it an ideal choice for those looking for an affordable yet stylish solution!
How to select the best type for your space
Size of the space
When choosing between wide plank or narrow plank flooring for a space, it is important to consider the size of the room. In smaller rooms, such as dens and bedrooms, wide planks may feel overwhelming and can make the area look even smaller. On the other hand, narrow planks can help break up a large surface area and create visual interest in larger rooms such as living rooms or kitchens. Wide planks in the larger areas will tend to be less busy looking.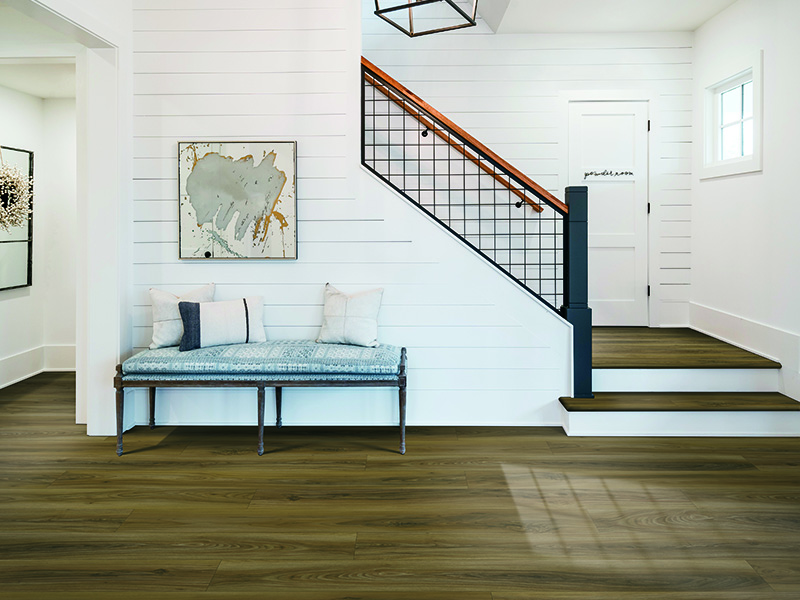 Lifestyle
In addition to considering the size of the room, homeowners should also consider their lifestyle before making a decision on wide planks vs. narrow planks. Heavier foot traffic requires greater durability that can be achieved with wider boards due to fewer seams collecting dirt and debris over time. Narrow planks may need a little more care due to the number of seams between the wood planks, especially if they have a beveled edge which can require more attention.
Preferred aesthetic
Both wide and narrow plank flooring come in an array of style and colors but each adds its own unique aesthetic to your space. Wide plank flooring can offer a classic and timeless look to any room due to its luxurious and sophisticated feel. Wide plank flooring is ideal if you are looking to add a sense of warmth and comfort to a larger room.
In contrast, narrow plank flooring offers versatility as it can fit in well in a small room, such as a bedroom, without overwhelming the space or it can be used in a larger room where different patterns can help break up the space and make it feel cozier.
Environmental conditions that affect your space
Humidity
Environmental climate should be considered when deciding between wide plank or narrow plank flooring as humidity, temperature and sunlight will certainly affect the different types of flooring over time. For example, wide plank flooring is better for humid climates because the larger boards provide fewer seams for moisture to collect. Seasonal "gapping" or expansion due to moisture and temperature can also be more prominent in the narrow plank floors.
Temperature
Temperature also plays an important role when it comes to selecting the right type of flooring. Wide planks expand more in hotter environments, making them better suited for cooler climates while narrow planks are better in warmer environments due to their smaller size. Engineered wood flooring tends to not be affected by temperature as much as solid wood flooring.
Sunlight and UV
Lastly, direct sunlight can affect the color of different types of flooring over time. Narrow planks tend to show fading faster than wide planks, especially if they are selected for a room with a lot of exposure from direct sunlight. To avoid this from happening, we recommend selecting wide plank flooring for rooms that have large windows facing to the south or west.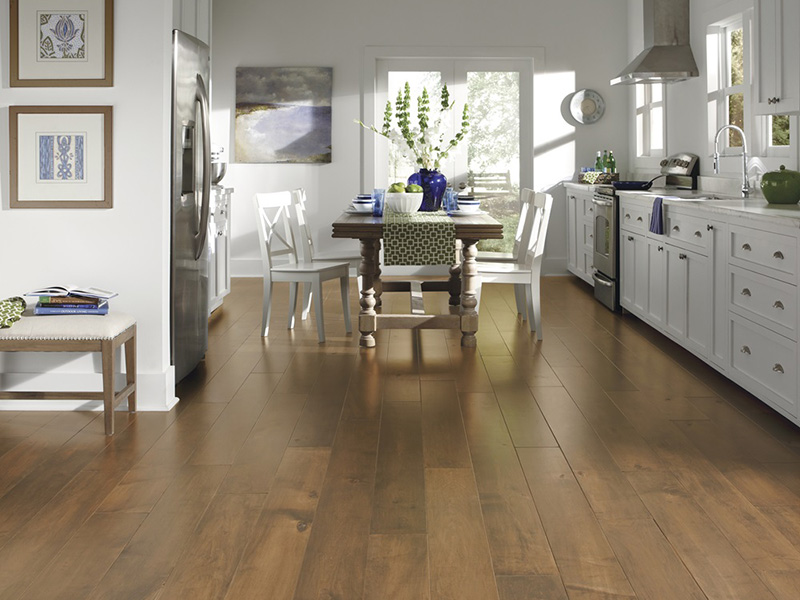 Installing new flooring can be just the upgrade that your home needs, but it does require careful consideration to ensure that you are selecting the best type of flooring for your home and lifestyle. Our team at Coles Fine Flooring is always happy to help find your ideal flooring and guide you through the process; we invite you to stop in to our location near you to discuss your project with our expert team!