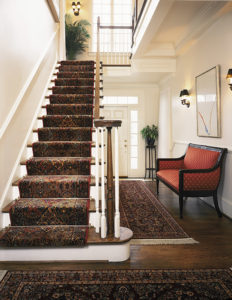 Stair Runners, or Roll Runners, are often offered to coordinate with choices from area rug collections. There are many advantages to stair runners. They help protect hardwood or stone flooring, provide safer tread on otherwise slick surfaces, and — perhaps the best advantage — is aesthetics.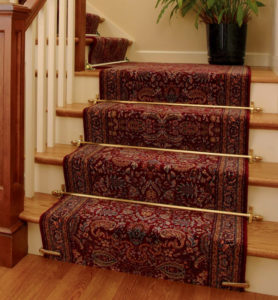 Stair runners are often the mark of luxury and customization in a home. Paired with area rugs, carpet and other design elements, the runners usually tie the room together with color, pattern and style. They are also the perfect way to ad definition to a particularly open stairway or hallway.
There are also a few ways to decorate a stair runner once you choose to go that direction. Carpet rods and brackets hold the runner in place on the stairs while also adding an antique style to the staircase. With multiple finishes it is easy to match them to any décor and there are many different styles to choose from making it very customizable. Add a touch of class with a brass stair rod and ornate pineapple tip!