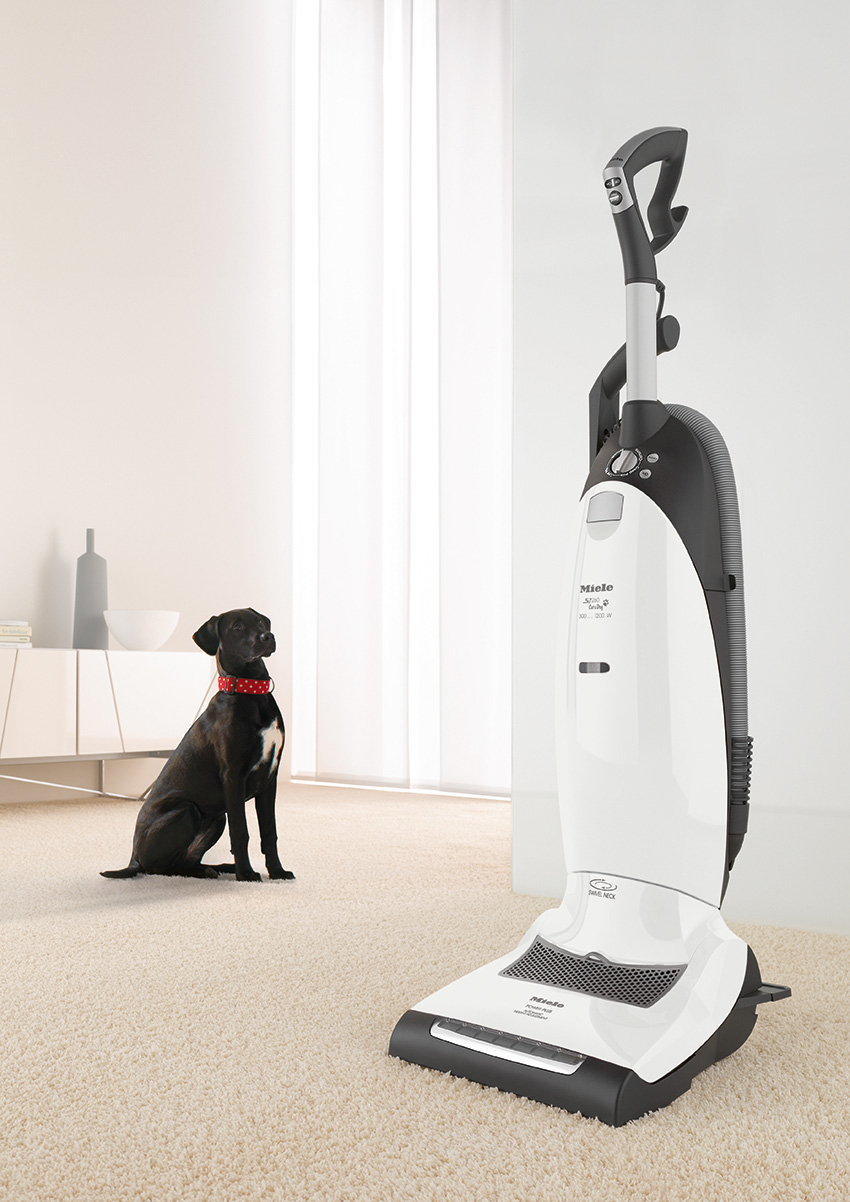 Following the success of the award winning Miele S7 Cat and Dog upright vacuum, Miele has introduced the S8 Cat and Dog vacuum – the ultimate canister vacuum for pet owners.
"According to the 2011/2012 American Pet Products Association survey, 62% of U.S. households own a pet.  That's 79.9 million homes," said Anthony Delgaudio, prdocut manager for Miele.  "These homes require a vacuum that stands up to the rigors of everyday cleaning of normal household dust and dirt, but also pet hair, dander and unwanted odors."
Similar to the S7 Cat and Dog, the S8 Cat and Dog features an Active Air clean filter and mini turbobrush, both of which are ideal for battling pet hair and odors.  The Air Clean filter contains active charcoal to absorb pet odors, while the TurboBrush helps to remove pet hair from furniture, stairs and car interiors.  When combined with Miele's patented Air Clean FilterBag plus Sealed System the S8 Cat and Dog retains 99.9+%  of lung damaging particles and unwanted pet hair and dander inside the machine, not in your home.  Similar to the other vacuums in the S8 series, the S8 Cat and Dog features +/- foot switch controls, a low-noise vortex motor and a 3D bumper to protect furniture, walls and the vacuum itself from nicks and bumps in the event of minor collisions.  It's lightweight skeleton construction and tended cord length makes Cat and Dog easier to transport up and down stairs from room to room.  Accented with a bright Koi Orange finish, the Miele S8 Cat and Dog is truly the pinnacle of performance and convenience for pet owners.
Miele vacuums are known for legendary performance, advanced filtration and brilliant design, setting the standard for floor care and cleaning worldwide.  Miele's long heritage of vacuum innovations dates back 85 years to the use of Bakelite as a sound dampener in the 1960s, the advent of convenient integrated tools in 1971 and to the world's first HEPA-certified vacuums in the 1990s.  Throughout the century, these award winning advances have established Miele as the "must have" status vacuum – hailed as "so smart it could start its own Mensa chapter."  Beyond the aforementioned accolades, design awards and sleek good looks, Miele continues to focus on making vacuuming easier through patented new technologies like the s7 SwivelNeck as well as longer cords, automatic flooring sensors, powerful Vortex motor system, and silence settings.  Miele's passion for quality and innovation has resulted in a vacuum that excels not only in cleaning performance, but also in the area of filtration.
According to recent independent tests, there's no other vacuum that removes dust, dirt and allergens as efficiently as a Miele canister or upright.  Miele's unique combination of AirClean FilterBag, HEPA filter and Sealed System design is 99.99% effective in capturing lung-damaging particles.  The key to this design is its hygienic self-closing AirClean FilterBag whose revolutionary multi-ply filtering material helps homeowners dispose of the captured particles without coming in contact with them.