Binding, Serging, and Finishing Carpet
Coles offers on-site Carpet Finishing by our master craftsmen. We can quickly bind, serge or fringe the edges of your carpet remnant.
Don't waste that leftover carpet from your installation — have it cut and bound to make area rugs, walk off mats and doorway rugs to help protect your new floors. Custom made area rugs can be handcrafted from different colors and textures of carpets in simple borders or elaborate designs. Our expert design staff is ready to assist you.

If you want to make a custom area rug, there are several options for finishing the edges to prevent fraying and provide a finished appearance. The most effective choices for carpet finishing are binding and serging. Although these generally aren't techniques you can do yourself, Coles will bind, serge or fringe the edges of your carpet remnant. So how do you decide?
Binding
Binding is generally the easiest and most cost-effective method of finishing carpet edges. Binding involves wrapping a strip of polyester or cotton fabric around the edge of the carpet and sewing it in place with a commercial sewing machine.
Binding a carpet edge in this way is relatively low cost and with the huge selection of materials available, matching the color of the carpet will give your overall piece a unified look in the end.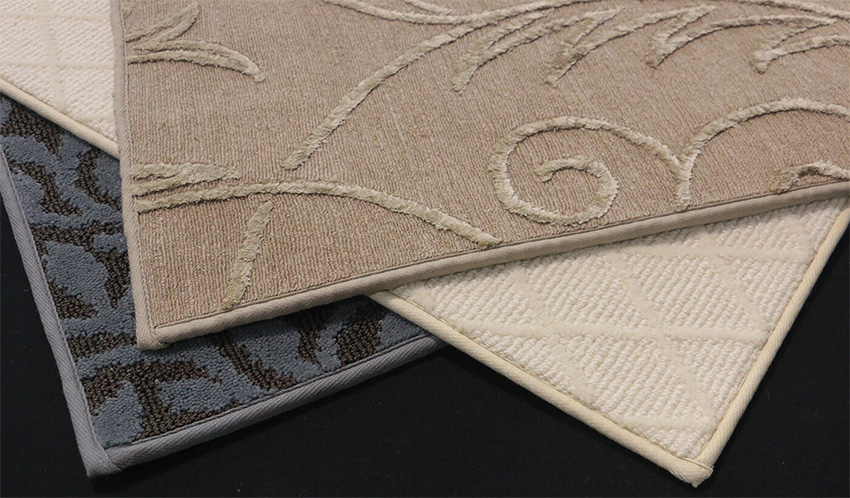 Serging
Serging—also called overlock stitching—is generally more expensive than binding, but tends to look hand-sewn, although it is most often done by machine. Serged edges look as though they have been wrapped with thick fiber, which creates a higher-end look than binding. This type of stitching is commonly seen on manufactured area rugs. Like binding, serging is also available in a wide variety of colors to coordinate with your piece.