Anso® Nylon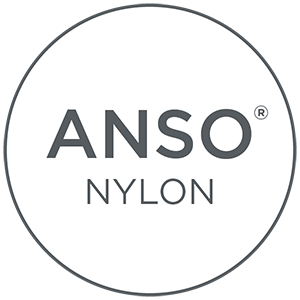 Anso® Nylon presents a new spin on an old favorite with upgraded carpet styles and enhanced benefits.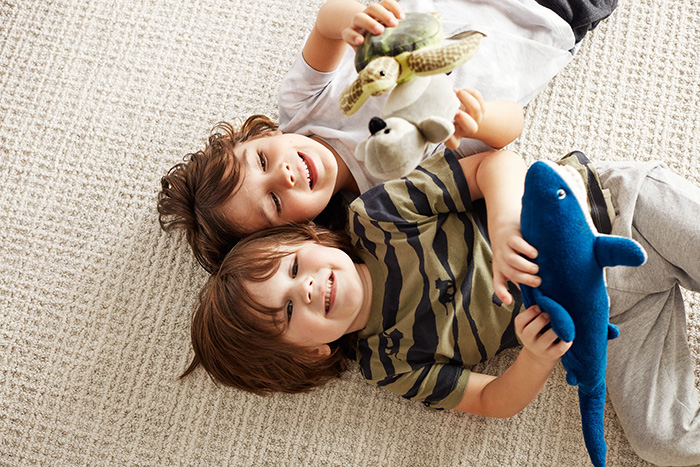 What is Anso® Nylon?
Anso® Nylon is an enhanced synthetic fiber used to manufacture carpet. New innovations such as the R2X treatment give nylon carpet even more durability and soil resistance than believed possible before.
Anso® Nylon is setting a new standard as the premiere fiber used in carpet. For years, nylon has remained a top choice for quality carpet flooring, consistently outperforming all other carpet fibers in terms of durability, stain resistance and crush resistance. Anso® Nylon carpet fibers are durable enough to withstand regular wear and tear, even in high-traffic areas without fraying. The vibrant colors that made nylon famous are still the best in the biz–no fading!
Enhanced Durability
Anso® Nylon is designed to prevent crushing, even in high traffic areas. Styles with SoftBac Platinum also feature a backing that prevents wrinkling over time. Overall, it continually proves to be more resilient than other leading natural and synthetic fiber materials. Not only does it maintain both its integrity and style, many Anso® Nylon lines also offer full or partial lifetime warranties.
Easy Maintenance
If you have been leaning toward hard surface floors simply because of ease of maintenance, you're in luck. Anso fibers with the R2X treatment are designed to repel moisture, preventing spills from absorbing. And thanks to the completely waterproof SoftBac Platinum backing, spills won't soak through to the subfloor. They will stay on the surface allowing you to wipe away the mess with ease.
It's also a great option for homes with pets. In addition to moisture, Anso® Nylon fibers are also designed to repel soil and pet dander. So when pets coming charging in after playing in the yard, both their tracks and dander can be vacuumed away with ease.
Cleaner Air
Although carpet has earned a reputation for aggravating allergy and asthma symptoms, Anso® Nylon actually has the opposite effect. It can help filter your home's air. When dust, pollen, dander and other allergens eventually settle, they become trapped under the carpet's fibers without becoming embedded so they can be easily vacuumed away, rather than getting kicked back into the air. For best results, be sure to vacuum at least once per week using a vacuum with a HEPA filter.
Superior Comfort
The R2X treatment is designed to help maintain Anso® Nylon's soft texture. That top of the line softness is known to last not just for years, but in many cases, decades. It's rare to find a carpet line that maintains such an exceptional level of comfort for so long.
Anso® Nylon's durability is thanks in large part to the twist-lock system used during manufacturing. However, this construction definitely doesn't limit the availability of styles. Nylon in general—and especially Anso® Nylon—offers a larger choice of colors and textures than most other carpets.
Eco Friendly
Even though it is synthetic, Anso® Nylon carpet is completely recyclable. From top to bottom, the yarn stitched into each fiber as well as the backing itself. It has also been certified by the Scientific Certification Systems for using manufacturing content that contains at least 25% recycled materials.
Anso® Guarantee
Coles is a charter member of the largest organization of Quality Flooring Retailers: the National Floor Covering Alliance. Besides giving Coles access to top quality exclusive products and best pricing for the consumer, the NFA offers exclusive Guarantees that are only available at Coles in San Diego County.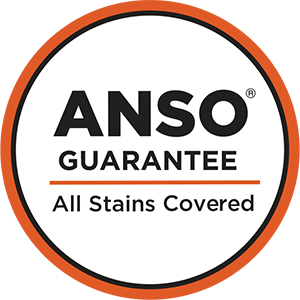 | | |
| --- | --- |
| WARRANTY ELEMENTS | ANSO® GUARANTEE |
| Quality Assurance | 25 Years |
| Food & Beverage | Lifetime – Non-Prorated/Labor |
| Pet Stains – All | Lifetime – Non-Prorated/Labor |
| Anso Guarantee – All Other Stains | Lifetime – Prorated/No Labor |
| Soil Resistance | Lifetime – Non-Prorated/Labor |
| Texture Rentention | 25 Years |
| Abrasive Wear | 25 Years |
| Stairs | Covered |
| Delamination, Tuft Bind, Edge Ravel | 25 Years |
| Premium Backing (wrinkle free) | 25 Years |
| Customer Satisfaction | 120 Days |