Why is professional cleaning important?
With time and traffic, vacuuming alone will not remove all the soil on a carpet. Reputable professionals know the latest information on carpet construction, carpet care products, and safe effective cleaning techniques.
How often should I vacuum and professionally clean my carpet?
Soiling Level

Maintenance

Routine Cleaning

Periodic Professional Cleaning

Spot Removal

Vacuum Traffic Areas

Full Vacuum

Light

Light

Daily

Daily

Weekly

18-12 months

Medium

Medium

Daily

Daily

Every 2-3 Days

12-18 months

Heavy

Intense

Daily

Daily

Daily

6-12 months

Very Heavy

Very Intense

Daily

Daily

Daily

3-6 months
Which cleaning method is recommended?
Most professionals use hot water extraction, also known as steam cleaning. Other cleaning methods include absorbent pad or bonnet cleaning, rotary shampoo, and dry foam powder. Check your warranty information for further requirements.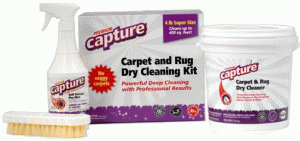 What should my professional cleaner know?
Cleaning Solutions must have a pH of 10 or less. Cleaning agents must not contain any cationic agent as found in many bactericides, biocides, anti-stats, pesticides, etc. Use only enough solution to assure maximum cleaning and residue removal.
Is do-it-yourself carpet cleaning ok?
Professional cleaning is recommended. If you decide to do it yourself, please follow manufacturer's instructions.
Avoid excessive detergent use. Too much detergent promotes soiling.
Use only cleaning solutions that are acceptable for use on stain and soil resistant carpet.
Cationic or chemicals with a pH greater than 10 should be avoided.
There are several products, available at Coles, that we recommend in your carpet cleaning routine, including:
Capture
A moist powder made up of microscopic porous particles that work like little sponges. When brushed into the carpet pile, the sponge-like particles absorb the soil, along with its offensive odors, and are then easily vacuumed away. Capture is a good maintenance procedure between cleanings.
An effective maintenance schedule to keep your carpet looking new
WEEKLY – Use Capture to remove all spots, then vacuum all carpeted areas.
MONTHLY – Capture clean from 4 to 6 feet inside doors from areas such as out-side entrances, kitchen, basement, bath, and other non-carpeted areas.
EVERY SIX MONTHS – Capture clean all traffic areas.
EVERY EIGHTEEN MONTHS – Capture clean all carpeted areas.