STAINMASTER® Lifetime Warranties; we've got you covered for life.
For more information regarding any of the STAINMASTER® warranties or Coles exclusive enhanced LIFETIME* warranties, please do not hesitate to call or visit us!
STAINMASTER® backs all of their products with one of the most comprehensive lifetime* warranty packages in the industry. But at Coles Fine Flooring — San Diego's Exclusive Stainmaster Flooring Center — they take it one step further. Only we offer the Platinum Promise™  which allows many STAINMASTER® carpets to come with enhanced lifetime* warranties covering more than just food and beverage stains, as well as protection against soiling, pet urine and static shock.
To see which limited warranty applies to the carpet you purchased, first determine in which column your STAINMASTER® carpet belongs. Then read down the chart for the warranty coverage and duration.
INVISTA defines lifetime coverage as the life of the carpet. Lifetime limited warranty coverage begins on the date of purchase and continues for the life of the carpet. Other limited warranty coverage begins on the date of purchase and continues for the stated period of time.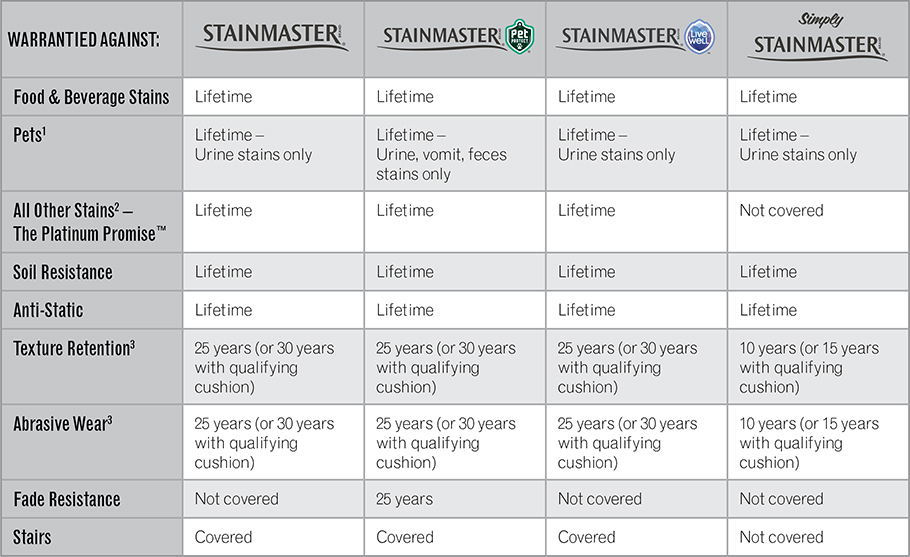 Applies to purchases on or after January 1, 2019. Warranties include labor except under the All Other Stains Limited Warranty. Labor is defined as the cost to remove and dispose of your existing STAINMASTER® carpet and install your replacement STAINMASTER® carpet. See page 3 for labor details. To qualify for coverage under all limited warranties outlined in this warranty brochure, you must have had a hot water extraction cleaning performed by a trained, qualified carpet care professional, at least as frequently as every 18 months since the date of your carpet purchase. Failing to do so will void your warranty coverage.
1. Limited to stains caused by pets.
2. Labor costs are not included, and carpet costs are prorated.*
3. Using a qualifying carpet cushion with a breathable moisture barrier, like STAINMASTER® carpet cushion, will extend your texture retention and abrasive wear warranties. In the U.S., carpet must be installed over cushion which meets the HUD UM 72a, Class 1 standards.
*See store for details.