Choosing the right area rug for your home can be a challenge, but don't worry, we've collected all the top tips to help you find the perfect rug to complement your decor and warm your interior from the bottom up.
How to Measure and Place an Area Rug
The right rug can unify your décor and ground a large space, especially in an open area. But before you start shopping, you need to know two things: how to choose the right rug size and how to place your rug. Accurate measurements will help you narrow down your choices before you start sorting through styles and colors.
Follow these tips to find the ideal rug size for your space:
Use masking tape to create a border on the floor.
Maintain a frame of at least 18 inches the room's layout and create pathways. (8 inches of space if the room is smaller.)
Give yourself a 2-inch margin of error to avoid picking the wrong area rug size.
Once you have the tape placed exactly where you want it, jot down those dimensions. Use them to help you choose a standard rug size. Need something oversized? Try designing a custom area rug from carpet!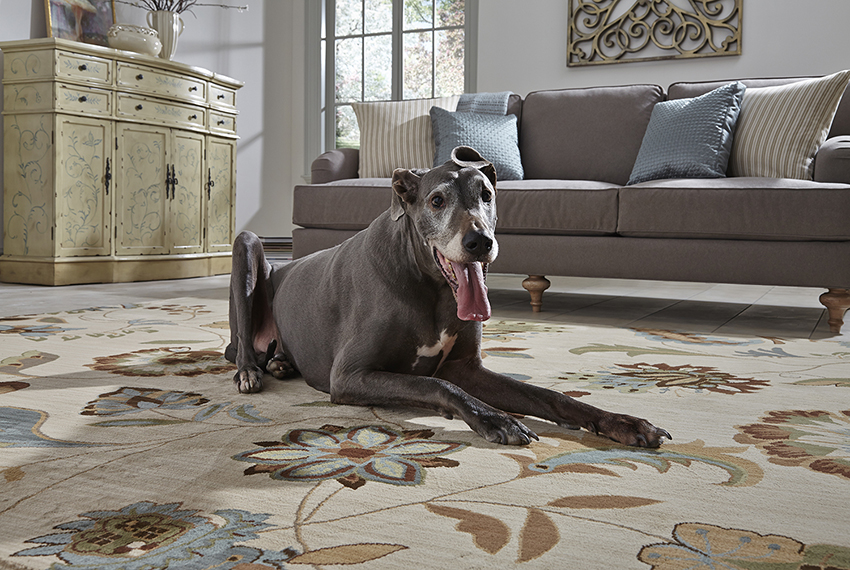 Rug Placement in the Living Room
In the living room, your area rug should be about the size of your seating area to help define your conversation space. Ideally, it should be at least a foot wider than your couch on both ends. Rather than centering your rug in the space, use your seating layout to determine the best placement. If you are working around an oversized piece of furniture, or with a seating area that is not backed up to a wall, orient your rug off the shape of the room instead. This will help create a visual flow and make the room appear larger.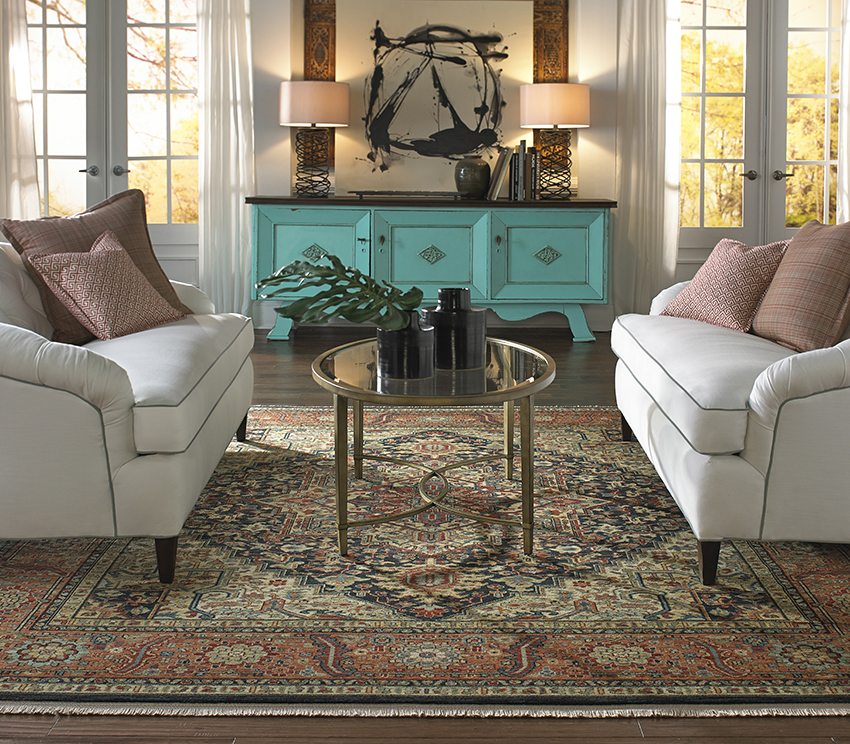 All Legs On
Unify your conversation space with an area rug big enough to reach all of your furniture. The trick to arranging a seating area on top of a large rug is to leave at least a few inches of space beyond where your sofa and chairs sit. The rug size helps define the space and organize the seating area.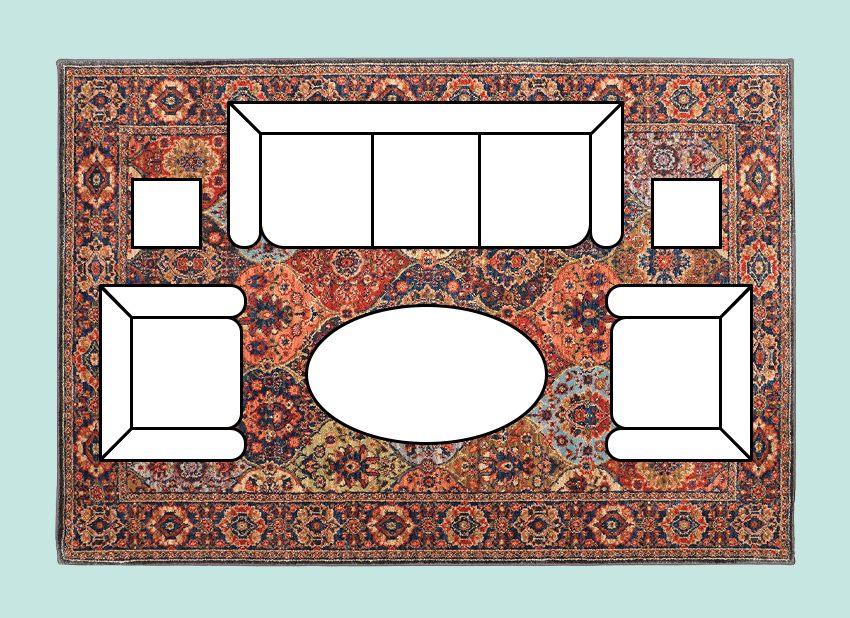 Front Legs On
You can still unify a space without the cost of a room-sized rug. If your living room furniture doesn't all fit on the rug, tuck your rug under the front legs of your sofa and chairs to ground your seating area just as effectively.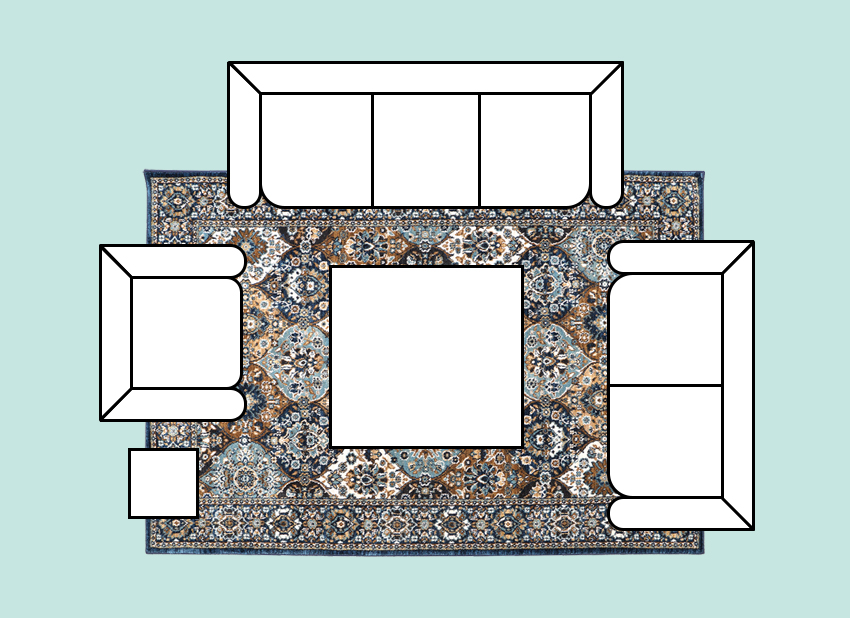 All Legs Off
While not quite as effective, a small rug can be a more budget-friendly way to add style and comfort to your living room. If you're working with a smaller space, centering your seating arrangement around a small rug can look intentional and well-styled.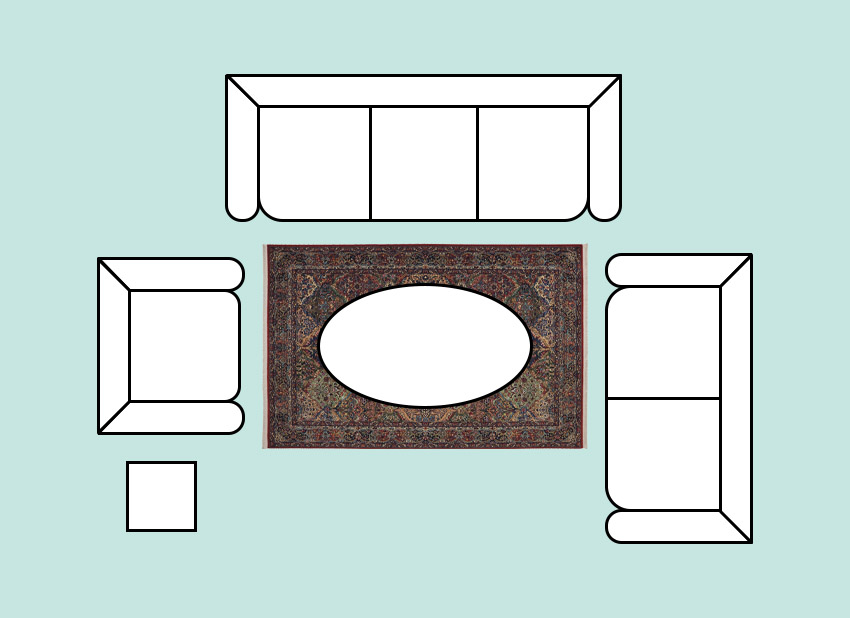 Where to Put Your Bedroom Rug
Area rugs in the bedroom can provide a warm, soft landing underfoot and create or complement the focal point of the room. There are a lot of size and layout options for this space, so allow your budget to help you narrow them down. Use the layout of your bed and end tables to influence your choice.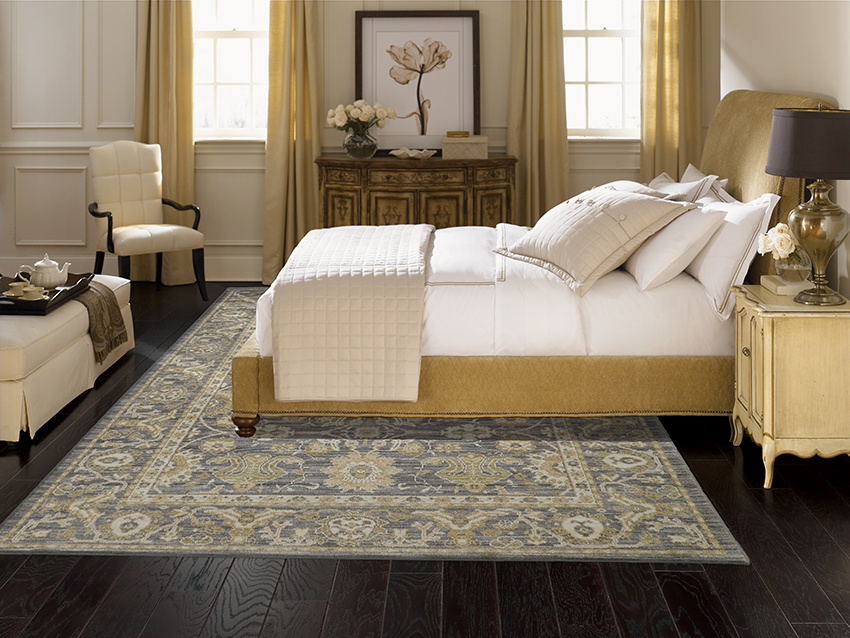 All Furniture On
If you're working with a large space, choose a rug large enough to fit perpendicularly beneath your bed and both nightstands. For a larger room, an 8'x10' rug is the perfect size to accommodate a king- or queen-size bed and two end tables.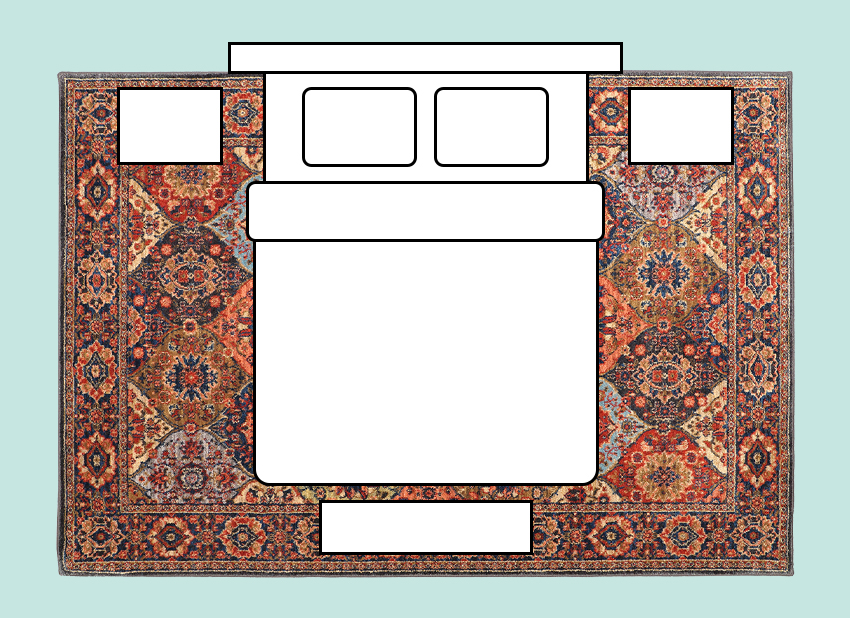 Just the Bed On
If you want to show off your hardwood flooring but still want a little more warmth and comfort, tucking a 6'x9' under the bed in front of the nightstands will give you that soft landing in the morning. The smaller size is more cost effective and won't completely hide your beautiful floors.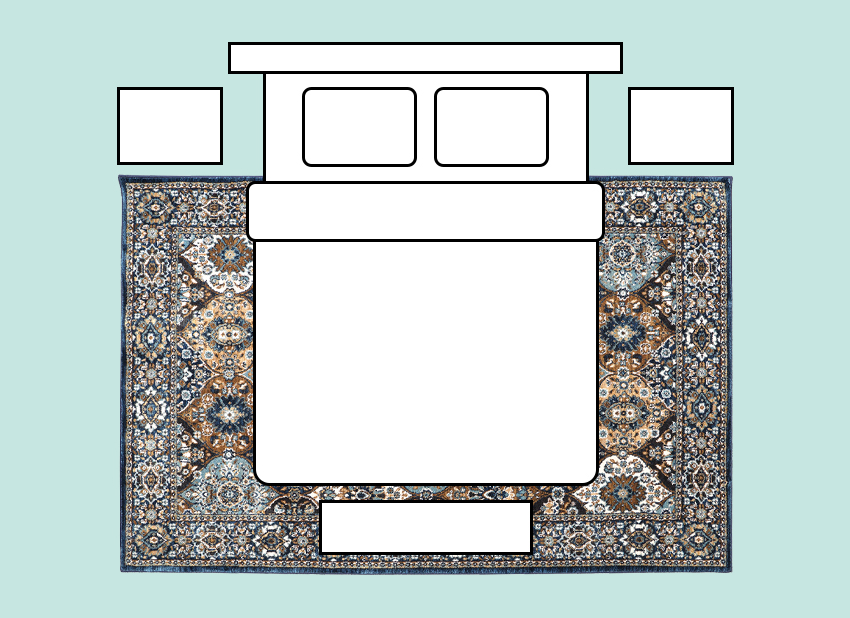 Flanking the Bed
One more great budget-friendly way to warm up and soften the bedroom floor is to flank the bed with a runner on either side. Runners and 2'x6' rugs will provide the same cushioning affect underfoot for a fraction of the price of a bigger rug size.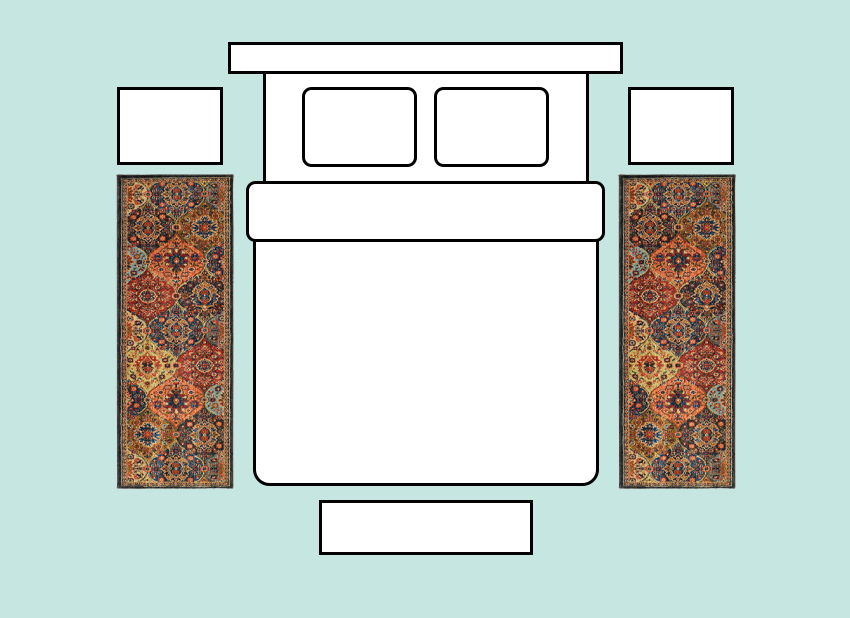 The Perfect Dining Room Rug
Rugs are an easy way to bring some style and color into your dining room, but it can be a little trickier to choose the correct size. When measuring for your dining room, keep in mind that your rug should extend at least 24 inches beyond the chairs. This will protect your flooring from dents and scratches, and allow guests to move in and out from the dining table. When in doubt, go for the larger rug size. Shape is also an important factor when choosing the right area rug for your dining room. Note the shape of your dinner table to help determine the size of your seating area.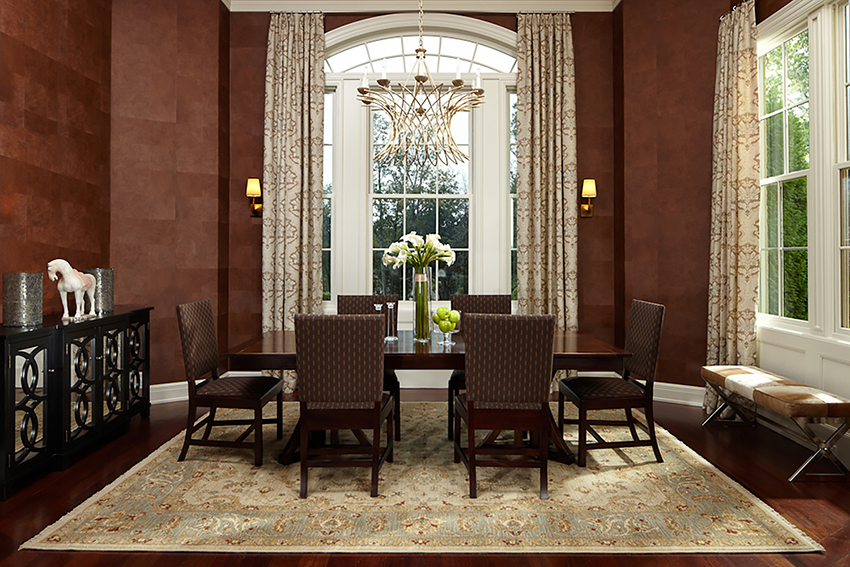 Match the Table Shape
Rectangular dining tables look best centered over rectangular rugs. If there is a wide enough gap between the edges of the rug and your other dining room furniture, like a buffet or china cabinet, consider sizing up to get the most coverage possible under your dining chairs.
The shape of the room can help determine the shape of the rug you choose. If you're working with a square room for instance, then a square rug will complement the shape of your space, regardless of the shape of your table.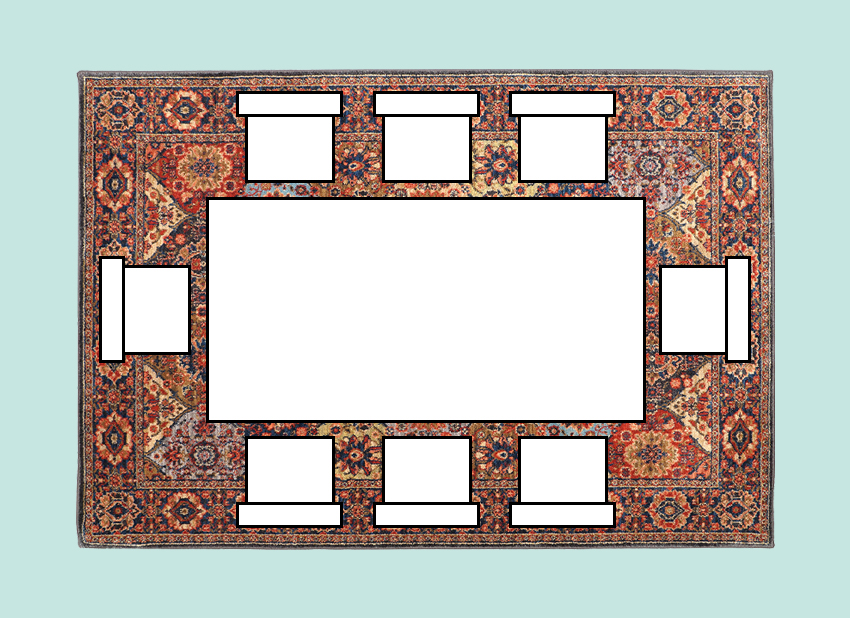 Contrast the Table Shape
Like square tables, round dining tables can work well with both square and round area rugs. A round rug may be the obvious choice—it works with the shape of your dining table to create a cohesive visual statement, after all. But a square rug is a great and unexpected style element that works just as well.