At Coles, our selection includes thousands of area rugs of all sizes, colors and patterns from the finest to the affordable. So you're guaranteed to find the perfect rug to match your décor. Bring in your color swatches and our expert designers will help guide you to the right choice.  Coles will help you find your perfect Area Rug from our huge in-stock selection. We constantly update our huge selection of rugs in order to offer you the latest styles and colors for your home. With the most complete collection of rugs in San Diego County, we know you'll find the perfect rug for your home at Coles. Because we believe area rugs truly are art for the heart of your home.
Coles imports rugs from all the world's major weaving centers. So you have a worldwide selection right here at home.
Coles offers fine power-loomed area rugs and luxurious handmade oriental carpets.
Coles can customize an area rug to your specifications.
Protect your investment with our full selection of non-skid area rug padding for use over all flooring surfaces.
Whether you want to create a comfortable space, a defined area, or hide blemishes, Coles has the rug for you.
Decorating With Area Rugs
Area Rugs Style And Design Gallery
They can work in almost any room, and can help in making a room appear larger. Square area rugs, like rectangles, are versatile enough to work in most settings. However, they give a more balanced look because of their symmetry, and can make more of a statement. Round area rugs are a great solution for rooms of an unusual shape. They also work well with round dining tables, as long as the rug is large enough that the chairs can be pushed back without landing off the rug's edge. Oval area rugs are the pairing between the organic feel of round rugs and rectangular.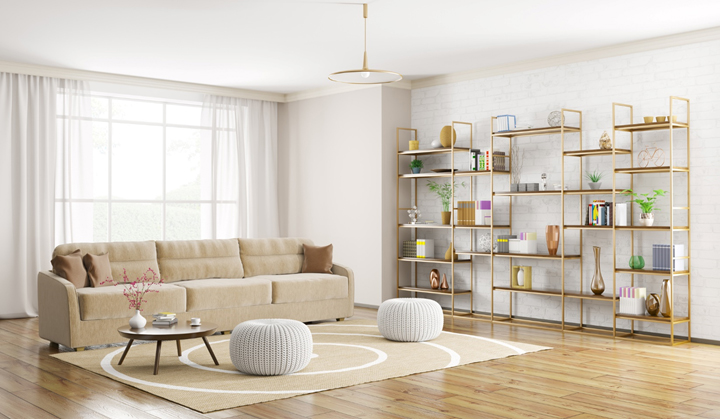 Frequently Asked Questions
Q: My rug is shedding, is this normal?
A: New rugs may tend to shed yarn fibers in the beginning, and depending on the weave and foot traffic levels your area rug endures, it may continue to shed over the span of its lifetime. Proper and regular vacuuming will help eliminate rug fibers and keep the rug looking fresh and clean.
Q: How do I care for my area rug?
A: Standard care such as vacuuming can be done daily to monthly. Spot clean as needed, and steam clean or take to a professional every few years or if excessively soiled.
Q: What type of vacuum is best for area rugs?
A: A suction only canister vacuum is best for loop pile constructions to prevent excess pilling and fuzzing. A rotating brush vacuum can be used with caution on cut-pile rugs, just test first to be sure it is not too aggressive for the pile.
Q: What is the best method for spot cleaning an area rug?
A: Blot, do not rub, with clean, white absorbent cloth or paper towels to remove excess moisture. Most stains clean up with warm, not hot, water applied to the stained area. Then blot with clean white cloth or paper towels. Press down firmly to remove as much moisture as possible. Do not rub, as rubbing can alter the carpets texture. Repeat until no stain is evident on cloth or towels. When completely dry, vacuum or brush the pile to restore texture.
Q: What is the difference between hand-knotted and handmade rugs?
A: All hand-knotted rugs are handmade, but all handmade rugs are not hand-knotted. To be called hand-knotted, the entire pile must be made knotted onto a warp and weft on a loom.
Q: What size rug should I use under my dining room table?
A: We suggest adding four feet to the total width and length of your table, giving yourself a two foot perimeter all the way around the table which will allow all four chair legs to remain on the rug while someone is seated.
Q: Should I get a rug pad?
A: A non slip rug pad is highly recommended to prevent your area rug from shifting, especially on hard surfaces such as wood and tile.
Sign up now to receive your $100 discount, it's easy!
You can use your discount on our special promotions on carpets, hard surface
flooring and area rugs. (AND that includes all Closeouts and Promotional Items!)