Karastan designers travel the world seeking inspiration through tradition, art, nature, and modern life. These unique experiences result in complex patterns, intense color variations, striking textures, and bold tones designed to withstand the test of time. Their rugs are designed to be timeless pieces that bring your home together. Karastan rugs are more than just beautiful. You can trust Karastan's 90 years of experience weaving rugs, produced right here in the United States. Their artisans, who average 30 years of experience, bring their own personal touches to each and every piece. Each product is thoroughly inspected for imperfections with exceptional care.
From the world of the ancients, to the realm of the future. At Coles, we believe that true fashion endures throughout time. Along with Karastan we bring to you the perfect finishing touch for your room. We carry everything from traditional area rugs inspired by symbolic weavings of ancient Persia, China, Turkey, and India; to contemporary styles with bold modern flare.
For the artisans and weavers who create the carpets and rugs of Karastan, there's inspiration to be found at every turn. From delicate cross-stitches and grand cathedrals. From architecture and textiles and artwork of every media. From the royal residence in France, and the Governor's Mansion in Colonial Williamsburg, wherever there is beauty, wherever there's art for art's sake or art for the sake of utility, there will be Karastan searching.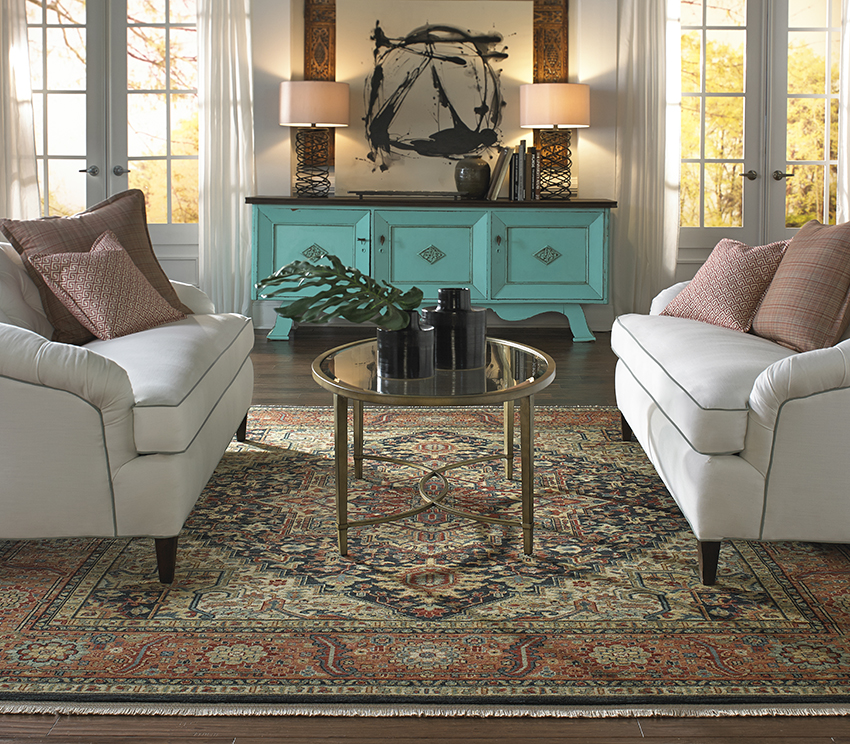 In 1928 Marshall Field built a loom capable of recreating the details of a hand woven rug. Since the very beginning Karastan has been known for their elegant machine-made rugs that rival their handmade counterparts. At the 1933 World's Fair in Chicago, Karastan invited people to walk on one of their Kirman Panel rugs and, after more than 5 million people tracked their footprints across it, they cleaned it up. One side was left unrecognizably filthy while the other was returned to its original beauty and luster. To prove the demonstration was no fluke, they did it again! At the New York World's Trade Fair in 1939-1940 more than 9 million people walked on their rugs earning Karastan the title of "The Wonder Rungs of America."
Karastan's In-House Dyeing process uses only Premium dyes guaranteeing superior color clarity, fade resistance and exact color matching. Using coordinating color pallets across the board in each collection makes it easy to match multiple rugs with different styles and patterns. Each rug goes through more than fifty Quality Control checks, ensuring that every rug is as perfect as can be. Not only is Karastan a green company, but every rug is also made in the USA, shipping from Eden, North Carolina. Karastan makes the best machine-made rugs in the world with over 70 years' experience.