Photo Credit to: Pantone
"Pantone's 2023 Color of the Year, Viva Magenta 18-1750, vibrates with vim and vigor," says Leatrice Eiseman, Executive Director of the Pantone Color Institute. "Viva Magenta is brave and fearless, and a pulsating color whose exuberance promotes joyous and optimistic celebration, writing a new narrative."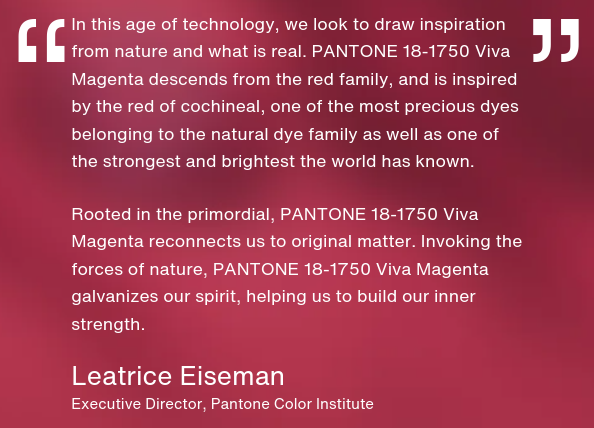 Photo Credit to: Pantone
What is Viva Magenta?
Viva Magenta is a shade from the red family that comes from nature and is inspired by the traditional red of cochineal, a naturally-derived dye that was highly-prized and used for coloring fabrics by many cultures throughout history, including the Aztec, Mayan, and Peruvian peoples. As the world has changed over the past few years, we are witnessing a cultural shift of people who have transformed their priorities as a result of the stresses of the pandemic and the subsequent fall out.
This cultural shift is reflected in record-breaking visitation to National Parks in the United States and remote work allowing more people to pursue travel and exploration than ever before. After so long being cooped up inside, it's easy to understand how we came to collectively rediscover the magic of nature, as well as the energy, peace, and escape that it can provide. We are wanting to get back to our roots and allow nature to reenergize us. PANTONE chose Viva Magenta as it's Color of the Year to reflect this cultural revolution.

"Rooted in the primordial, PANTONE 18-1750 Viva Magenta reconnects us to original matter. Invoking the forces of nature … it galvanizes our spirit, helping us to build our inner strength."
Many people are looking to 2023 and seeing an opportunity to reconnect with themselves and others after several years of adapting to the constant uncertainty that has left many tired and depleted. In contrast, PANTONE'S Color of the Year is meant to be energetic and unconstrained because it is future-forward. It shows us what could be and captures our desire to revitalize our lives by simultaneously invigorating and grounding us, allowing us to connect with the people and places that truly matter. This coming year is a return to our roots and Viva Magenta inspires creativity and self-expression by reflecting on the valuable ancient practices of creating beauty from nature and the ultimate realization that nature is beauty.
Viva Magenta is an empowering color that promotes optimism, joy, and experimentation – all things that people are looking forward to in 2023 as we take what we learned during the past few years and apply it to shaping our worlds.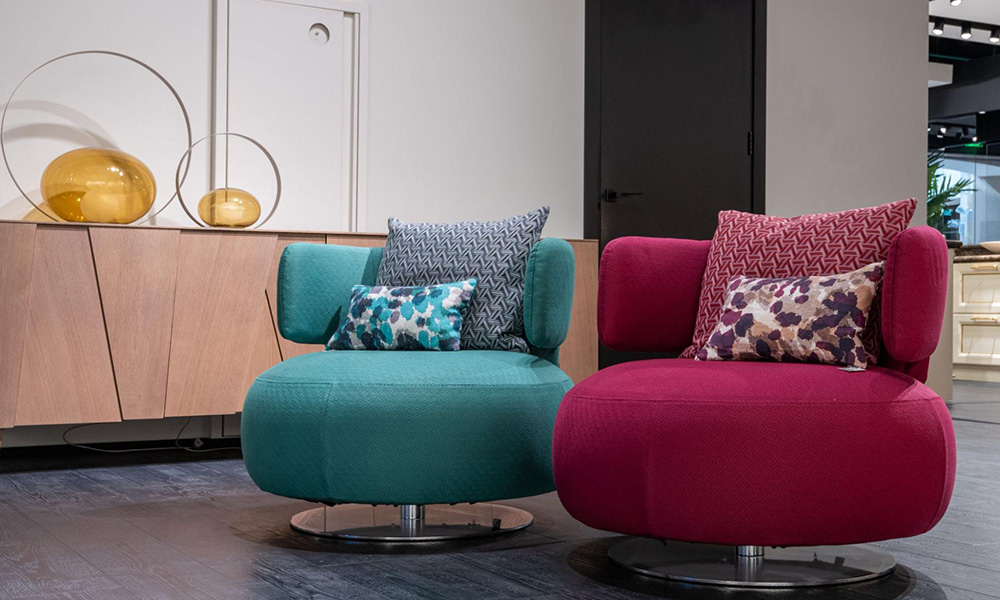 Decorating with Viva Magenta
This color is strong and vivacious without being overpowering. It can be used throughout your house as a larger accent wall or a smaller pop of color that brings energy and depth to any room. It is a reminder that life is meant to be vivacious, audacious and inclusive of all. This color is a transformative red tone that is assertive but not aggressive, it is "capable of driving designs to create a more positive future," which is something that we can all get behind as we move into 2023.
If you're interested in adding more color to your house contact Coles Fine Flooring for expert designer help.