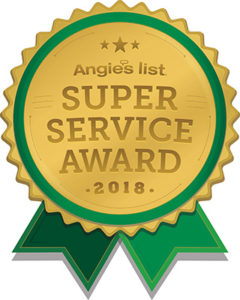 Every year, Angie's List gives the SSA to the top A-rated companies in their category, within their market. Coles Fine Flooring is proud to announce that we have won this award for the second year running!
Angie's List Super Service Award winners must meet strict eligibility requirements, which include maintaining an "A" rating in overall grade, recent grade and review period grade. They also must be in good standing with Angie's List, pass a background check, record a current trade license attestation and abide by Angie's List operational guidelines.
2018 was a great year for Coles. In addition to the Super Service award, we also won San Diego's Favorite in FIVE categories including: Flooring/Carpet Store – Local, Kitchen and Bath Remodeler, Local Construction Company, Tile and Stone, and Building Contractor. We got also 1st Place, Nationwide for The World Floor Covering Association Gold Standard Award, and we were honored with the Best of Houzz Service award for the second time.
Coles has spent over 70 Years building a reputation for our commitment to customer service, our knowledgeable design team, and our professional reputation within the industry. We are honored to be recognized and will continue to strive to provide an excellent selection of quality products and impeccable service in the future.