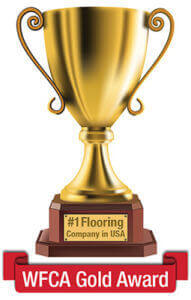 The Gold Standard Award is the World Floor Covering Association's way of recognizing retailers that have created an outstanding consumer experience. This year, Coles Fine Flooring is honored to have won FIRST place nationwide!
Anyone may nominate a retailer who is a member of the WFCA, has been in business for at least 3-years, and has a clear Better Business Bureau report. Once a store has met all of the above eligibility criteria, the winner is selected based on the following:
Knowledge: Knowledgeable management and staff who work to keep actively informed on the industry.
Customer Service: Providing courteous service, and offering customers help throughout the purchase process.
Quality of Store Image: Must maintain a clean, professional, well-maintained store – both inside and out.
Adherence to the WFCA Code of Conduct.
Coles has spent the last 71 Years building a reputation for our commitment to customer service, our knowledgeable design team, and our professional reputation within the industry. We are honored to be recognized by the WFCA and will continue to strive to provide an excellent selection of quality products and impeccable service in the future.