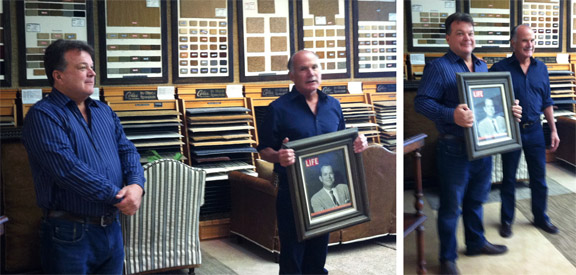 George and Steve at company retirement party as George symbolically passes the torch to brother Steve with their Father Hubert Coles' picture.
Monday, June 10, 2013: George Coles of Coles Fine Flooring is retiring. An icon of the San Diego business community, and 40+ years as President of the company, George is retiring to pursue other personal interests including his passion for the Humane Society and other causes. He will be spending time with his wife Beverly and his dog Ben, swimming at La Jolla cove, renewing the surfing skills of his youth, and will continue supporting Coles Fine Flooring as an ambassador and part time consultant.
George is passing the torch to his brother Steve Coles.  Steve has been a partner and co-owner alongside George for the last 38 years.  Steve has worked most of his adult life building the business with Hubert Coles, his father and founder of Coles, and his brother George. Steve is now the full owner of Coles Fine Flooring.
Steve's daughter, Lauren, is starting in the business carrying on the Coles Family legacy in San Diego and it will continue, as it has since 1947. Coles Fine Flooring remains a family owned and operated business and will continue to provide excellent selection, value prices and legendary service.