2020 was an interesting time in everybody's lives, to say the least and Pantone offered reassurance, confidence, and connection for us during such a time of uncertainty with Classic Blue as Color of the Year. One of the few constants throughout the tumultuous year was people's anticipation for a clean start in 2021. And, as you can guess, Pantone has our backs once again.
PANTONE 17-5104 Ultimate Gray + PANTONE 13-0647 Illuminating
"A marriage of color conveying a message of strength and hopefulness that is both enduring and uplifting."

In Ultimate Gray and Illuminating, Pantone has presented two autonomous colors that demonstrate how different pieces can come together to support one another. The practicality and solidity of Ultimate Gray, warmed by the sunshine and optimism of Illuminating come together to best express the mood for the Pantone Color of the Year 2021 with strength and positivity. The pair encapsulates thoughtfulness with the promise of something sunny and friendly.
In a year of recovery and healing, a message of happiness supported by fortitude is aspirational and gives us hope. We could all use the reassurance that everything is going to get brighter in 2021.
As people look for ways to fortify themselves with energy, clarity, and hope to overcome the continuing uncertainty, Pantone's spirited, emboldening shades fill us with vitality. Illuminating is a bright and cheerful yellow sparkling with life, warmth and solar power. Ultimate Gray provides the stability and dependability we need to provide a firm foundation, quietly encouraging feelings of tranquility, balance and resilience.
Furniture
Furniture items such as barstools and dining chairs are perfect places to add a bold hue like yellow. It's a rather small spot of color that makes a high impact yet easy update in the future.
The dining space shown here is the perfect example of a medium gray serving as a neutral backdrop to the vibrant yellow.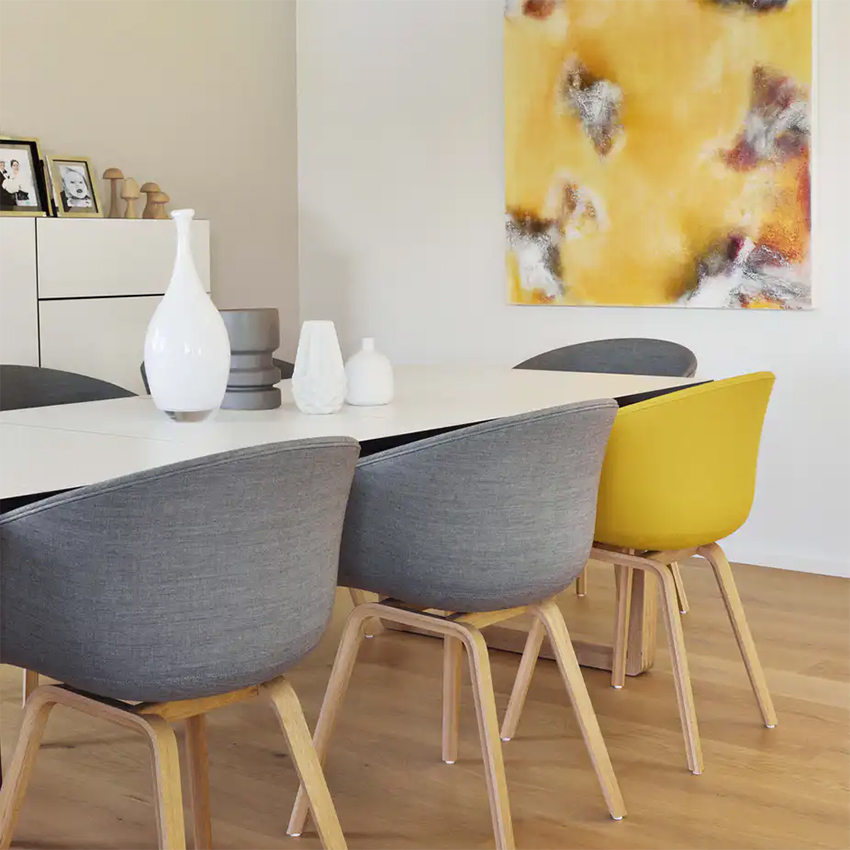 Kitchen Cabinets
A yellow-and-gray kitchen can catch the eye and brim with energy and personality. The color combination works beautifully in modern spaces, as shown here, but can also be utilized in more traditional spaces.
If you decide to go all in with a vibrant yellow for your kitchen, be sure to accent with plenty of soft neutrals. Medium gray hues offer a cool contrast, and crisp whites keep the space bright.
These colors also pair well with most wood tones. A light wood floor will keep your space light and airy as well as warm and welcoming.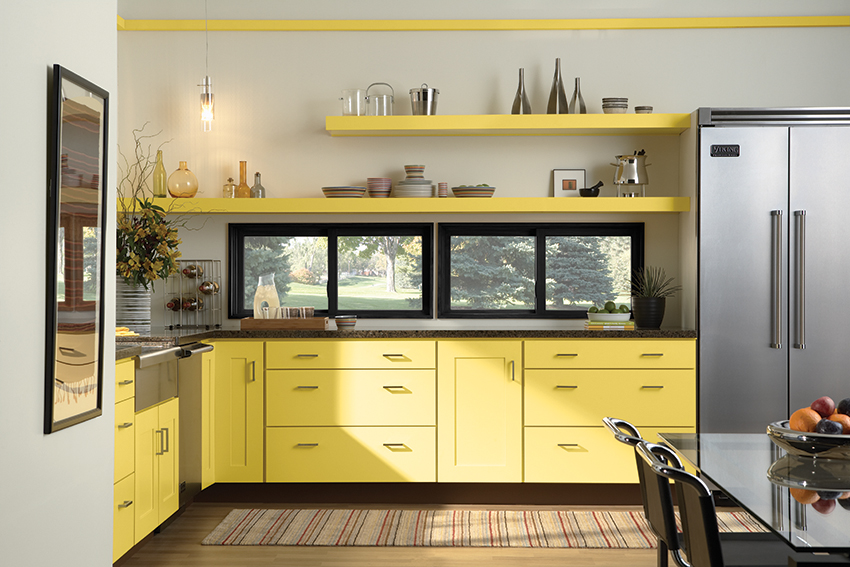 Textiles
Pantone recommends bringing their Colors of the Year into the home via textiles. This is a great option for those who like to play with color trends but don't want to fully commit. A gray (or any other neutral) sofa, allows you to the perfect backdrop to play with color with a zesty yellow throw or decorative pillows.
This is also the best way to bring color into your bedroom. Small pops of vibrant color by way of pillows, bedding, area rugs, or other accent pieces. As long as you keep a foundation of that soothing gray, it will remain a peaceful space for rest.