If you're considering upgrading the floors in your cooking area, there are a few things you should keep in mind. Function and durability should definitely be a priority. Most flooring today is designed to be low maintenance and durable, but not all materials are created equal. There are so many beautiful options and styles available, that choosing a new floor can seem a bit overwhelming. Especially when remodeling a room that often sees so much traffic and general wear and tear. This helpful guide should make that task a little less difficult.
The most important thing to consider when choosing new kitchen flooring should be functionality. Kitchen are high-traffic areas, prone to a lot of various spills. You will need a flooring material that is low maintenance and can stand the abuse that it will surely endure.
Stone, Tile, Vinyl and Laminate are some of the most durable flooring options, but they aren't your only options.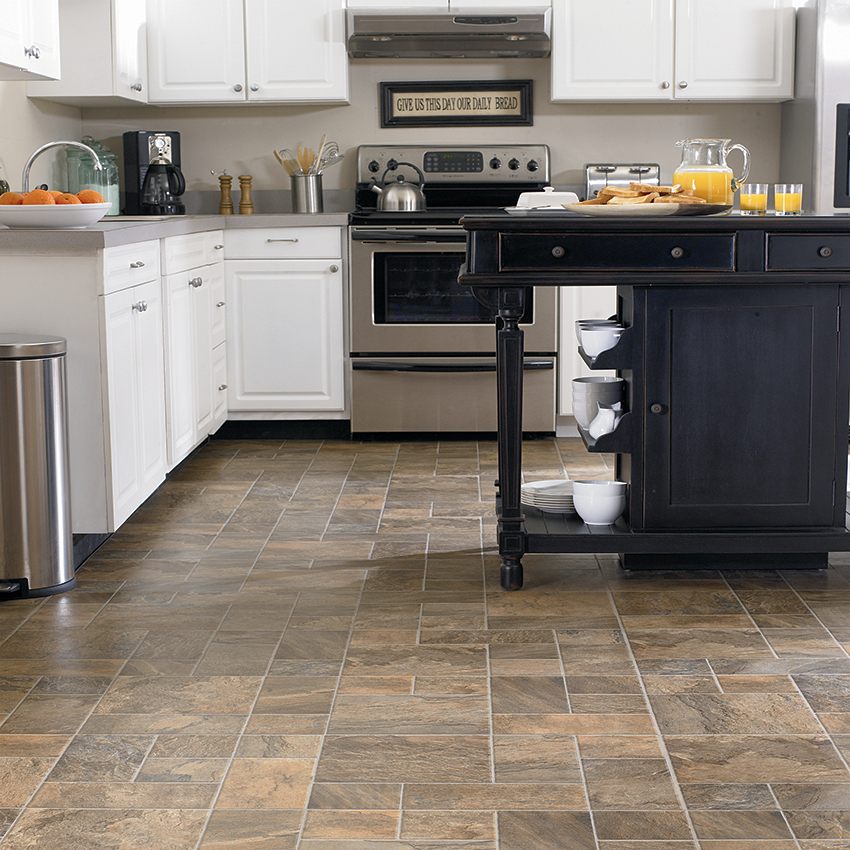 Stone Kitchen Flooring
From marble to travertine and slate, there's a huge variety of options when it comes to stone flooring. Thanks to the variations in pattern and color, stone gives your flooring a unique, natural look. Stone is naturally very cool, which is perfect during those warmer summer months.
Pros: Hard, durable surface, easy to clean.
Cons: Some stones may stain, requires routine sealing, some more fragile stones like slate may chip easily.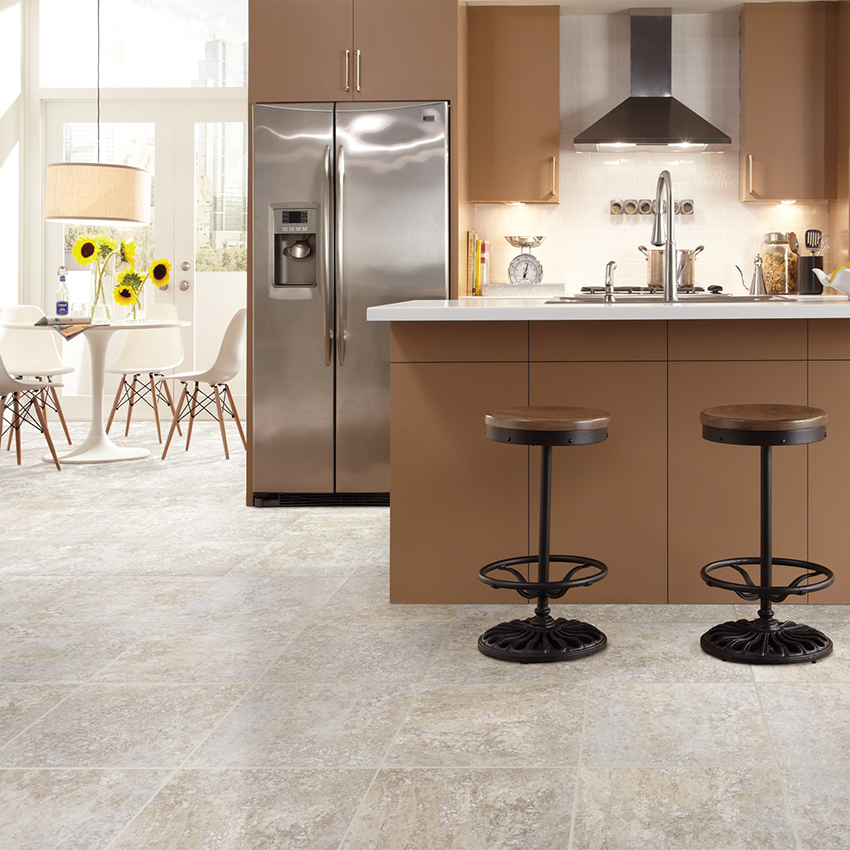 Tile Kitchen Flooring
Tile is a great, low-maintenance option for kitchens. It's easy to clean and durable. Tile designs can mimic wood and other materials. While tile used to come almost exclusively as a 12" square, the size and shape options have greatly increased.
Pros: Durable, water resistant, easy maintenance, large selection of styles, shapes and colors.
Cons: Grout lines may be difficult to keep clean, dropped items like glassware and dishes will likely shatter.
Tip: Hire a professional to install tile, especially if the subfloor is not perfectly level.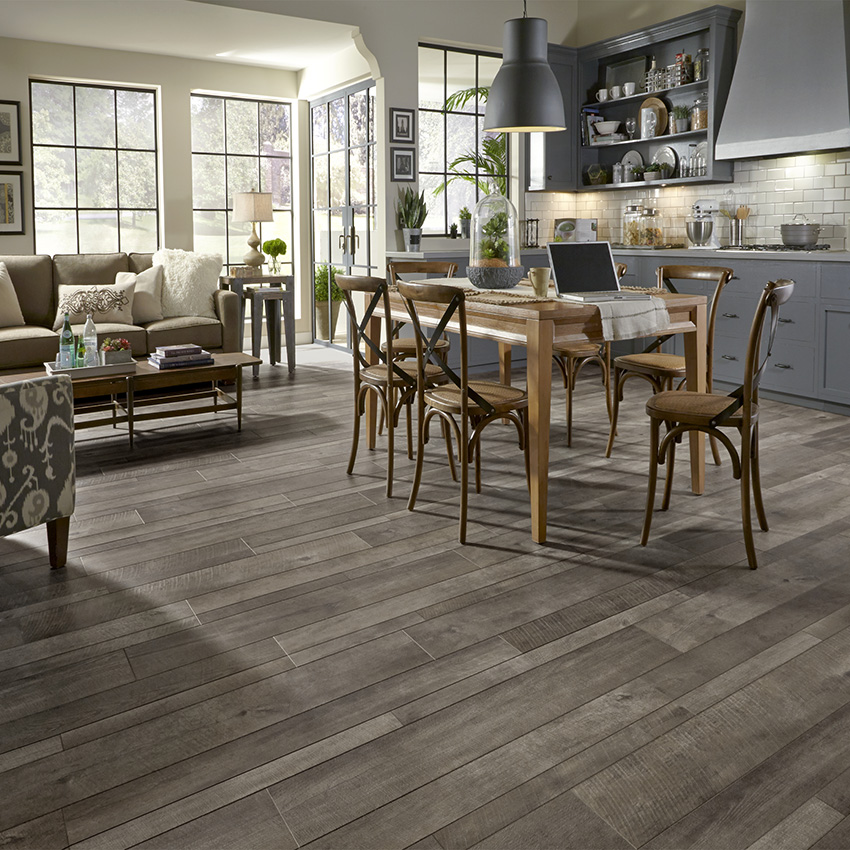 Laminate Kitchen Flooring
Laminate flooring is a more affordable and durable alternative to real hardwood flooring. It comes with a protective top layer that can withstand most day to day abuse. You can add padding underneath for a soft, ergonomic flooring solution. Laminate is easy to install and comes in a wide variety of styles.
Pros: Durable, cost effective, wide variety of options, easy to install and uninstall.
Cons: Not as valued as real wood flooring, may be slippery or noisy, not refinishable.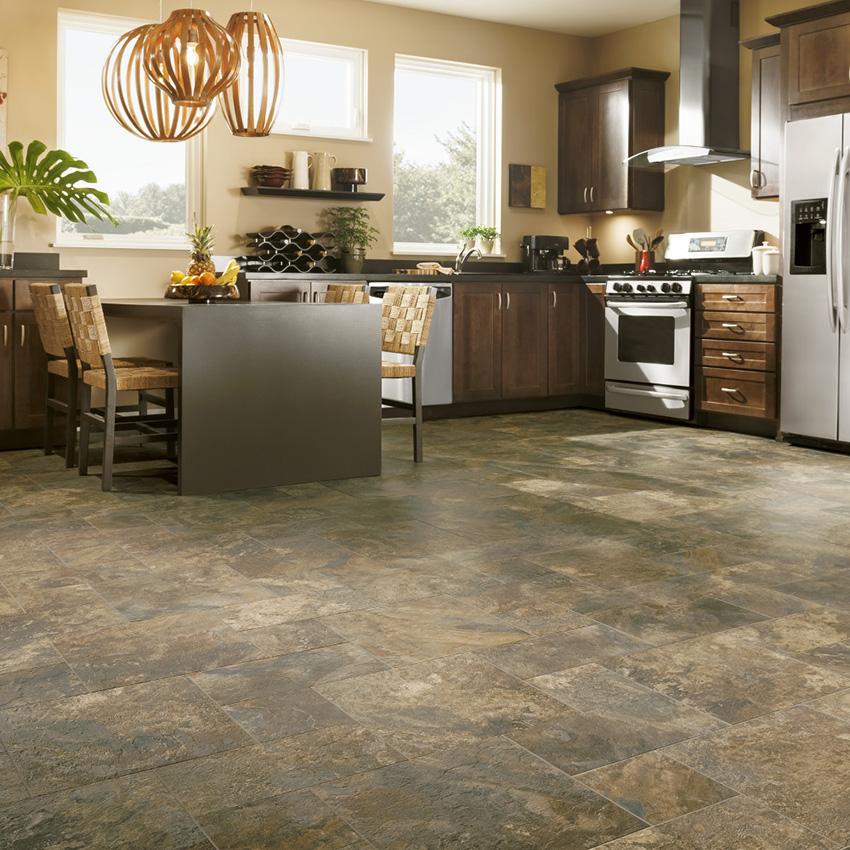 Vinyl Kitchen Flooring
Vinyl is another affordable option that comes in a variety of textures and styles. It is one of the best flooring options in terms of water-resistance. Comes in tiles, planks, or sheets.
Pros: Easy to install, water resistant, imitates wood and stone looks.
Cons: Requires a flawless subfloor to install on, can scratch or dent easily.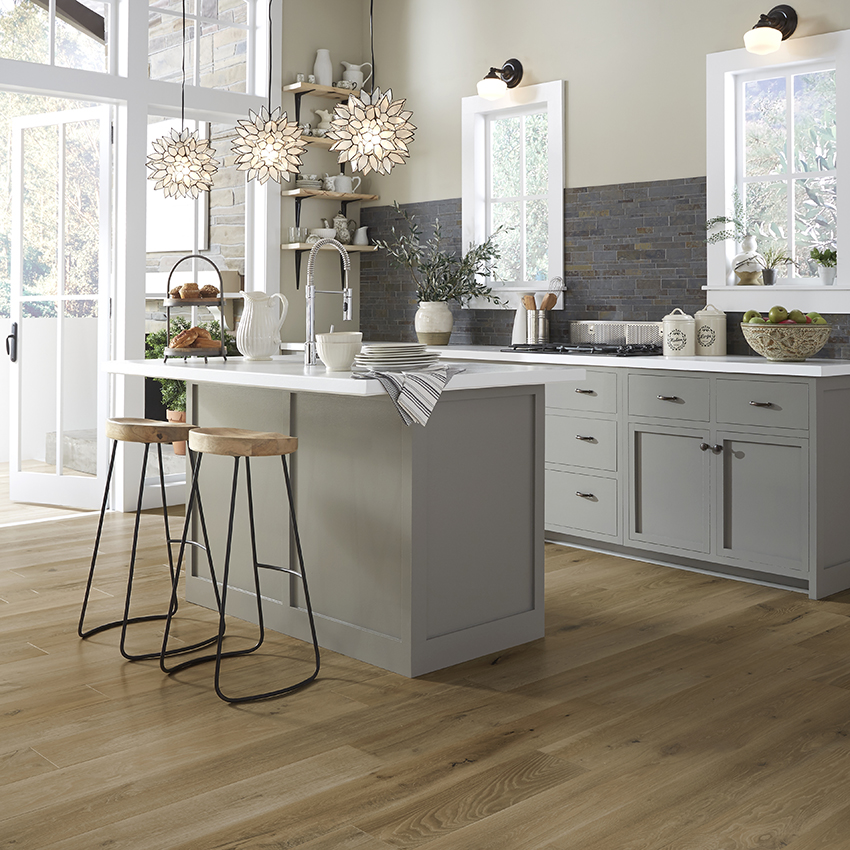 Hardwood Kitchen Flooring
Wood has always been one of the top flooring choices for buyers. It has a high-end, warm look that's completely unique, according to grain and age. But wood in kitchens (and other moisture-prone spaces, such as bathrooms and laundry rooms) requires special protection from excess moisture.
If installing hardwood, add an extra coat of finish in the kitchen to keep the wood sealed. Avoiding wider planks in a high humidity or coastal region, will help prevent cupping and warping over time.
Pros: Adds resale value, attractive, durable, can be refinished.
Cons: Can be noisy, needs periodic refinishing, may dent or scratch easily.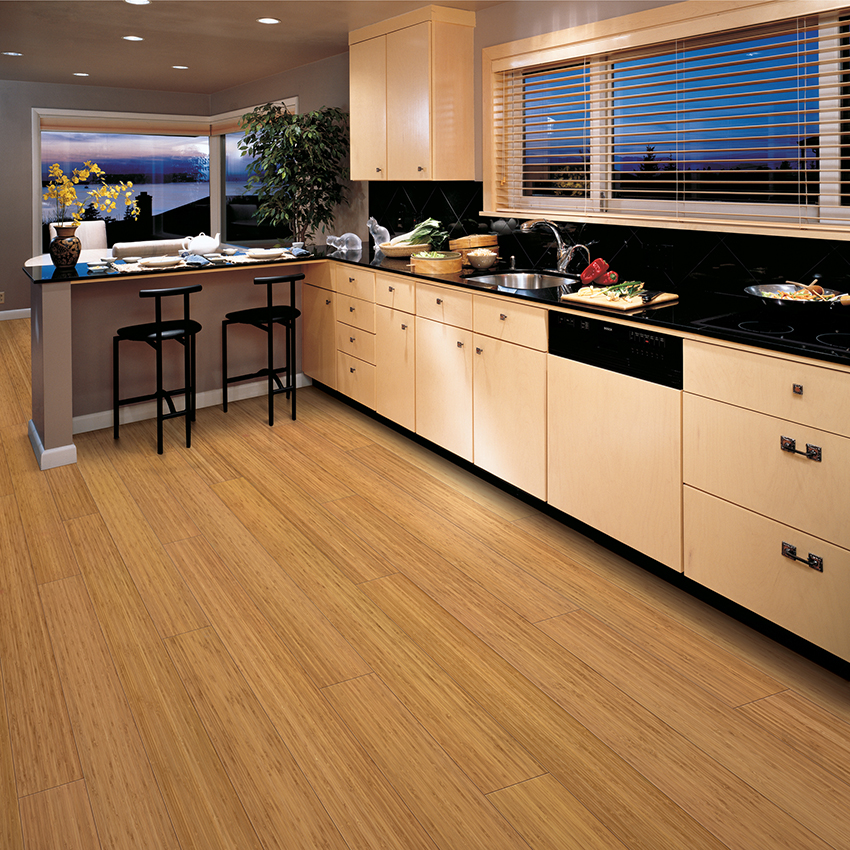 Bamboo Kitchen Flooring
Bamboo is a great option for kitchen floors. Bamboo grows so quickly it's a good, sustainable, "green" source for flooring. Besides the eco-friendly aspect, bamboo is one of the strongest natural materials on the market.
Pros: Durable, beautifully grained, eco-friendly, long warranties available.
Cons: Some bamboo flooring can dent easily.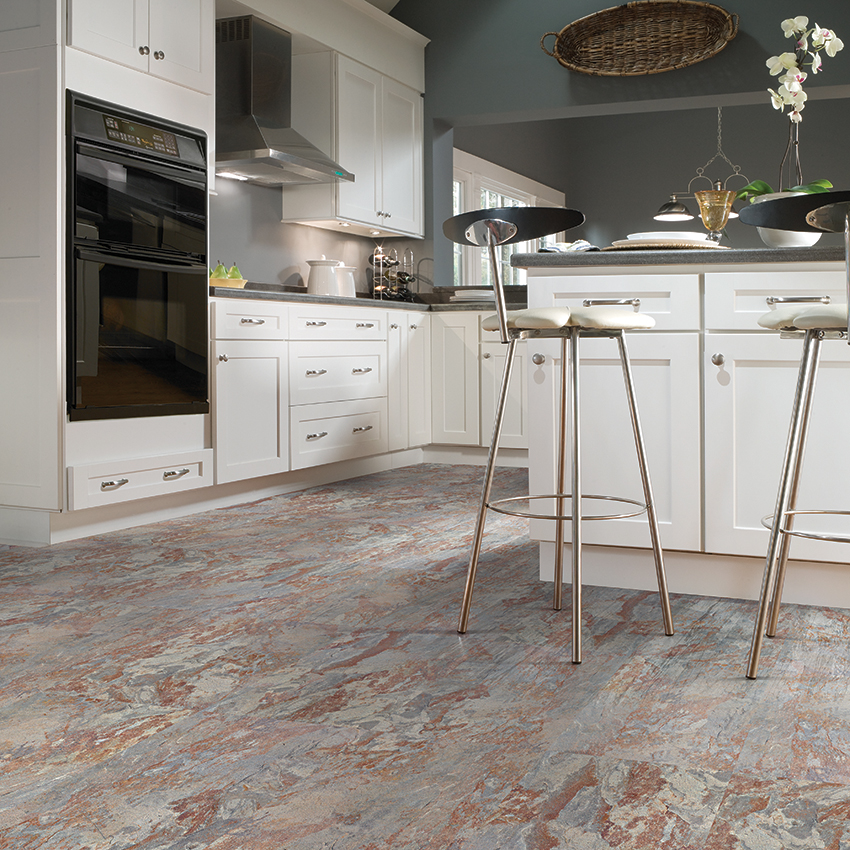 Cork Kitchen Flooring
Cork is a good option if you're looking for a unique texture and a padded feel underfoot. It is a natural insulator against temperature and noise and it's naturally anti-microbial, thanks to a waxy substance in the cork, which repels insects and pests. Some higher-quality cork floors, like wood, can be sanded and refinished periodically. Be sure to confirm that the cork you choose has a durable finish that will repel water and moisture.
Pros: Eco-friendly, anti-microbial, soft, padded feel, unique texture options.
Cons: Can dent or scratch easily.