For some people, choosing the right color for your wood floor is a no brainer. For others, however, it's actually a pretty big decision. Flooring is a big investment, nobody wants to choose something they'll end up changing their mind about a year or two down the road—especially with a product that has the potential to last decades.
Whichever group you land in, the goal is probably to give your home one cohesive look throughout—not a random selection of floors, colors, and styles that change from room to room. As a rule of thumb, it's best to stick with a single wood color, two at very most. And, if you're using it, only one style of carpet.
What to Consider When Choosing Wood Floor Colors
Obviously that the color of your wood floors should match your home's existing style and color palette, but don't forget that includes your walls and trim, cabinets, and appliances—plus any furniture, textiles, and other types of flooring in the home.
You may be tempted to match your floor to your trim or cabinet color, but this has the potential to backfire. Too much of one type or color of wood can flatten your space visually, making it boring and one dimensional. Instead, look for something with the same undertones in a darker or lighter shade.
If you're mixing two different species of wood with similar undertones, be sure only one (or neither) of them has a bold grain. If both have strong grains they could compete visually and overwhelm your space.
For example, if you have dark cabinets like the island below, you should probably go with a wood floor that matches tonally, yet contrasts visually. The light hardwood floor with taupe undetones works perfectly with the cool, dark island. The same rule applies for furniture, countertops, and any other décor that you don't want to change.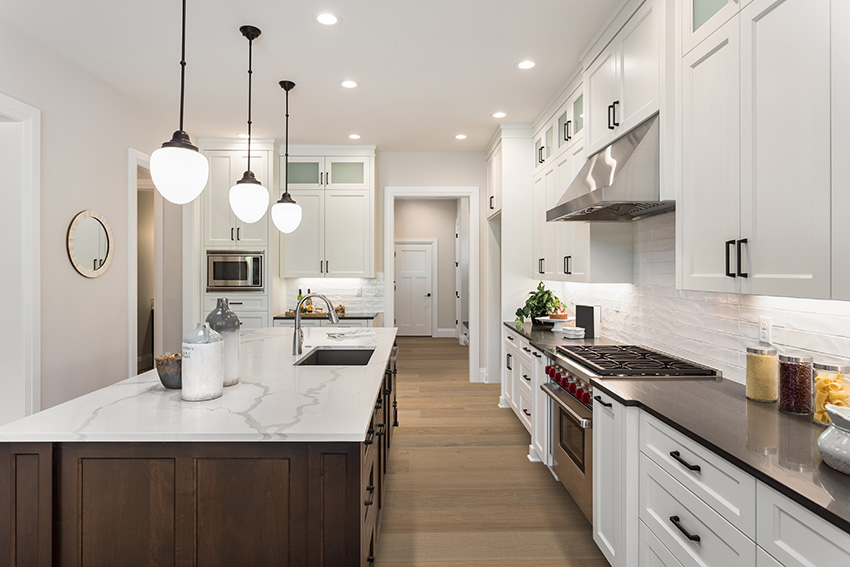 You probably know that dark walls in a small room tend to make it look even smaller. This is also true for dark floors. However, if you have your heart set on dark wood, there are ways to make it work. If your space has an abundance of natural light your dark floors may not be so stifling. The same goes for light wall colors. Another helpful trick for keeping your spaces from closing in on itself is to opt for wider planks or other patterns that can help minimize the shrinking effect.
Don't forget to think about your lifestyle when choosing your wood colors. Dark wood floors have a tendency to show scratches a bit more than lighter options, but light wood floors show more dirt and might require more frequent cleaning. Are you a regular vacuumer? If so, a light floor might be just your speed. Do you have children or dogs? A dark floor might fit better in your busy lifestyle.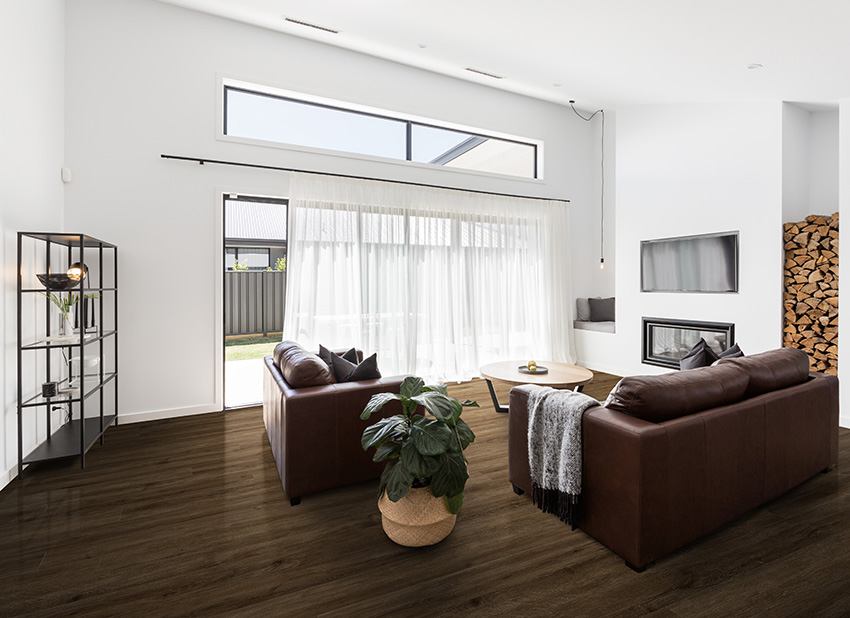 Trendy or Timeless?
Whether you're going with a top of the line engineered wood, pouring concrete flooring that looks like wood, or DIY-ing your own wood floors, every choice you make is going to affect not only your immediate price but also its resale value.
Maybe you prefer a wood floor that's classic and timeless, or you might be really jazzed about a current trend. When it comes to trends, timing is everything. Even budget flooring options are a big investment. The last thing you want to do is make an investment that doesn't pay off when you put your house on the market.
Some people choose to install hardwood flooring as a way to increase their resale value before putting it on the market. If this sounds like your plan, a trendy wood floor color could definitely help your case.
Popular hardwood colors in 2021 include
Dark charcoal to almost-black. Very dark or light-colored wood are very modern.
Natural-looking wood finished with a strong lacquer.
Mixed beige and grey tones. When paired with white or off-white cabinets and trim these colors can help your home feel both rustic and trendy.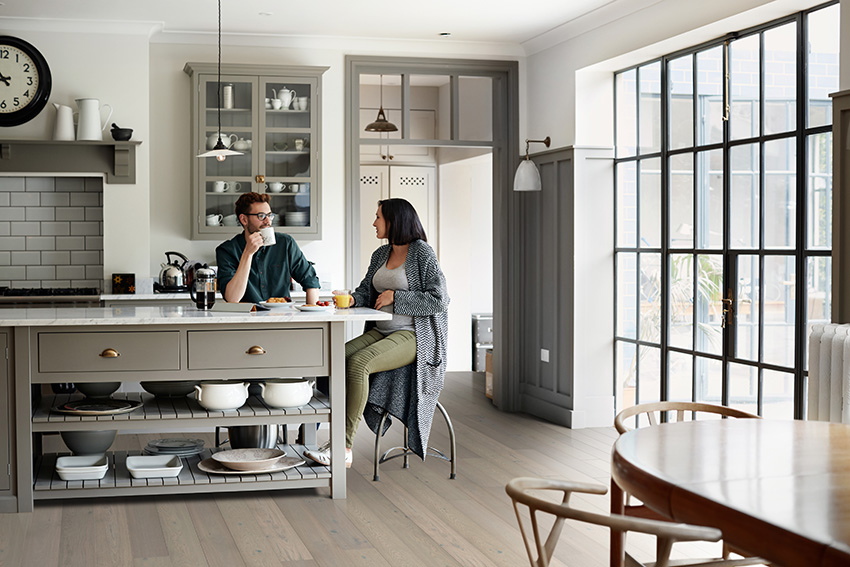 Classic looks, however can help you sell your home someday. Maybe you're waiting for an empty nest, maybe you're waiting for retirement. Either way, if you have a long-term plan of selling, a classic look is going to be your best investment.
It's hard to predict where trends will go five or ten years down the road. With this in mind, sticking with warm, neutral browns will keep your home looking timeless and will ensure you're ready to sell when the time comes. Not only do virtually all wood species look great in a shade of brown, but you can also trust that it'll match nearly any interior and won't scare off potential buyers when you are ready to sell.
None of this, however means that you have to choose between a trendy look or a classic one. The simple trust of the matter is that you can usually find a color scheme that is perfectly in the middle. Teak is a great example. Teak is a naturally beautiful wood that doesn't require any staining, which lends itself to a trendy, more modern look. At the same time, teak's warm, honey hues, give these floors a timeless feel.