You could probably guess that solid wood flooring is made of solid wood from top to bottom. Made most often from hardwood species such as oak, maple, or walnut, its biggest advantage is that it can be sanded and refinished numerous times over the course of its lifespan. While engineered wood flooring looks very similar on the surface, their similarities are only surface deep.
Engineered wood is made from a much thinner layer of hardwood that is bonded over a substrate of high-quality plywood. Engineered flooring comes with a somewhat lower price tag than solid hardwood, but most types can only be sanded and refinished once since the surface layer is rather thin. However, refinishing abilities aside, both materials have advantages over each other and the right choice will depend on your lifestyle and how much you value the merits of each.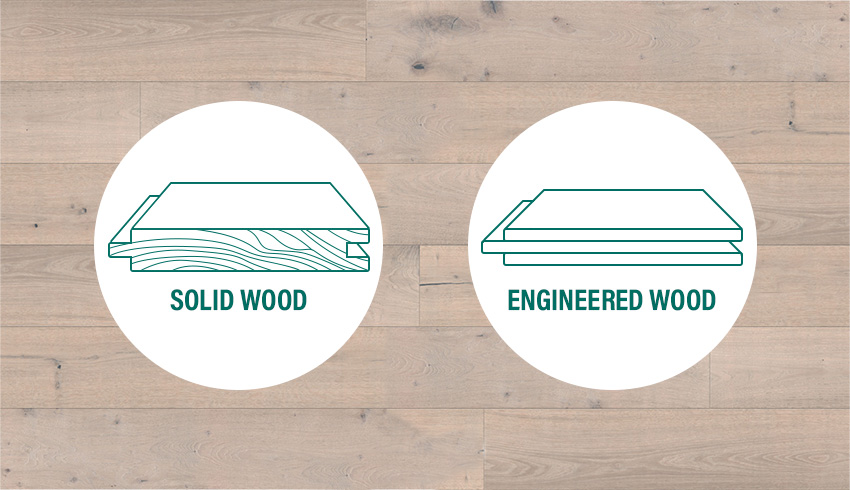 Solid Wood Flooring vs. Engineered Wood Flooring
Solid wood flooring usually made of hardwood species and comes in long planks milled with tongues and grooves on opposite edges. Planks are interlocked during installation and nailed down to the subfloor. Because it is solid wood, the surface can be sanded down and refinished several times over its lifetime.
Engineered wood flooring is hard to spot by appearance alone due to its construction which features a relatively thin layer of real hardwood. This surface layer is bonded to a premium-quality plywood layer that provides a very stable base layer. A good-quality engineered wood floor can last 25 to 30 years, and it is both less expensive and easier to install, but cannot be refinished as many times as solid wood.
| | | |
| --- | --- | --- |
|   | Solid Hardwood | Engineered Hardwood |
| Lifespan | 30 to 100 years | 20 to 40 years |
| Cost | $8 to $15 per square foot | $3 to $14 per square foot |
| Refinishing | 2-3 times over life of floor | Once or twice |
| Stability | May warp in humidity | Good resistance to warping |
| Thickness | About 3/4 inch | 3/8 to 9/16 inch |
| Plank Width | 2 1/4 to 4 inches | 2 1/4 to 7 inches |
| Plank Length | 12 to 84 inches | 12 to 60 inches |
| Installation | Nail down, tongue-and-groove | Nail down, floating, or glue-down |
Solid hardwood flooring boards tend to be narrower than engineered wood planks. Solid wood generally has much tighter seams between boards, while engineered planks sometimes have beveled edges which creates slight grooves between boards. and there is a wider variety of colors and species than engineered alternatives. Solid hardwood is available in both pre-finished and unfinished boards. Engineered hardwood flooring is almost always sold pre-finished, and there is a narrower range of available colors and species than with solid hardwood.
Both floors have good heat resistance, but neither is recommended for overly wet spaces like bathrooms. Solid hardwood is not recommended for installation directly on top of concrete slabs, since humidity migrating through the concrete can cause the planks to swell and warp. Engineered hardwood performs a little bit better in humid spaces since its plywood construction is more stable and less susceptible to warping. If installation against a concrete subfloor is unavoidable, engineered wood is the better option.
Both types of flooring are relatively easy to care for, requiring simple sweeping and cleaning with an approved wood cleaner. You should, however, avoid using water or steam to clean any wood floor.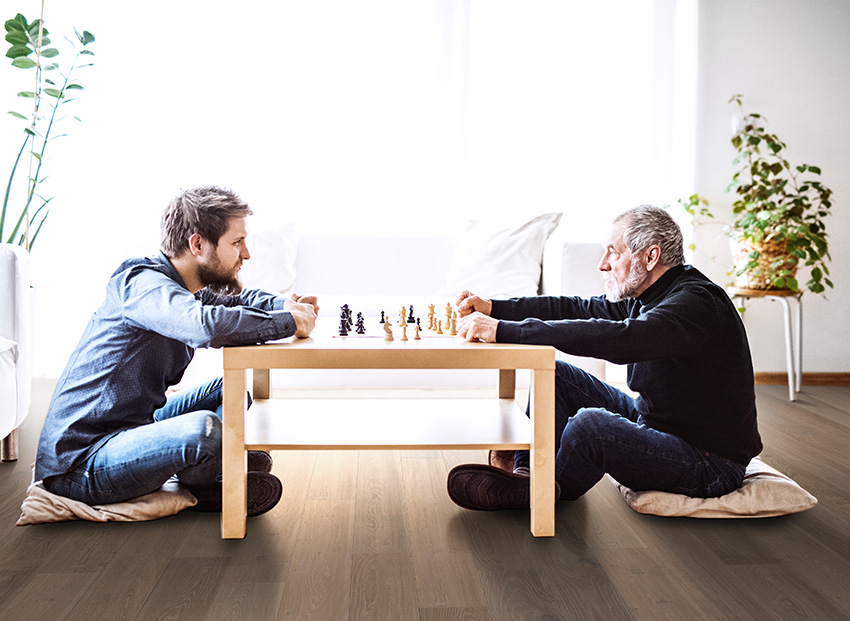 Solid hardwood flooring is installed with a tongue-and-groove system, in which each board is blind-nailed to the subfloor down through tongues at the edges of the boards. Some engineered wood flooring is installed with this same nail-down method, but "click-lock" edges that can be installed as a "floating floor" are also very popular. DIYers usually find engineered wood to be the easier of the two to install.
Solid hardwood can last anywhere from 30 to 100 years, thanks to its ability to be sanded down and refinished several times. Although it can't be refinished over and over again, engineered hardwood still has the ability to last 20 to 30 years.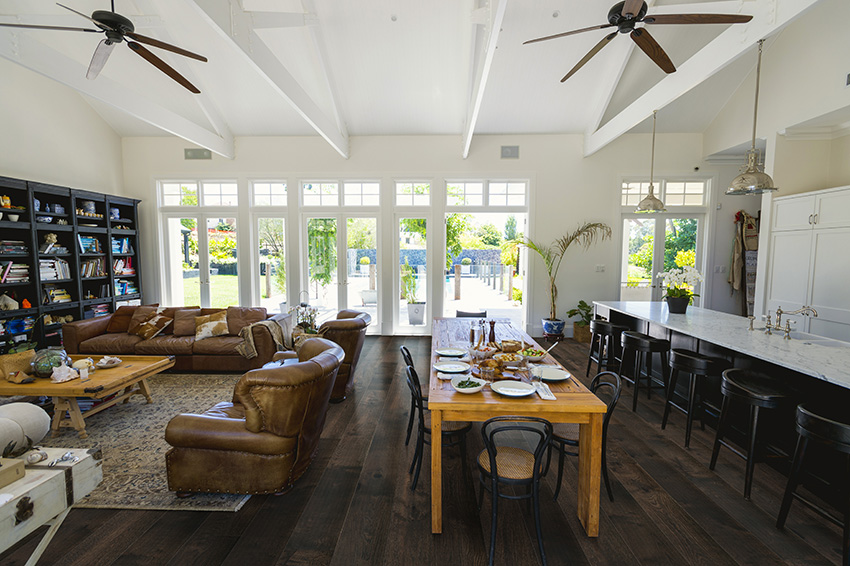 Standard hardwood planks are 3/4 inches thick, 2 1/4 inches wide, and sold in lengths ranging from 12 to 84 inches. Other sizes are available, although solid hardwood flooring is rarely more than about 4 inches wide. Engineered hardwood boards are thinner, with 3/8- to 9/16-inch-thick boards most common. Engineered wood is often sold in much wider boards, up to 7 inches, and the lengths typically range from 12 to 60 inches.
In appearance, solid hardwood is not noticeably different from engineered hardwood, but when it comes to resale value, real estate agents and home buyers often place a premium on a solid hardwood floor for its greater longevity. Engineered hardwood flooring will likely not be a turn-off to prospective buyers, but they may recognize that these floors have a shorter lifespan and their offers may reflect that.
Engineered wood flooring was once considered a poor imitation of solid hardwood, but improvements in manufacturing technology and product quality have eliminated this perception. Solid hardwood may hold a slight edge in prestige for a real estate appraiser, but the lower cost and easier installation of engineered wood flooring give it quite an edge for others. Further, engineered wood uses less hardwood, which appeals to environmentally conscious consumers. In the end though, you can't go wrong with either product. Both are likely to provide many years of comfort, warmth, and value to your home.