Choosing the right flooring for your home is about more than just style, it's also about durability and strength. If you've ever asked, "how durable is laminate flooring?" you might be surprised by the answer, especially with the new products and modern technologies being used today. Depending on the quality of the product, laminate flooring can last a very long time. Under the right circumstances, a good quality laminate can last between 15 to 25 years on average, or longer.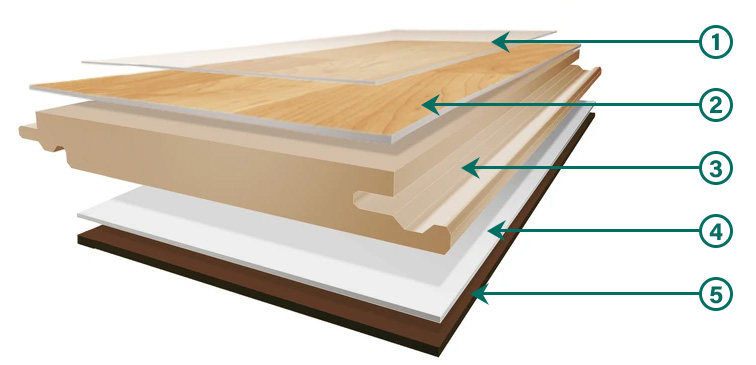 What is Laminate Flooring?
Laminate flooring is a durable, versatile choice for busy homes. It mimics the warm beauty of wood, but is available to the consumer at a much lower price.
Each plank of laminate flooring is constructed of four distinct layers. Combined, they form a solid, durable piece of flooring that looks and feels more realistic than ever before. Recent developments in manufacturing make it difficult to differentiate real hardwood from laminate floors. Ultimately, laminate is a beautiful, affordable alternative to real hardwood.
1. Wear Layer: The top layer of your laminate floor is a melamine or urethane wear layer. It is a clear topcoat that sits on top of the floor's design image, protecting it from anything that could harm the surface or appearance of the floor, such as stains or fading.
2. Design Layer: A printed, photo-realistic image of either wood, tile, or stone. Manufacturers use a high-definition printer to make beautiful, realistic wood and stone designs. The printed image sits below the wear layer emulating the appearance of hardwood or tile.
3. Inner Core: A high density fiber core board made of composite wood keeps your laminate floor stable and flat. This is the thickest layer, compiled of wood pulp that is adhered together.
4. Backing: The last layer, is a melamine backing. Laminate is not waterproof, but this backing layer works as a barrier to keep out excess moisture, lowering the chance for warping from the sub-floor.
To create each plank, these four pieces are pressed firmly together using either direct pressure or high pressure construction. An underlayment padding (5) can be adhered onto the backing layer, or purchased separately.
While hardwood floors are nailed or glued, and often use a locking system that requires glue, most laminate floors use a click-and-lock installation system that does not require adhesives of any kind. Laminate floors are often "floating" meaning the planks are not nailed or glued to the walls or subfloors. It can be installed over any other tightly bonded flooring. Installation is easy, and most laminate can be installed in about one day.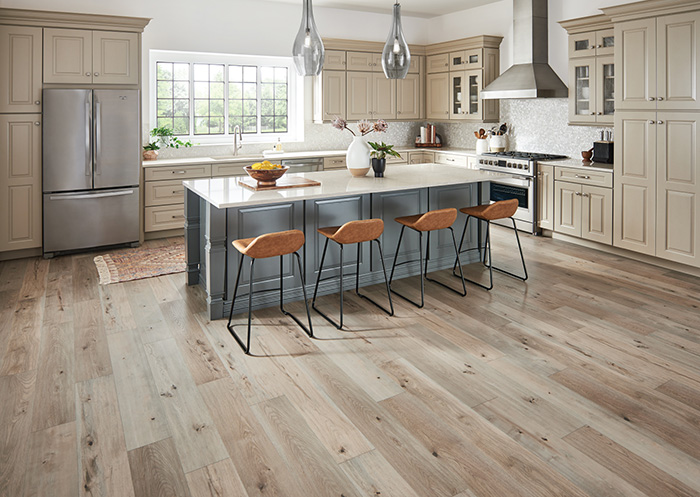 Care & Maintenance Tips
Much like anything else in your home, taking good care of your laminate floors can help extend its lifespan. Flooring is a big investment, so proper care and maintenance are very important. While maintenance alone can't answer the question, "how long does laminate flooring last?", it does influence it. Since laminate's wear layer is a thin, clear coating, it's vital to use cleaning products that won't damage this protective surface.
Avoid solutions that contain ammonia or vinegar on your laminate floors. Acidic substances like these can eat away at that protective layer.
If done correctly, regular cleaning of your laminate floors will help extend their lifespan.
Mop your laminate floors with a damp, not soaking wet mop. Sitting water can cause laminate floors to buckle or warp if it doesn't dry quickly.
Sweep your flor regularly to remove debris and dirt from your floors that could cause scratches. Use your vacuum cleaner when it's on the hard floor setting so the beater brush, doesn't leave scratches or other marks behind.
Keep pets nails neatly trimmed so they don't scratch the top layer. If the top layer is penetrated, moisture could seep underneath and cause damage.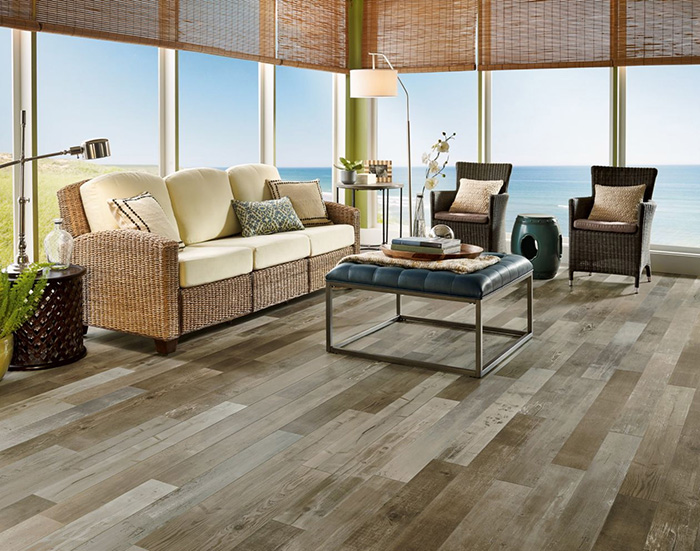 So, how long does laminate flooring last?
Your new laminate flooring should last eight years, at the very least. However, laminate floors can last well over a decade if it is taken care of and protected.
The lifespan of your floors may also depend on how much foot traffic it sees. For example, in a bustling household filled with pets and children, your laminate floors may need replacing sooner.
Bedrooms tend to show less wear than living areas and kitchens. Without children or pets in the home, your laminate could last up to 25 years. In the end, it comes down to the quality of the product, the care and maintenance it receives, and the amount of wear it endures.
Make your Investment Last
While there's real answer to the question, "how long does laminate flooring last," you can typically expect at least a decade out of this durable floor. Take good care of your investment and it will repay you with many years of warmth and beauty.
Remember to choose a floor that is backed by a good warranty and made by a trusted manufacturer. With a quality installation and good care, you will be able to enjoy your floors for years to come.