Choosing laminate is, in many cases, more beneficial and practical for your family than natural hardwood flooring. It is easier to clean, easier to install and costs less up front, however it is also more durable. It resists scratches, moisture and wear and tear making it perfect for busy households and pets. Here are the top three reasons people love laminate.
Durability
Durability is a huge deal when it comes to flooring. With an aluminum oxide top coat, laminate resists scratches, dents, fading and stains in ways that natural wood just cannot compete. As you start shopping for flooring, understanding durability ratings can help you decide which product is best for you and give you realistic expectations for your laminate floors.
Laminate is tested for durability and rated based on performance. This rating describes how durable, strong, and resistant the flooring is, helping you find the right choice for your needs.
Here's what each rating means:
AC 1: The least durable. It is ideal for low-traffic areas such as guest rooms or bedrooms.
AC 2: Floors with this rating go perfectly in medium traffic areas, such as a living room or dining room.
AC 3: If your floors will receive a fair amount of traffic, look for flooring with this rating.
AC 4: This is commercial grade flooring. It is best used in areas of your office or building with a healthy amount of traffic.
AC 5: This is the most durable laminate flooring rating. It is perfect for areas with regular, heavy traffic.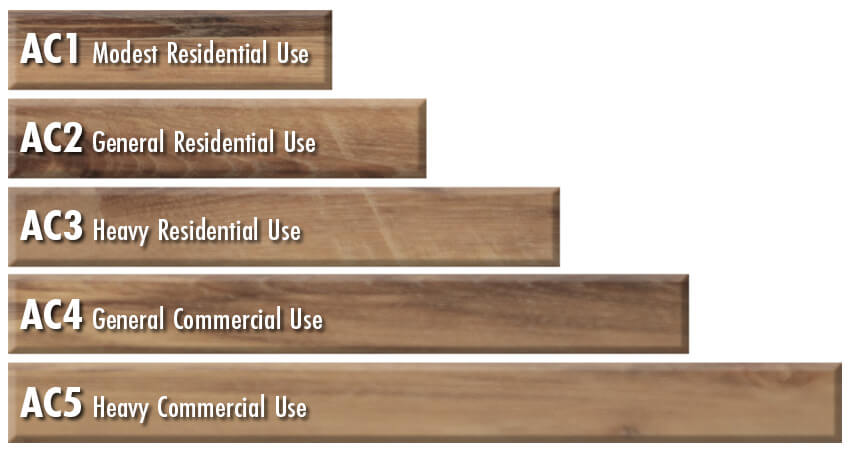 Installation
Easy installation is one of the top benefits of laminate flooring. It's an "interlocking floating" floor, which means the planks attach to each other via a tongue-and-groove rather than to the sub-floor. This glue-free system is very DIY-friendly and makes it possible to install a laminate floor over virtually any existing floor.
Homeowners can save hundreds of dollars on installation costs by choosing laminate flooring. With the tongue and groove locking systems, laminate is designed for an easy floating installation that anyone can do. Save money and hassle but skipping the contractor and DIY-ing your laminate installation.
Value
Obviously, laminate is more economic than real hardwood flooring. Wood increases the value of your home but is harder to maintain in the long run. Laminate will last a very long time and will maintain your home's value for a longer period of time. Laminate is a great choice for someone renting out their property or who has kids and pets.
Most consumers choose laminate due its affordability. The way laminate flooring is manufactured makes it less expensive than other types of flooring, but the materials are engineered to give lasting durability and strength. The price benefits of laminate flooring give you a realistic hardwood or tile look, without breaking the bank.