Leave the worry behind and finally learn how to care for your porcelain tile floors properly.
Did you know that tile and stone flooring is one of the most versatile options available on the market? With such a wide selection of colors, patterns, trims, and designs, there's a style for any room. Whether your home is classic or modern, urban or rustic, tile can elevate any space. 
It also helps keep your family cool in the sunny San Diego weather. Best of all, tile and stone flooring are easy to care for. With just a few easy steps, you can ensure the longevity of your floors. Let's dive into the nitty-gritty details behind porcelain tile care and maintenance
If you'd like to jump ahead and find the perfect tile and stone for you, Cole's Fine Flooring is ready to help.
Say Yes to Routine Cleaning
A huge part of keeping your porcelain tile (or any ceramic tile or stone) clean is by saying yes to routine care and cleaning. Undergoing a basic cleaning regime with mild soap and warm water is usually sufficient to keep your floors looking good as new.
We advise never to use cleaning products that contain ammonia or harsh chemicals (like acids). The reason is that these harsh cleaners can damage the grout between the tiles, as well as the glazed surface on the tiles.
If mild soap isn't cutting it and you want something a little stronger, use a gentle multipurpose spray cleaner to cut through mildew, mineral deposits, soap scum, and the like.
Unglazed Tiles?
Circling back to the glazed tiles topic—are your tiles glazed or unglazed? You should clean unglazed porcelain or ceramic tiles with a neutral pH concentrated tile cleaner. Using something with a neutral pH just means it will better clean oils, grease, dirt, etc., and won't harm the tile. 
P.S. Click here to learn more tile tips from the flooring experts.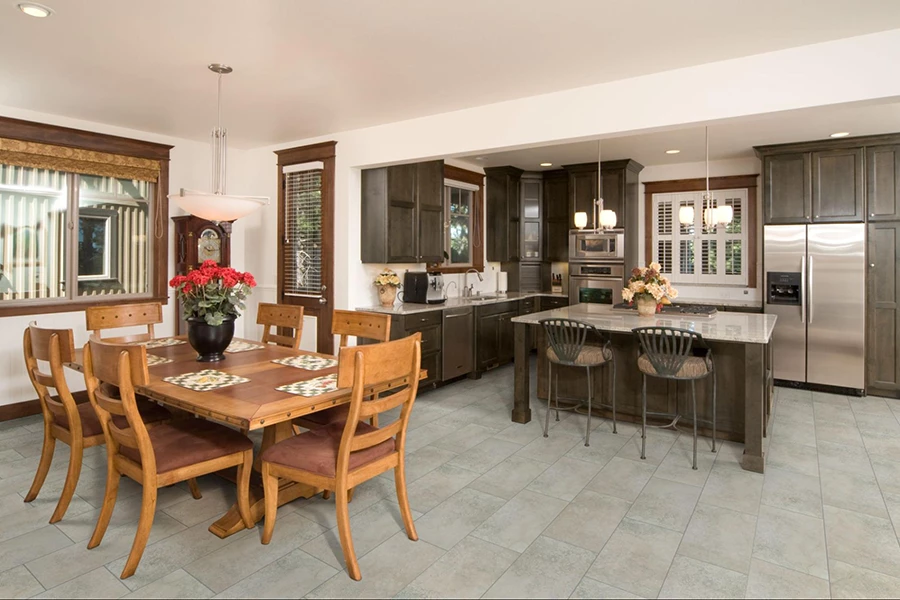 How to Prevent Scratches and Stains on Porcelain Tile
Most people opt for porcelain tile because of its longevity and promised durability. While this type of tile is very resistant to etching, scratches, and stains, it is not invincible—aka damage is possible. 
Avoid exposing porcelain to permanent dyes, inks, and liquids to prevent stains since these may leave a lasting mark. 
If you do happen to spill dye or get a permanent marker streak on the tile, you should wipe the area with a damp cloth as soon as possible and then clean it with a cleaner. Dry the area with a cloth. 
Juice, coffee, and wine may be another story—wine in particular. To prevent stains, it's best to wipe up these liquids immediately. 
A good rule of thumb is to immediately wipe up anything spilled, whether it be water or wine. 
As far as scratches go, do not use abrasive cleaning tools. Vacuum and sweep up dust and debris before you clean the floors to prevent any unnecessary friction against the tile. 
How to Protect the Surface of Tile or Porcelain
You will not need to seal porcelain tile to protect the surface, unlike hardwood floors or other types of tiling. However, it is always a good idea to seal joints and grout lines. When doing so, we advise using a product that is safe for both the tile's surface and grout. 
Removing Sealer?
You may want to remove the seal, wax, or finish on your tile to change its look or to reseal it due to it showing signs of wear. Use a tile sealer and adhesive remover to get rid of waxes, sealers, or any finishes from porcelain or ceramic tile. Pro tip: always test a small area first in case the tile reacts poorly with the sealer stripper. 
Remember that you will need to seal the grout, regardless of whether you seal the tile surface, which brings us to our next point: maintaining tile grout.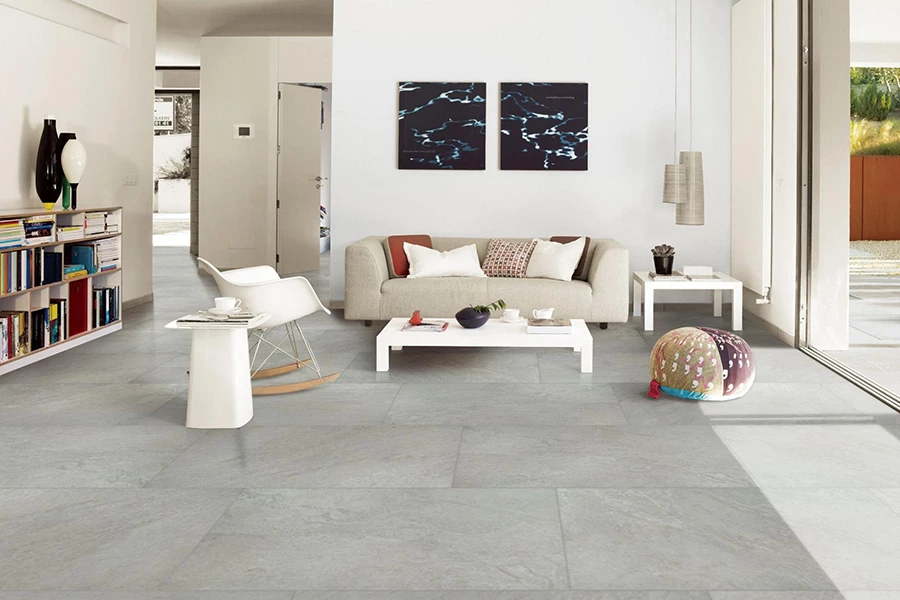 Taking Care of Tile Grout
Another critical part of porcelain tile care and maintenance is keeping the grout in tip-top shape. The purpose of grout is all-encompassing. It provides a gap for the tile material to flex, it fills the joint between tiles, and it reduces the likelihood of breakage. As such, grout is a permanent, critical part of any tile, ceramic, or stone floor. 
Though it's incredibly important, it's often a headache to clean. While you can easily sweep and mop over the surface of tile, dirt and debris settle into grout lines. That causes it to darken and appear grungy over time. 
You can clean grout with a non-oil-based, all-purpose cleaner. If your grout needs a deep clean, you can use a concentrated tile and grout cleaner to get the job done. 
Restoring Grout Color?
If the grout in your tiling has been stained beyond redemption or care, we recommend using a grout stain to recolor it. A grout stain is an epoxy-based product that is specially designed to penetrate into the grout material, sealing its surface with a permanent color. 
Before restoring grout, clean the grout joints to get rid of dirt. You can use a professional grout cleaner to ensure you achieve a thorough clean.
Get Better Floors With Less Hassle with Cole's Fine Flooring
So, what do you think? Do you believe porcelain or ceramic tile is the best choice for your home? Whether you've decided to give porcelain a try or if you still have mental question marks floating around, our team at any of our three San Diego, CA, locations can assist you. Please contact us at Cole's Fine Flooring to strike a conversation with true flooring professionals.