Tile & Stone – Variety & Versatility
Our stone and tile flooring collection includes:
An

exceptional selection

of the latest fashions in ceramic, porcelain, stone, and marble tiles.
The newest fashions

in tile, including stone-look ceramic and porcelain tiles.
A large showroom

with samples installed on the floor and on large sample boards so you can easily visualize how a particular product will look in your home.
Our professional designers have extensive knowledge of tile and stone flooring and are happy to help you choose the right flooring option for you.
There are a whole range of colors, designs, and types of tile to choose from; ceramic, marble, glass, granite, porcelain, and stone. For areas where moisture will be present—like bathroom or shower—a non porous type is usually best; however you can seal a porous stone for use in a moisture prone room.
When tiles are used on a floor or flat surface, stains are inevitable. Any natural material can be damaged and stained, usually easier than man-made materials like ceramic tile. Because it's porous, stone has a higher potential for staining. Tile used on counter tops or floors should be sealed to prevent moisture and dirt from penetrating the surface. Proper sealing also makes cleaning your tile a breeze.  Coles provides a variety of cleaning and sealing products for your stone and tile floors. Whether you tile your bathroom, your living room, or your whole home, it will provide you with years of comfort and natural elegance.
Coles Fine Flooring offers free in-store design consultations and an at-home shopping experience for our customers. Schedule today to see your choices for tile and stone floors in your home!
Style. Selection. Service. Making Coles the local leader in Fine Flooring. Value You Can Trust Since 1947.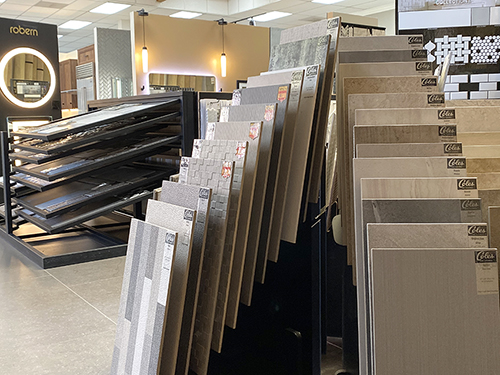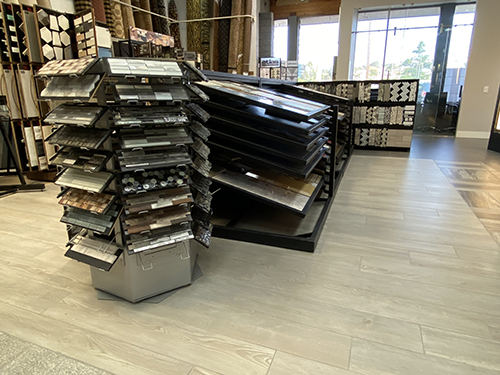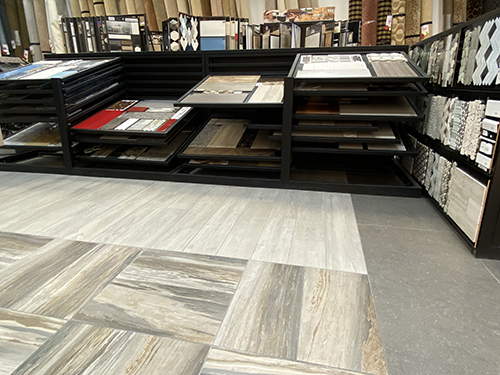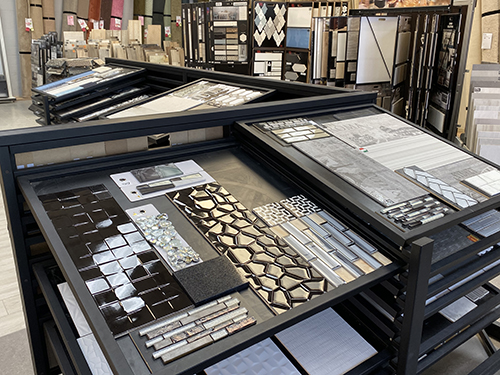 Choosing the Right Tile Floor
Frequently Asked Questions
Q: What is the average lifetime of tile flooring?
A: When properly installed and maintained, ceramic tile floors can last a lifetime. Unglazed tile shows less wear than glazed tile and will last longer in high traffic areas. Porcelain tile is known to be the longest lasting.
Q: How do I choose the right grout for my tile floors?
A: You should choose a color that blends with the colors in the floor tile. The color of the grout will slightly vary in each installation due to different environmental factors and installation methods, so finding an exact match may be difficult. Darker grout tends to be easier to keep clean, but modern grout is often stain and mildew resistant so maintenance is very simple.
Q: Will there be variations in floor tiles in the same box?
A: Yes, floor tiles will have slight variations in color, texture, or markings due to the way they are manufactured. This adds character and style to your tile floors. You should always inspect your purchase before installation to make sure you are happy with it.
Q: Can I walk on my tile floor and mop it immediately after installation?
A: It is not recommended that you walk on your tile floor until the grout and any other adhesive used has had ample time to dry. This will vary from product to product so be sure to check with the manufacturer for their recommendations.
Q: Can I install tile myself?
A: Laying tile is easy but doing it well is difficult. That said, it may be wise to hire a professional installer.
Q: What's the difference between ceramic and porcelain?
A: The major difference between porcelain tile and ceramic tile is how it's made. Both tiles are made from a clay mixture that's fired in a kiln, but porcelain tile is made from more refined clay and it's fired at higher temperatures. This makes it denser and more durable than ceramic tile.
Q: How to Clean Tile?
A: It is important to regularly vacuum tile floors, particularly glazed ones, to remove gritty particles that might scratch them. Routine cleaning requires only washing with hot water and a mild detergent. After washing the tile, rinse it thoroughly to remove detergent film.
Sign up now to receive your $100 discount, it's easy!
You can use your discount on our special promotions on carpets, hard surface
flooring and area rugs. (AND that includes all Closeouts and Promotional Items!)