Luxury Vinyl Tile (LVT) is a product that looks like real stone flooring, but provides many more practical benefits. You can create an authentic looking floors in your home with the wide range of shapes, sizes and effects available, without the practical drawbacks of natural stone products. Its versatility, warmth, and comfort underfoot—in addition to being a durable and waterproof choice—have made it one of the most popular flooring choices available today. With individual LVT planks and tiles, homeowners have the flexibility to create their own floor design as opposed to the set patterns of sheet vinyl. You have the ability to choose a monochrome style with contrasting tiles, or even chevron or herringbone designs using planks.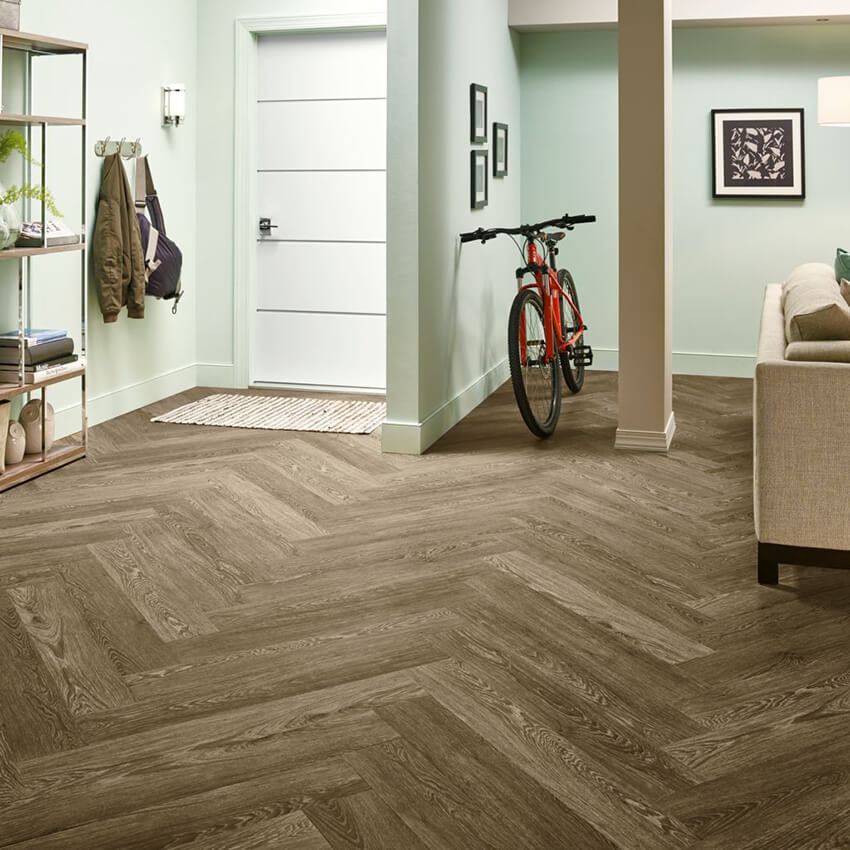 LVT is constructed from a series of layers. The first layer helps the product to lay flat and level, while still being flexible enough to cut through with a knife. The next layer is an HD photograph that gives the LVT its highly realistic design. The PVC wear layer comes next and protects the floor's design from everyday wear and tear, and lastly, the top layer provides added protection, water resistance and reduced maintenance.
Coles Warm Design and Warm Interior collections are enhanced with Scotchgard™ Protector for superior stain and soil repellency, and Silver, a natural antibacterial product protection, taking these collections to the next level. It has even been proven that these collections are much warmer to the touch than ordinary ceramic. The surface is quiet, comfortable underfoot, and is less likely to shatter glassware that slips from your hands.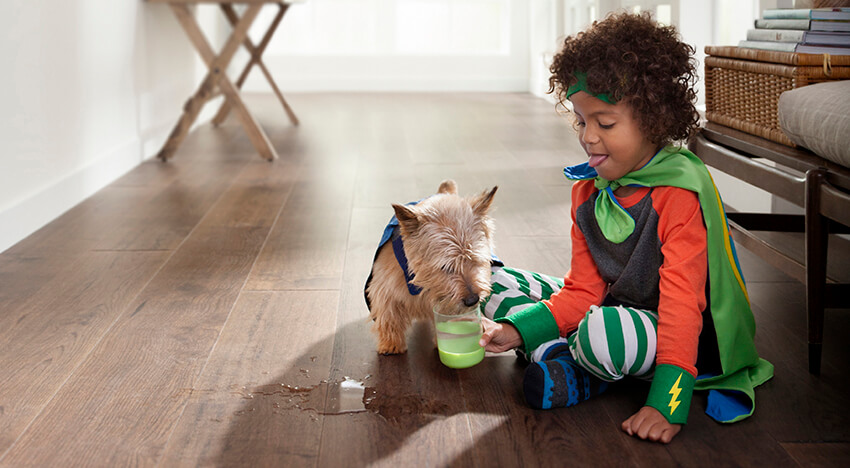 Generally speaking, there are two main types of luxury vinyl flooring from an installation point of view. First, there is the LVT that is fixed to the subfloor with glue or self-adhesive, which means you need to let the glue to cure for 24 to 48 hours after installation. Then there are the floating vinyl planks and tiles which don't require any glue or adhesive and which can be used immediately after installation.
Self-adhesive vinyl planks and tiles come with a pressure sensitive adhesive layer on the back and do not require extra glue. They are installed easily by removing the protective film, positioning the plank or tile, and pressing down. Individual tiles are easily removed by warming them up with a blow-dryer, cutting them in smaller pieces and removing them carefully.
Glue-down vinyl flooring requires purchasing the special vinyl glue separately. The adhesive is first applied to the subfloor and then the vinyl tiles or planks are fixed to the adhesive layer. This process is a bit more difficult, therefore, it is generally recommended to leave this installation to a professional.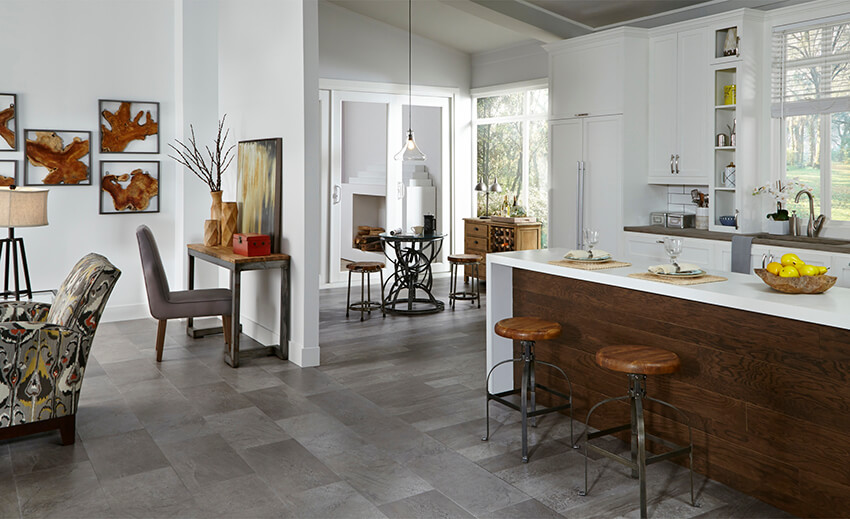 Interlocking vinyl planks and tiles have tongue and groove edges very similar to the click systems found on parquet and laminate flooring that make installation a breeze. Just click adjoining tiles together in place. Removal is fairly easy due to the lack of adhesive, however, in the case of replacing damaged tiles, an entire row must be taken apart to remove a single tile.
Loose lay vinyl planks and tiles do adhere to the ground, but that is due to the high friction coefficient of their special bottom layer. Thus they get an extremely strong grip of the subfloor, but they are removable and reusable and do not leave any residue behind. Individual planks can be easily removed by cutting them into smaller pieces and carefully pulling them up.
LVT is far more durable than real wood, stone or ceramic tile, withstanding the general wear and tear of daily life. Many Luxury Vinyl products are also waterproof too, which means they are unaffected by leaking appliances, spilled drinks or messy bath times, making it even more resilient to busy family life. Even better, LVT is easy to maintain. Simply give it a quick sweep and mop and you're good to go!
Considering LVT's practical benefits, realistic effects and endless design capabilities, it is easy to see why LVT is so popular in today's flooring market.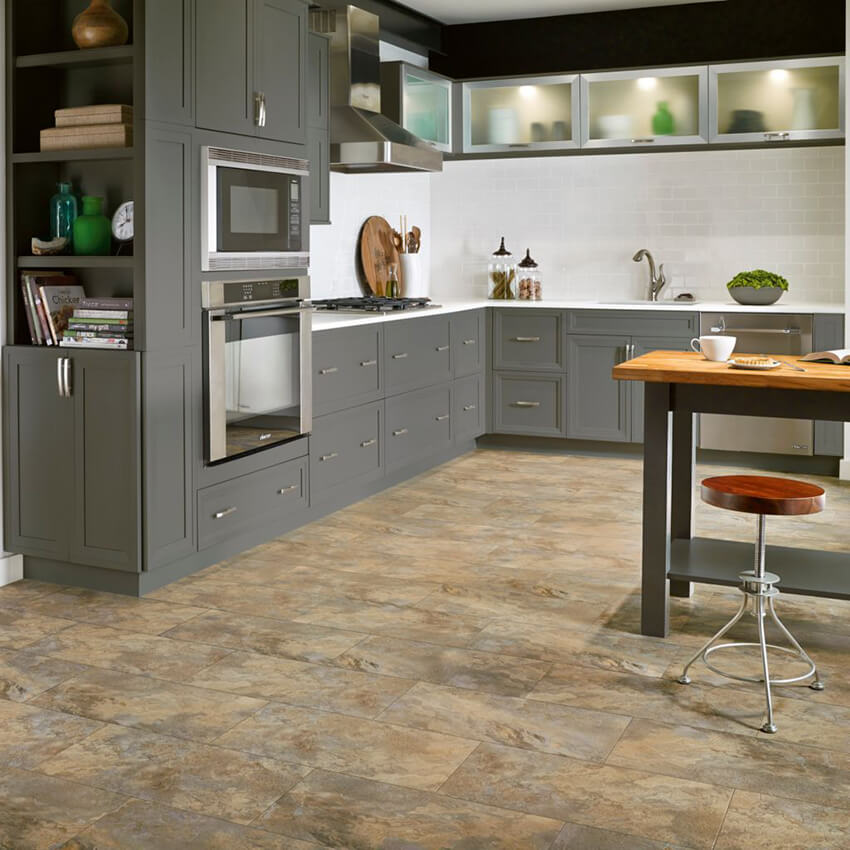 Get more information on Luxury Vinyl Tile