If you have been wondering what's so great about Luxury Vinyl Plank, we're happy to explain. In a word: everything. While vinyl plank and hardwood are very similar in appearance, luxury vinyl has a few unique benefits that other wood-look floors just can't compete with. Whether you have pets and kids and want the most durable flooring or you're working with a tighter budget and need a more cost-effective option, luxury vinyl might be the perfect floor for your lifestyle.
Durability
Many parents and pet owners know that rough play, long claws, and heavy foot traffic can cause additional damage to hardwood floors. This is why durability is such an important benefit of LVP. Foot traffic and active pets can scratch hardwood flooring over time. It can also be chipped or otherwise damaged if you drop something heavy. While you can repair, replace, or refinish damaged hardwood floors, those options come with a steep price tag.
Thanks to its durable wear layer, scratches, chips, and dings aren't a concern with LVP. It can handle the commotion that comes with active families and excitable pets without showing the same premature wear and tear hardwood would.
LVP isn't completely immune to damage—no floor is! Because it is a soft flooring, it can be prone to dents. This is particularly true underneath heavy furniture and appliances. That soft vinyl, it is also susceptible to tears. Although it isn't particularly common with everyday use, dropping something hard or sharp or dragging furniture or other heavy items can result in rips.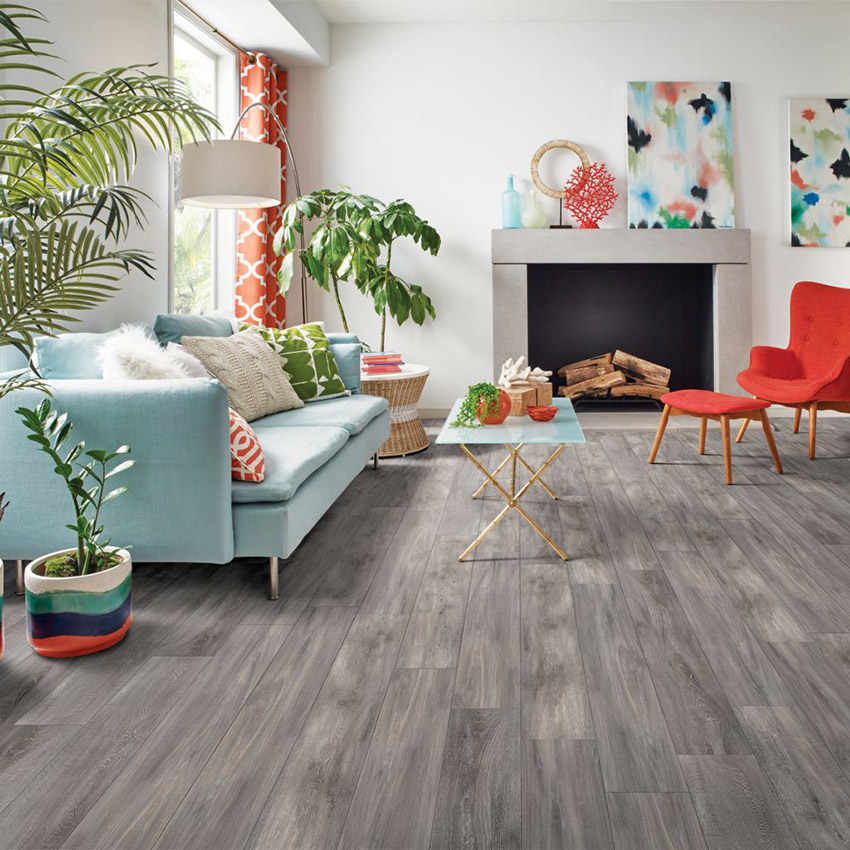 Water Resistance
One of the biggest benefits of LVP is that it can get wet without the risk of damage. LVP is completely waterproof, which makes it a great choice for any room—including those more prone to humidity and spills such as bathrooms and kitchens. Unlike other types of hard surfaces, vinyl planks won't buckle, warp, or damage with water or spills.
Other types of hard flooring can be damaged with exposure to moisture. Wet mops, spills and accumulated moisture can completely ruin them, leading to expensive repairs and replacements. If you're looking for flooring for bathrooms, kitchens, laundry rooms or other spaces where hardwood and laminate are not recommended to be installed, consider luxury vinyl plank.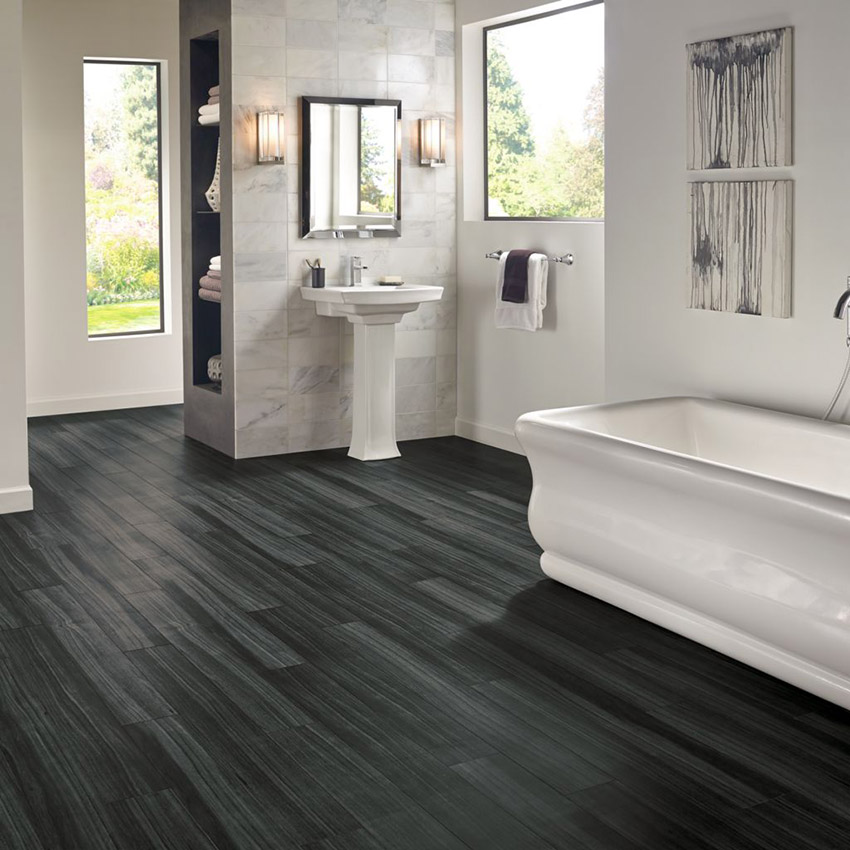 Easy Maintenance
Regular cleaning with a broom, dust mop, sweeper, or vacuum cleaner is all that is needed to clean up dirt, crumbs, and dust. For deeper cleaning, you can use a wet mop.
Dull floors can get back their shine with polishes specifically made for vinyl floors. Just make sure you select a no-wax cleaner. Vinyl flooring does not require wax, and using polishes or cleaners containing wax can result in buildup.
Vinyl can also fade with excessive sunlight exposure, so it's important to use rugs or shades and blinds in very sunny areas. If the flooring fades, there is no way to restore it other than to simply remove and replace the affected planks.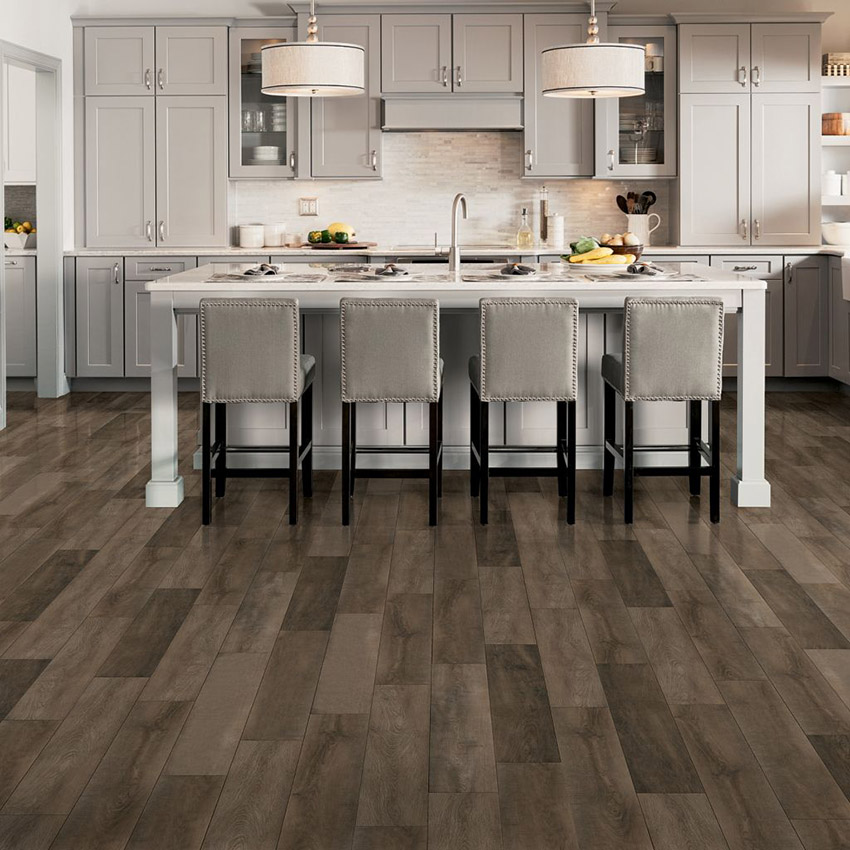 Style & Selection
One of the reasons that luxury vinyl plank is growing in popularity is the wide range of styles that mimic the look of hardwood. From cherry to oak and even more exotic species, manufacturers are introducing new vinyl flooring products that look more realistic than ever. Modern technology in printing methods and manufacturing create beautiful details and realistic textures that emulate the look and feel of natural wood flooring better than any other product.
Vinyl plank comes in a variety of different sizes. Typical widths range from about 6 inches to over 9 inches, while lengths vary from around 36 inches to about 60 inches. Thicknesses vary from 2 millimeters to over 4 millimeters.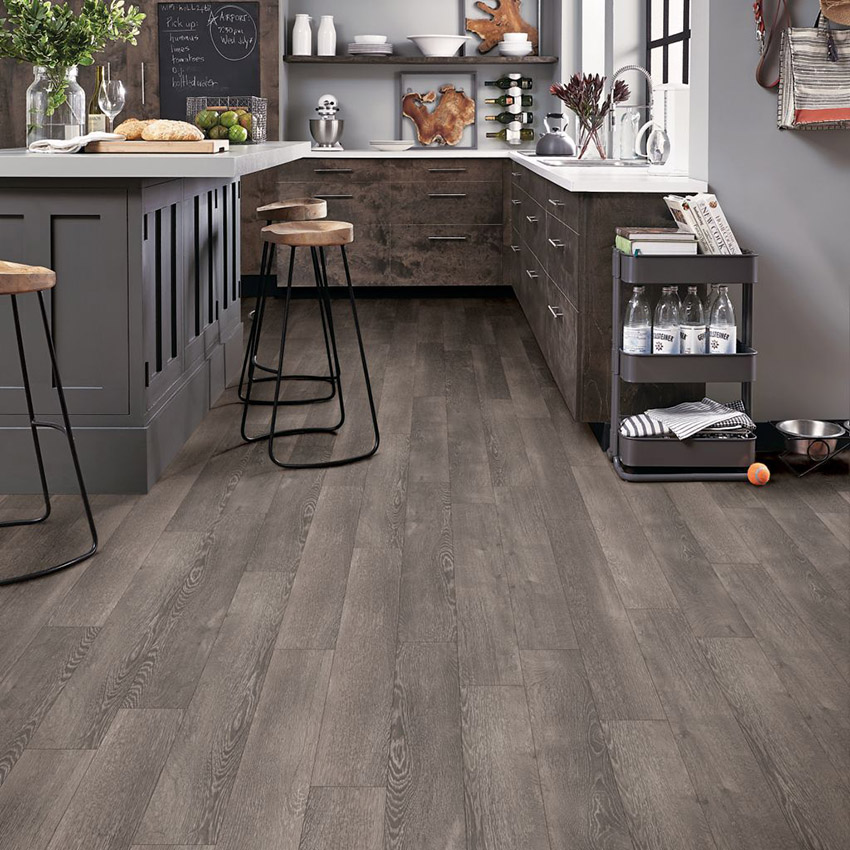 Installation
There are two types of vinyl plank flooring: floating or peel-and-stick planks. Fortunately, both types are pretty easy for homeowners who have the right tools and a little bit of time to install the flooring.
Floating vinyl planks come with a tongue-and-groove design that snaps the planks together without the need for nails or glue, similar to laminate. Because planks are made from soft vinyl, you can easily cut it to size using a utility knife.
The other type of vinyl plank flooring is peel-and-stick planks, which even a novice can install themselves. Simply peel off the paper backing, and stick the plank onto the subfloor below. This method requires very few steps, including measuring, lining up each plank, and cutting to size with a utility knife.
As far as installation goes, LVP is among the easiest to do yourself using pretty basic tools.