Vinyl floors are so much more than they used to be. Thanks to state-of-the-art print and embossing technology, vinyl can replicate the look and texture of natural materials such as hardwood, limestone, slate and ceramic. Vinyl flooring will gives you the high-end look of wood or stone floors at a fraction of the cost.
Choose from a wide array of vinyl designs, textures, and colors to customize the look that fits your style. Vinyl requires minimum maintenance, making it one of the easiest floors to live with.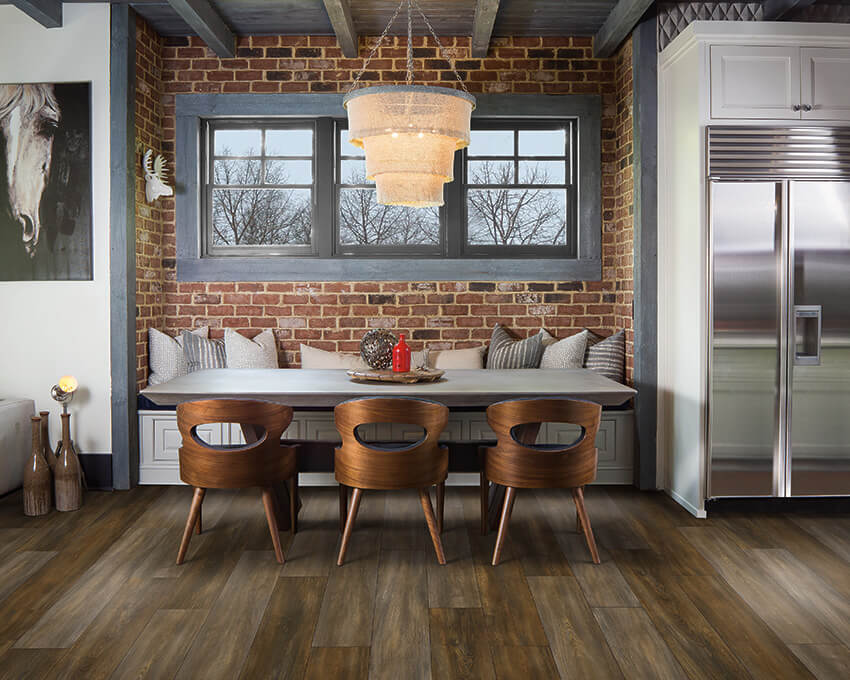 Vinyl is soft and comfortable to stand on, is easy on backs and knees, and forgiving when objects are dropped. Vinyl provides a comfort underfoot that you just can't find in real wood or tile. Especially during tasks that require standing for extended periods of time, like cooking, vinyl will yield more under pressure, causing less strain to joints.
Vinyl is perfect for rooms where moisture occurs—such as bathrooms, kitchens and mudrooms—making it a much more versatile material than wood or laminate. It is also generally nonporous and scratch resistant, which makes it a good choice for homes with children and pets, and high traffic areas, as well. Do you live close to the beach? Vinyl is water resistant and durable enough to withstand dirt or sand, perfect for mudrooms or entryways! Unlike wood or laminate with absorb moisture, vinyl's nonporous surface does not. Spills and splash won't cause bubbles or warping which means it is safe for bathroom installations, too.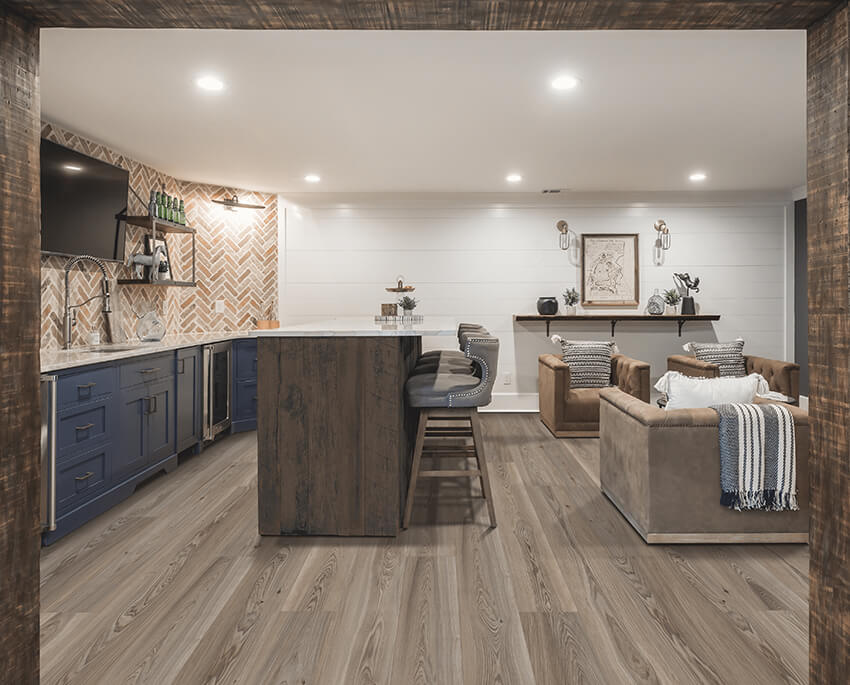 Luxury Vinyl Plank and Tile is cost effective because individual tiles and planks can be easily removed and replaced. There's no need to replace an entire floor due to damage. In terms of DIY-friendliness, vinyl is rivaled only by laminate. Vinyl comes in three, easy to install forms: Click-and-Lock, Peel-and-Stick, or Glue-down planks. Click-and-Lock systems allow homeowners to piece together their planks like a puzzle and create a floating floor. Peel-and-Stick works just like it sounds, and is very user-friendly, and for more ambitious DIYers, Glue-down planks adhere directly to the subfloor.
Although vinyl's flexibility may cause imperfections in your floor to show more easily (your floors must be level prior to installation) this can actually be helpful if you have foundation issues. A foundation that flexes with weather and humidity conditions changes can cause tile to crack, or hardwood to warp. Vinyl has more give than those harder surfaces, meaning it may bend, but it won't break. It can adapt to the way your home moves and stay intact in ways other flooring materials might not.