Kitchen Remodeling Tips
Home

>

Kitchen Remodeling Tips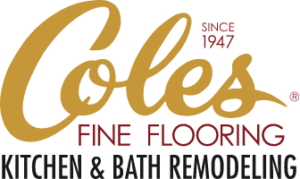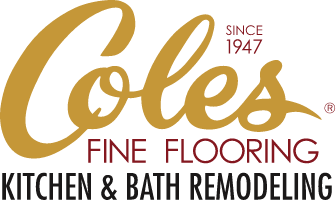 The San Diego Community has trusted Coles for over 70 years, and now we're putting that experience to work in our new Kitchen & Bath Design Center. Our team has decades of collective experience so you can feel good about putting your kitchen or bath remodel in our capable hands.
Coles — Value You Can Trust Since 1947.
Located in our Morena Blvd. showroom.
Kitchens might seem simple, until it's up to you to make every little decision. Here are a few tips to help you through the maze of Kitchen design decisions coming your way.
Layout
For optimal maneuverability, walkways throughout a kitchen should be at least 36 inches wide. Paths within your work area should be 42 inches wide for a one-cook kitchen and 48 inches wide for a two-cook layout. When planning your design, adjust kitchen islands and peninsulas accordingly.
When designing a kid-friendly kitchen, keep the cook top out of high traffic areas so children don't catch handles or cause spills when passing through. Put kids' favorite dishes and snack foods on shelves or in drawers they can reach. Also, make the refrigerator accessible to both passersby and people working in cooking and cleanup areas.
The best height and location for a microwave oven depends on who will be using the kitchen. For an adult household, 15 inches above counter top level is a good microwave height. For a home with kids, a below-counter top setup might be more suitable.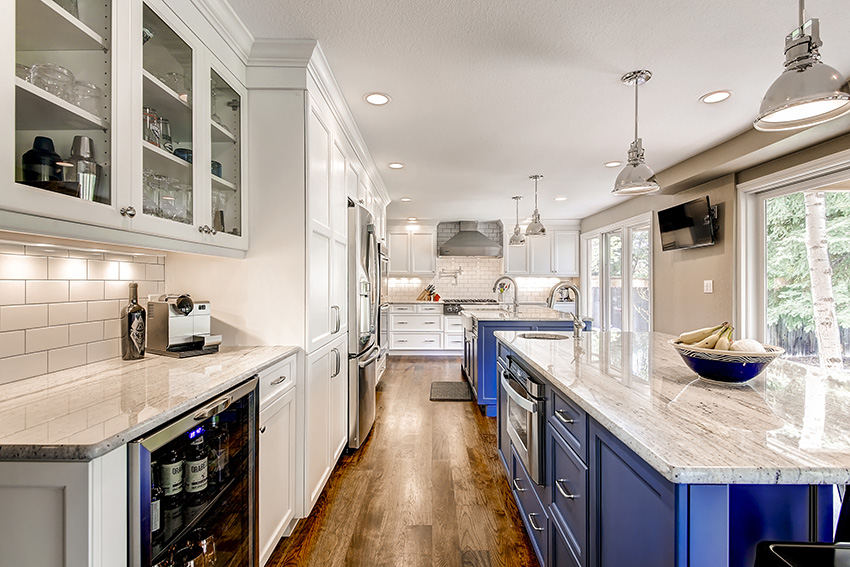 ­­

Design
Dark colors have a tendency to shrink small spaces and make them feel cramped. Use softer shades on kitchen cabinets to bounce natural light and visually expand a small room.
No matter the size of the room, patterned floors, large range hoods, bright cabinets, and busy countertop patterns can easily distract the eye. Pick one focal point in your kitchen design and complement that area with a few other subtler details.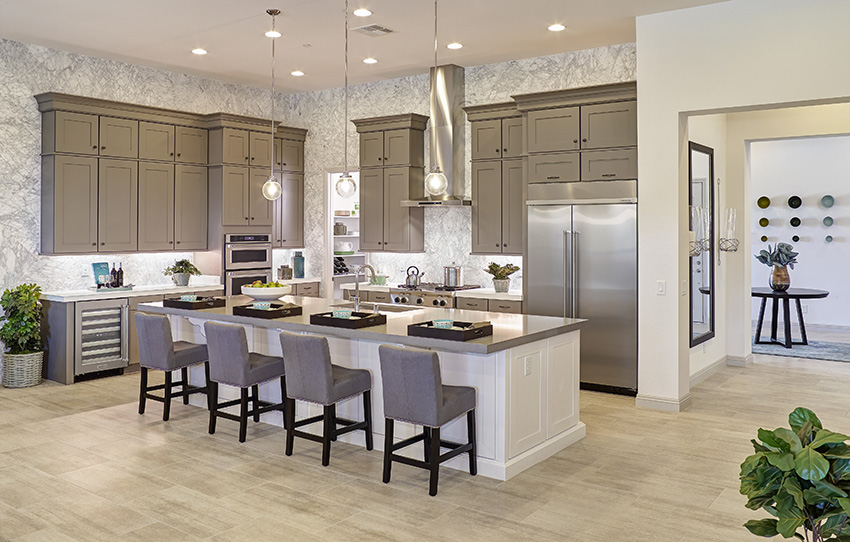 Cabinets
Plan space for cabinet doors clearance and swing direction to ensure they're fully functional. Keep appliances out of corners, and make sure doors won't collide if opened at the same time.
Avoid boring, heavy blocks of doors and drawers by adding eye-catching details such as glass doors and display shelving. Or try wine storage or windows.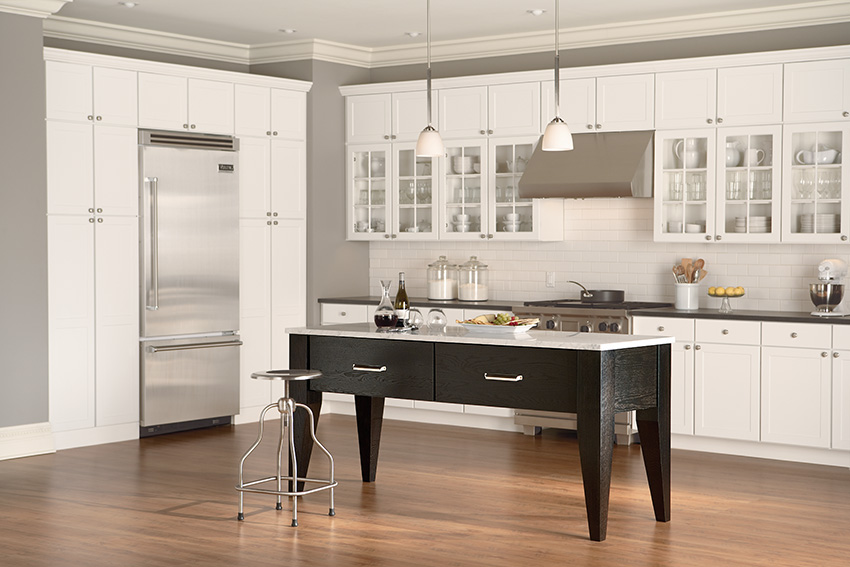 Countertops
Those who cook frequently require more counter space — ideally between the range and sink — than those who cook infrequently or who prepare simple meals. When designing your kitchen, allow 15 inches of counter top "landing space" on either side of your cook top and refrigerator. This is also important near the microwave.
Determine the island's function and form will follow. If you want to cook and eat on your island, plan enough space so the cook top is safely separated from the dining area.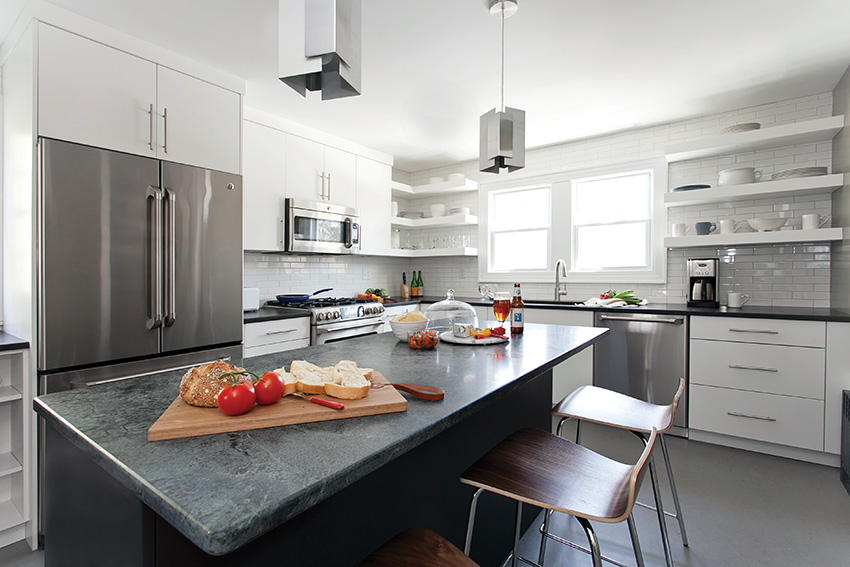 Organize
Think about the things you keep in your kitchen and where you use them. Store breakfast foods and bowls near the breakfast table. Keep wraps and plastic containers in one handy spot near a work surface for wrapping leftovers. Keep dishware and flatware near the dishwasher to simplify unloading.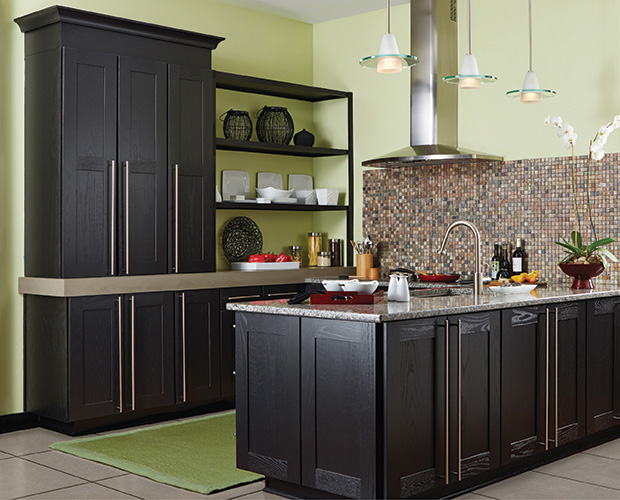 Luxuries
If your budget allows, there are so many little luxuries you can add to your kitchen to make life a little easier. A swing-out tap installed over the cook top allows you to fill pots right where you heat them. Or you can install an extra-long hose attachment on your main faucet to fill pots on the cook top.
A second microwave oven, a mini refrigerator, or a wine cooler positioned at the edge of the kitchen work center can keep guests and family members in the kitchen but out of the cook's way.