The flooring industry is always evolving to keep up with new trends and adapt with an ever-changing market. From natural materials, rustic textures, and sustainable materials, the future offers some exciting changes for flooring that are sure to introduce big ideas for home décor. We've compiled some of the most popular trends for the coming year so you can get a jump on planning.
Engineered or Solid Wood Flooring?
Solid wood has been one of the top selling flooring options for decades, however, engineered wood flooring has increased in popularity in recent years due to its many benefits. Engineered wood flooring is more stable and sustainable than solid hardwood, since you can get multiple planks of engineered wood flooring from only one solid plank. You can find wider and longer plank options with engineered wood and you also have the ability to install underfloor heating without the wood separating or cupping.
A question that get asked pretty frequently is whether Engineered Wood Flooring is even real wood. The answer is, yes, and you can read more about the construction of engineered wood compared to real hardwood here.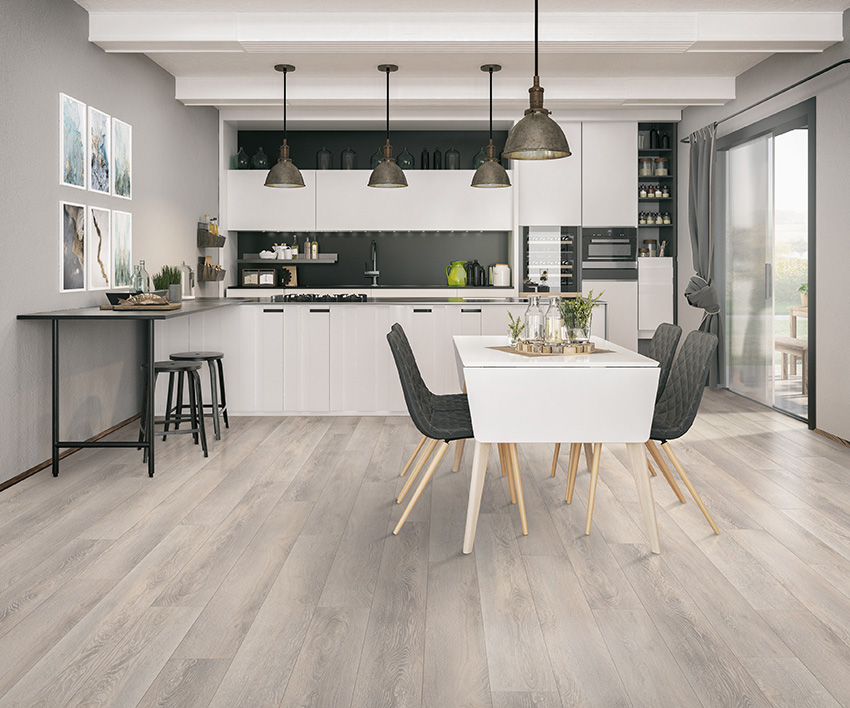 Laminate vs. Vinyl Flooring?
Vinyl flooring is quickly replacing laminate as the top selling hardwood alternative. This should not come as a surprise since its list of benefits are substantial: waterproof, more durable, and higher quality. Luxury vinyl plank (LVP) is an affordable, yet capable alternative to traditional wood floors. Advancements in technology have given vinyl flooring very realistic wood-like appearances and embossed textures that mimic real wood closer than ever before.
Hybrid Flooring
As technology advances, so does the flooring industry. Hybrid planks are the latest craze and they bring the best of both worlds. With a 1mm real wood top layer over a solid core backing, it combines the many benefits of LVP with real hardwood. This floor is water, scratch, and dent resistant like LVP, but has the warm natural look of real wood. It's a great, more affordable alternative for a busy lifestyle.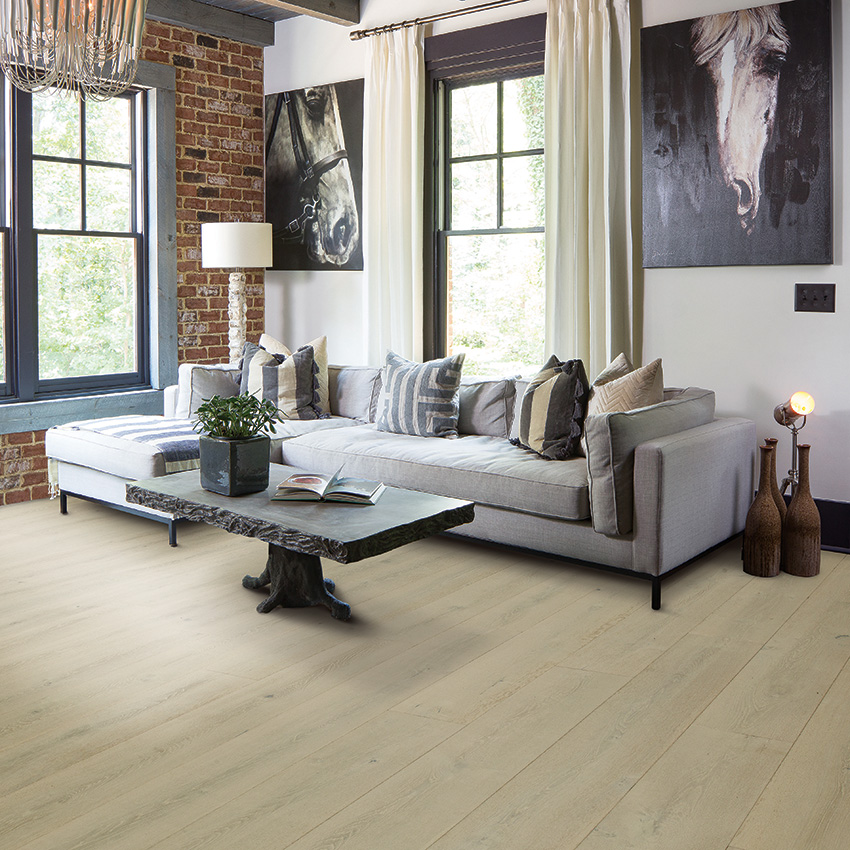 Wide Planks
Wide planks have been growing in popularity over the last few years and they are here to stay in 2022. Wide planks are often used to open up a room visually, making a tight space appear bigger and less crowded. If you are looking for wide plank wood flooring, a lot of our collections have wider planks and we have something for every style.
Parquet Flooring
Parquet flooring has been popular in Europe for years, and is finally gaining popularity in America. If you're looking to make a statement with your floors, parquet is it. Offering a more modern look, boards can be single laid or even doubled for a variety of different patterns. Designers are using herringbone or chevron patterns to create focal pieces in their spaces, from artfully laid planks on the floor, walls and even ceilings.
Another technique used to highlight the parquet design, is to implement matching planks alongside the parquet. This creates a cohesive look throughout the home and avoids overdoing the busy parquet pattern.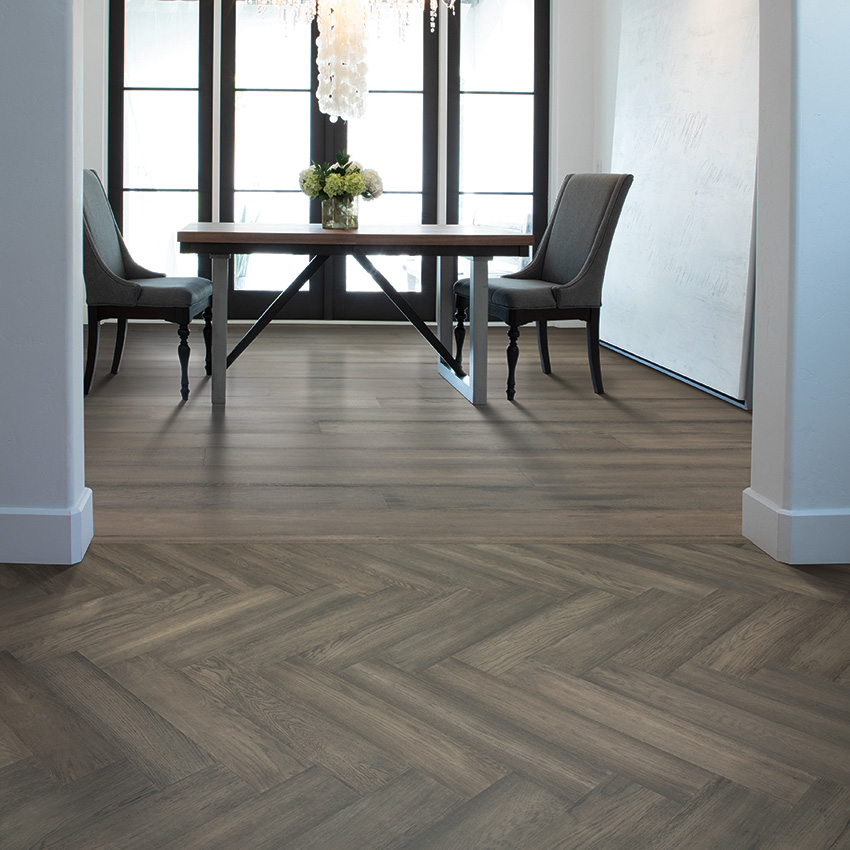 Colors and Finishes
If you haven't read our post about Color Trends for 2022, take a minute to have a look. Many of the interior trends for next year are a result of COVID-19, among them being the neutral color palette.
In 2021 we have seen a huge resurgence in greige, natural and white tones in flooring. 2022 is predicted to continue with this trend. It shouldn't come as a surprise to learn the look of unfinished wood has been a top seller this year.
As far as finishes go, satin and glossy finishes are a thing of the past and low maintenance oil finishes have taken over. Matte and very low sheen finishes are climbing in popularity with many advantages such as hiding dust, imperfections, and dirt. This does not mean you can put your cleaning supplies away—all wood flooring still needs to be cleaned on a regular basis. These finishes will, however, show dust, dents or scratches mush less than a glossy floor would.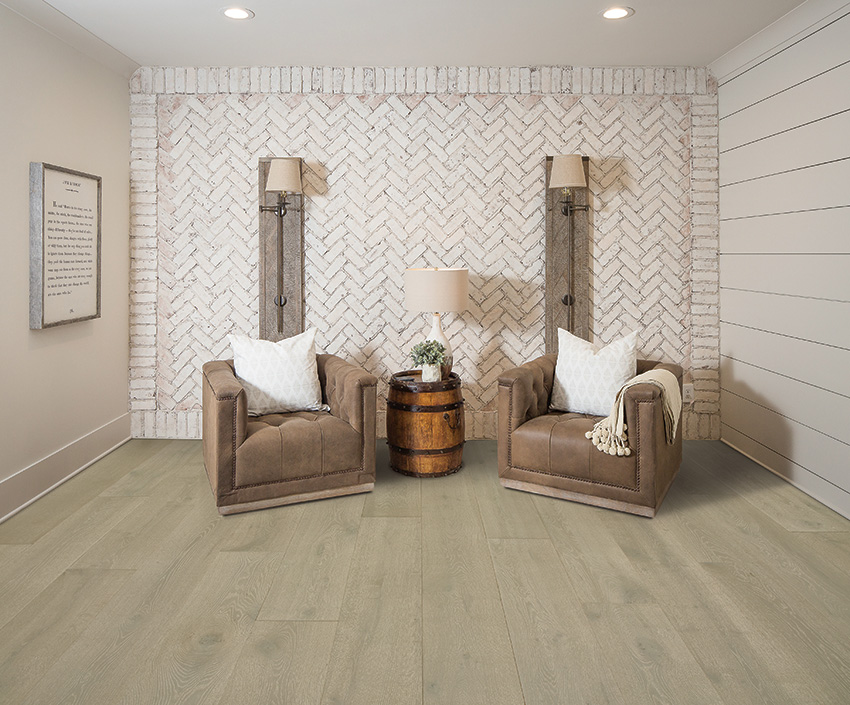 Sustainability
Sustainability has been a hot topic over the last decade but recent events have reinforced up the trend. According to a recent study, Generation Z and Millennial shoppers are most likely to make purchase decisions based on values and principles. They are willing to pay premium prices on products that serve in saving the planet. As a customer at Coles, you can be assured that you are getting the finest quality products and work with an environmentally conscious company that contributes to keeping the planet green.
There are so many options when it comes to flooring, but understanding the differences between the main characteristics can help you make an informed decision. While you're thinking about color and appearance, remember to consider your lifestyle. We would love to help you find the perfect floor for your needs!