Learn about each type of vinyl flooring and why you may want to consider this flooring variety for your home.
Let's get to the point. You're here because you want to learn about vinyl flooring. Maybe you are on the search for a new type of floor that better aligns with your home's needs, or maybe you're simply curious about the different types of vinyl flooring on the market today.
We hear your curiosity loud and clear. Before we go into each individual vinyl flooring type, we would be doing you a disservice if we didn't explain how vinyl flooring is made. After all, you should know exactly what your feet will be treading on so that there are no surprises when it comes time to walk, run, and play on those beautiful new vinyl floors.
How Vinyl Flooring Is Made
Vinyl flooring is made from a synthetic material called PVC, which is heated and pressed into thin layers. The first layer is the backing layer, which is the bottom layer of the floor made from a cork or foam material. This is called the underlayment as it provides a protective and supportive barrier on top of the base floor.
On top of the backing lies a second layer of either WPC or SPC that helps absorb moisture without causing swelling in the material. Water-resistant coatings go on before being topped with a printed layer of a photorealistic image of wood, stone, or tile. The printed layer is what you see and spend so much time deciding what to choose.
Last is the wear layer, which is a top coating that protects all the other layers within the vinyl. Some vinyl is thicker than others, represented by a wear grade. So, it is essential to be aware of the vinyl grade you need. Thicker wear means your floor looks great for a longer time.
P.S. Coles Fine Flooring provides a wide variety of vinyl flooring options in San Diego, CA. Our goal is to introduce you to the best flooring options available on the market without breaking your budget. Get a flooring quote today!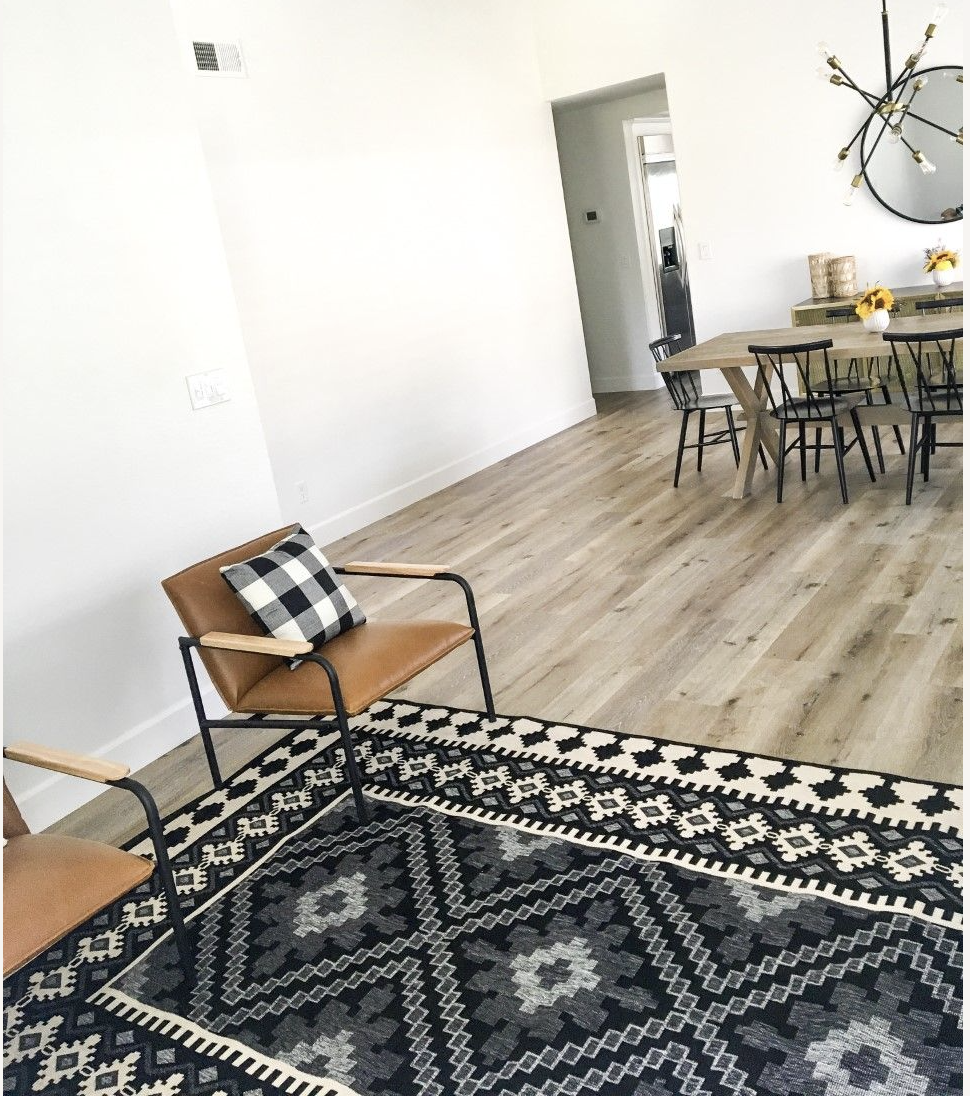 Different Types of Vinyl Flooring
Because vinyl relies on a printed layer for its design, that process opens the door for countless options for you to choose from. While you could be sifting through designs all day long, there are only a few different types of vinyl flooring: planks, tile, sheets, and luxury vinyl.
Vinyl Planks
Vinyl plank flooring is one of the most common types of vinyl flooring used in modern home design. Each plank looks like a long, narrow plank of natural wood and is designed to give your floors the appearance of authentic hardwood too. Planks are thicker and more durable than sheet vinyl, and high-quality planks fall into the luxury category.
From dark petrified wood to light wood, the design layer can emulate a wide range of colors and textures. Homeowners enjoy tongue-and-groove vinyl planks for their easy installation. Each plank snaps together to create a cohesive look for your floors.
Vinyl Tile
Vinyl tile is similar to vinyl planks in the sense that they come in pre-cut shapes. As the name suggests, vinyl tile consists of individual squares that can be cut to the size you need. When you put each piece of tile together, it resembles authentic stone or ceramic tiling. You can find vinyl tile that looks like natural stone, plain white ceramic, and everything in between.
You can use vinyl tile to create a marble-like look or to design your own unique flooring patterns, mixing and matching different styles. If you want to have the most realistic tile look possible, add grout between each piece of vinyl tile.
Vinyl Sheets
Sheet vinyl is a single large roll of flooring material, usually six to 12 feet in width. If you were to install sheet vinyl, you would simply unroll it and glue it down onto your floor in one giant piece. This creates a seamless look and limits moisture from seeping into any cracks in the flooring. Bathrooms, kitchens, entryways, and any area of your home that has a potential for high moisture would be a great fit for vinyl sheets.
Homeowners may opt for this type of vinyl flooring due to its affordability, low maintenance, and easy installation. You can install sheet vinyl over concrete, tile, underlayment, wood, or old vinyl—no carpet.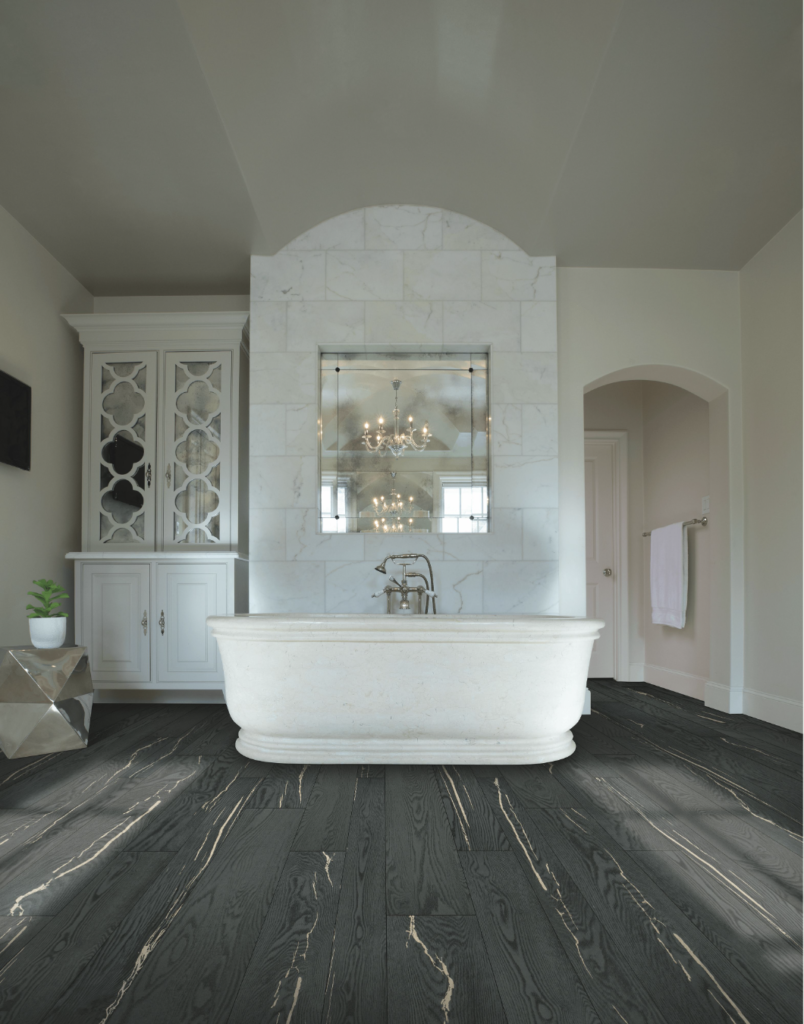 Luxury Vinyl
Luxury vinyl flooring is an elevated version of traditional vinyl that feels softer underfoot. You can find luxury vinyl in plank or tile varieties, which is why you may hear people refer to it as luxury vinyl tile, luxury vinyl plank, LVT, or LVP. Luxury vinyl is typically thicker and more rigid—especially when compared to sheet vinyl—which makes it very durable and resistant to wear and tear.
There are many gorgeous design options to pick for your home and they are engineered to be waterproof. Luxury vinyl planks can deliver a similar wood-look feel that hardwood lovers would enjoy, and the same goes for luxury vinyl tile and its striking similarity to stone.
Better Floors, Less Hassle
So, what do you think of vinyl flooring now? Do you believe it's the best choice for your home? Whether you've decided to give vinyl floors a try or if you still have mental question marks floating around, our team at any of our San Diego, CA, locations can assist you. Come see our floooring options our beautiful showrooms throughout San Diego and please don't hesitate to contact us at Coles Fine Flooring.