Your questions about sheet vinyl flooring— answered with a smile.
Sheet vinyl— so many questions, so many decisions to make about your floors! We are here to save you time by answering your most commonly asked questions about vinyl sheet flooring. If you don't see your question answered in our list, one of Coles Fine Flooring experts can answer it personally.
Sheet vinyl (also known as vinyl flooring) is a type of waterproof flooring made with PVC, plasticizers, fillers, colorants, and other synthetic ingredients. It comes in a wide roll that can be cut to size to fit your space. 
Thanks to its waterproof construction, many homeowners use vinyl as an alternative to hardwood or tile in rooms that may become susceptible to moisture: kitchens, bathrooms, laundry rooms, and basements.
2. What's the difference between sheet vinyl and linoleum?
While vinyl and linoleum may look similar, they differ in terms of their make-up. Linoleum is made from natural materials, such as cork and wood. 
On the other hand, sheet vinyl is made from synthetic materials, such as PVC. This difference in construction is why sheet vinyl is waterproof, and linoleum is sensitive to water.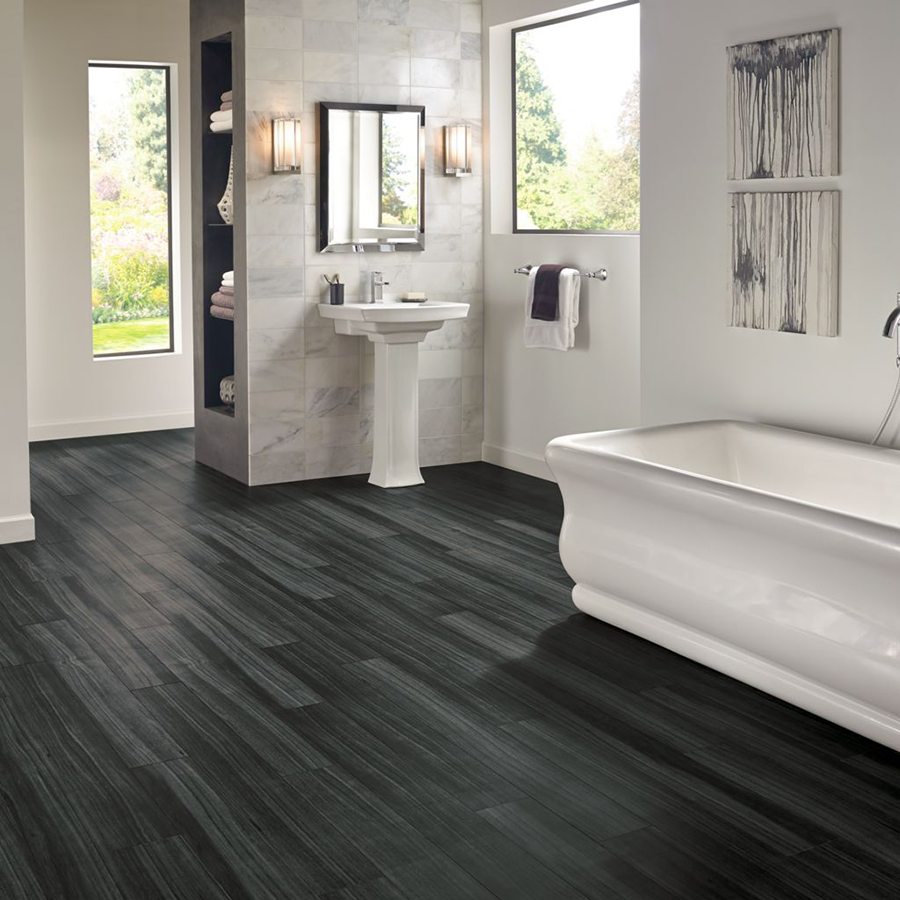 3. Does vinyl sheet flooring look like hardwood?
Even though vinyl has improved over the years, it does not replace the warmth, look, and underfoot feel of natural hardwood floors. 
However, if authentic hardwood is out of the question, you can find vinyl sheet flooring that mimics the look of hardwood—or stone, for that matter.
There are dozens of patterns, textures, and visuals to choose from, whether it be a light wood look or a grainy, dark stone look. You can opt for directional or non-directional patterns as well.
 4. Where should I install vinyl floors?
You can install vinyl flooring anywhere inside your home, from the main level to the basement. Many homeowners choose to install vinyl in high-traffic areas that may be susceptible to water and dirt or messes from children. Think of bathrooms, laundry rooms, mudrooms, drop zones, and similar spaces. 
Commercial spaces even use vinyl in high-traffic areas that need waterproof, resilient, durable floors. Think of hospital hallways, airports, school cafeterias, shopping malls, and hotel lobbies.
 5. How long will sheet vinyl last?
The good news is that sheet vinyl is highly durable and built to last a long time. If installed and maintained properly, sheet vinyl will last upwards of 20 years! The better the quality of vinyl, the longer it will hold up to wear and tear. Look for vinyl sheets that have extra-strong resistance.
6. Do you need underlayment for sheet vinyl floors?
Underlay (underlayment) is plywood or fiberboard that acts as a buffer between the subfloor and the visible floor surface. 
You won't need underlayment since you can glue down the sheets directly on top of most flooring surfaces. A few common flooring surfaces that can take the direct application of vinyl include linoleum, concrete, and old vinyl. 
Suppose your floor's surface is uneven (bumps, dips, buckles, or unleveled). In that case, you may need to install an underlayment layer before installing the vinyl sheets, even if you have a direct-application-compatible surface. 
Keep in mind that luxury vinyl planks (LVP) and click & lock vinyl will have different installation requirements. LVP usually comes with an underlayment attached to the bottom of the planks, so adding an additional underlay is unnecessary. Click & lock vinyl may need an underlay to enhance soundproofing and serve as a moisture barrier.
7. Do you need to glue down vinyl sheet floors?
The question above goes hand-in-hand with this commonly asked question about sheet vinyl. Yes, your new vinyl sheet floor will need to be glued down. Applying an adhesive is part of the installation process. 
For a full-bond floor, the surface area of the entire sheet will need adhesive. If you are doing a perimeter-bond floor instead, then adhesive will only need to be applied around the edges of the sheet from corner to corner.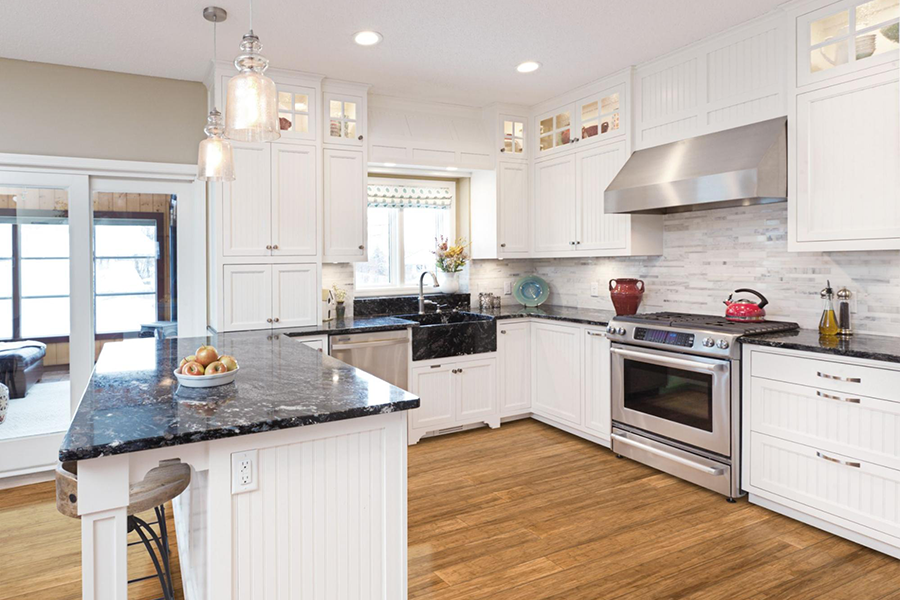 8. How do you maintain vinyl sheet flooring?
Vinyl sheets are famous for easy cleaning and effortless maintenance. This is music to the ears of busy homeowners. There are no grout lines to scrub and no real wood to polish. On top of that, vinyl is waterproof and resistant to scratching, bacteria, and fungal growth. 
So, when a liquid spills on the floor and settles into a sticky puddle, a quick swipe with a Clorox wipe is usually sufficient. 
As far as routine cleaning, simply sweep the floors with a regular broom and occasionally mop with a standard mop or Swiffer WetJet.
9. Is it hard to install sheet vinyl flooring? 
If you have never participated in a DIY floor project, you may feel inclined to steer clear from installing vinyl sheet flooring under the impression that it is hard to install. While that impression is understandable, sheet vinyl flooring is quite easy to install once you get the hang of it. 
With that said, you may scratch your head a few times in the beginning, especially figuring out where (or if) to start cutting the huge roll. The roll may also be heavy for one person to maneuver around.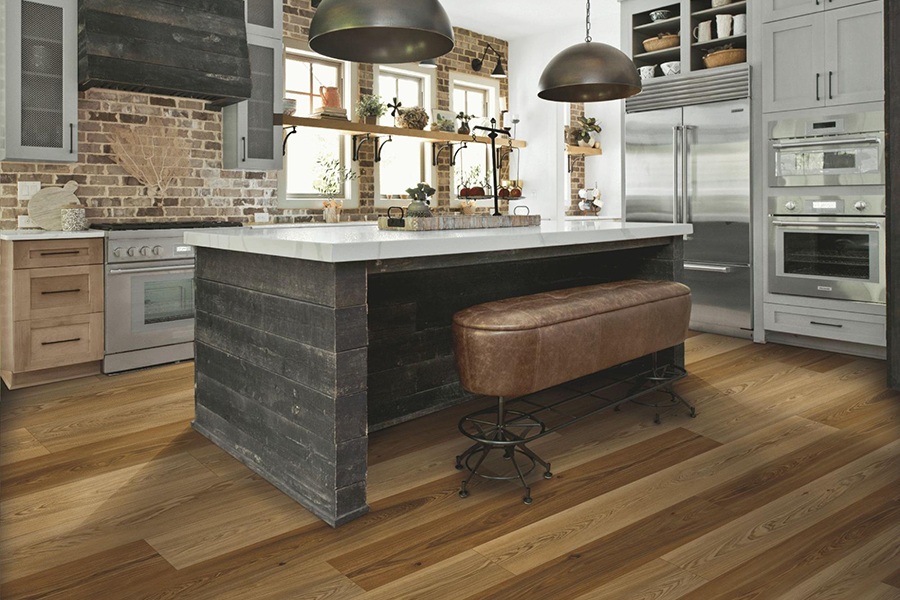 10. What are the drawbacks to installing vinyl floors? 
One of the most notable drawbacks to installing vinyl flooring is its negligible impact on your home's value. It will neither raise nor lower your home's resale value when it comes time to sell. 
Since sheet vinyl is applied on your existing floors via glue, it is also not easy to remove if you decide you aren't in love with it anymore.
Get Better Floors With Less Hassle
So, what do you think? Do you believe sheet vinyl is the best choice for your home? Whether you've decided to give vinyl flooring a try or if you still have questions before committing, our team at any of our 3 San Diego, CA, locations can assist you. Please contact us at Coles Fine Flooring to strike a conversation with true flooring professionals.