Clean and care for your waterproof flooring like a professional.
You just installed brand new waterproof flooring—stunning luxury vinyl that makes your space feel like home. Though, just like regular flooring, it does not come free from routine maintenance and cleaning. Waterproofing does provide a degree of protection against spills and dirt, but it is not invincible from eventual damage if not maintained properly.
There are ways you can maintain waterproof flooring and clean it to lengthen its lifespan, and there are also things you should avoid. (Spoiler alert: scrubbing is a no-no.) Before we dive into the do's and don'ts of your waterproofed floors, let's define what this flooring is and why it is important.
What Is Waterproof Flooring?
Waterproofing sounds great, but what does it mean? There is a difference between waterproof and water resistant. In terms of the former, waterproof means that no moisture or water can penetrate the floor's material layers and soak into the core. In essence, waterproofing is baked into the floor. Rather than the materials being treated with a protective coating, the floor layers are already made with fully waterproof material. This provides a higher degree of protection against damage by moisture, although care should still be taken to avoid exposing the floors to excessive moisture.
On the other hand, water-resistant flooring is only resistant to water penetration to a certain degree. The flooring layers are coated in a water-protective coating, but the actual materials are not fully waterproof. That means spills—and especially standing water—left for too long pose a risk for water damage.
When most people think of waterproof flooring, they think of luxury vinyl floors (LVP or LVT). Luxury vinyl is durable, long-lasting, and comes in a vast array of patterns and colors. Wood plastic composite (WPC) vinyl flooring is another superior choice that falls in the vinyl family.
Why Is Waterproof Flooring Important?
Because waterproof flooring is—as it implies—not affected by typical household water, it is an essential choice for homes and commercial properties where concerns about moisture are present such as bathrooms, laundry areas, kitchens, etc..  
Pet-safe waterproof vinyl flooring can also be a great addition to homes where toddlers or pets run around. Spills or messes created by either culprit are not likely to cause any real damage, especially if wiped up relatively quickly. That means you can have peace of mind in every room—a huge relief over that spilled glass of orange juice.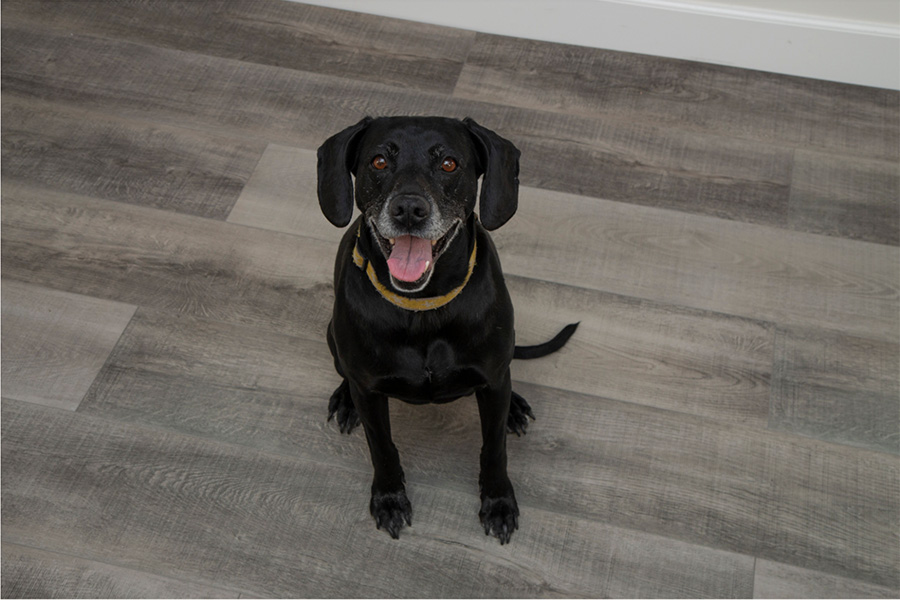 Tips to Maintain Waterproof Flooring
A good indicator of a well-maintained waterproofed floor is the preservation of its shine and even luster. It is one thing to keep the floors clean, but it is another thing to have a clean floor that looks just as good as it did the day it was installed.
Low Impact Cleaning
Use soft, low-impact cleaning techniques and ditch those heavy-duty, abrasive cleaners. You will need to invest in a microfiber cloth, a soft mop, and a soft bristle broom. Make it a habit to sweep or vacuum, and mop every week to maintain your waterproof flooring.
Doormats
Doormats are a simple way to maintain waterproof flooring by preventing dirt and debris from tracking into your home. Your pet's paws can easily bring in mud and dirt, and the same is said for shoes. Place a doormat outside and inside your entryways to catch dirt before it enters the house.
Use the Right Tools and Cleaners
Sometimes all it takes to keep your floors looking nice is to use the right cleaning tools. For waterproof flooring, you will want to use a mild cleaning solution when mopping or wiping away spills. If using a vacuum, turn the beater brush off and ensure it is set to the floor setting.
Tips to Clean Waterproof Flooring
Try to infuse regular floor sweeping into your household chore list. Regularly sweeping the floors and then wiping them with a dry microfiber cloth will prevent dust, dirt, and debris from accumulating. Dirt and dust that gathers on the floor's surface can become compact and stick to the floor if exposed to moisture or water. This makes cleaning a more time-consuming task. So, it is best to just sweep dirt away while it is fresh.
After sweeping or vacuuming away loose dirt and dust and then getting in tight spaces with a dry cloth, mop the floors. Use a damp mop or Swiffer Wet Jet paired with a mild cleaner recommended for vinyl flooring to mop the floors evenly. Remember NOT to use a soaking wet mop or leave visible puddles of water on the floor.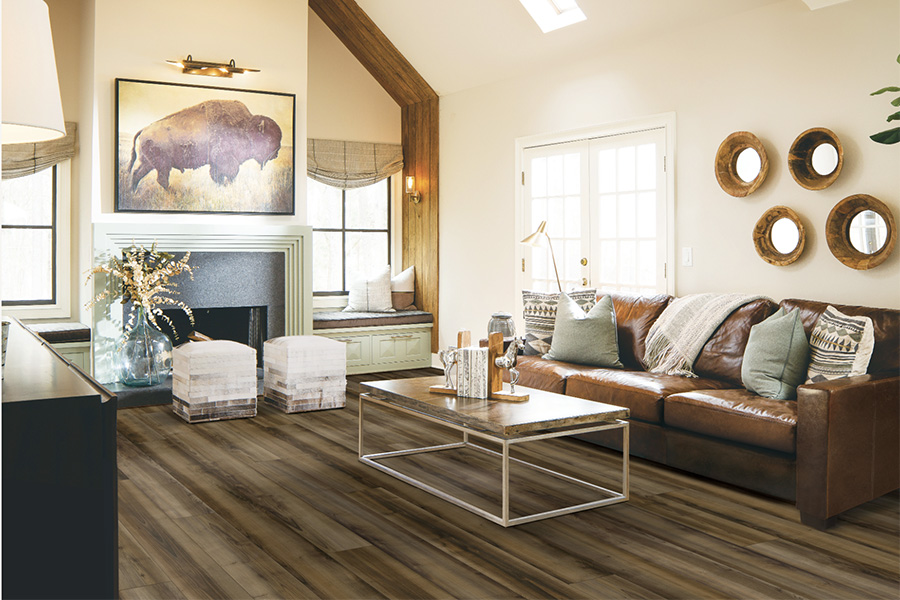 What to Avoid When Cleaning or Maintaining Waterproof Flooring
Take a look at these final tips and things you should avoid when maintaining waterproofed floors:
Do not apply wax to the floor's surface if it is vinyl. 

Do not drag furniture across the surface without using felt pads. 

Do not leave spills on the floor; soak them up with a towel or mop immediately. 

Do not allow direct sunlight to hit your vinyl flooring for too long; use curtains in areas to limit the floor's exposure to UV rays. 

Do not use highly saturated wet mops when cleaning. 

Do not use abrasive cleaners, ammonia-based cleaning products, bleach, or scrubbing pads. 

Do not use rubber doormats that can stick to the floor and cause stains.
Get Better Waterproofed Floors With Less Hassle
Whether you've decided to give vinyl floors a try or if you still have questions, our team of flooring professionals at any of our  San Diego, CA, locations can assist you through the process. While you're here, take a moment to also learn about our purchasing process that will take you from initial consultation to shopping to installation. 
Contact us at Coles Fine Flooring today to have your questions answered or to start browsing samples.