Install luxury vinyl plank flooring over your existing tile floor with ease by following these tips.
Are you tired of your tile floor and find yourself craving the soft look and feel of hardwood? You can achieve that reality with a little help from luxury vinyl plank flooring. Install LVP flooring over existing tile floors to transform your space without breaking more than a sweat. 
Luxury vinyl planks are a much more cost-effective alternative to real hardwood flooring. Plus, it comes without added maintenance and routine care that is synonymous with real wood floors. Since LVP is easy to install and requires minimal upkeep, this is the perfect option for DIYers who are itching to take on a home project that won't leave them throwing their hands up in the air in defeat. 
Another reason you may want to swap your tile for luxury vinyl is the latter material's waterproof and scratch-resistant nature. The higher the vinyl wear grade, the more scratch resistant your floors will be against pet claws, furniture scrapes, and general foot traffic. In comparison, natural wood or stone tile is far less scratch resistant, and natural wood does not take kindly to water. 
While many floor replacements may require hours of tedious prep, laying down LVP on top of tile forgoes strenuous prep work. Not to say you won't have to prep your floors, but it is a lot easier than you think. Let's dive into the how-to. 
Wait – Check Your Subfloor Condition 
The subfloor is the foundation of your floor that provides a base to support and hold the visible flooring you walk on. Your home's subfloor could have dips, cracks, or minor imperfections that will impact the integrity of your LVP over time and potentially nullify the manufacturer's warranty. 
You can often spot significant issues in your floor without ripping up the top surface layer. For example, is there a visible crack running along the room's length, or do you find yourself feeling taller on one side of the room? If you answer yes, you will have to address the elephant in the room before even considering installing new flooring.
Additionally, the condition of your existing tile is just as important as the subfloor's condition.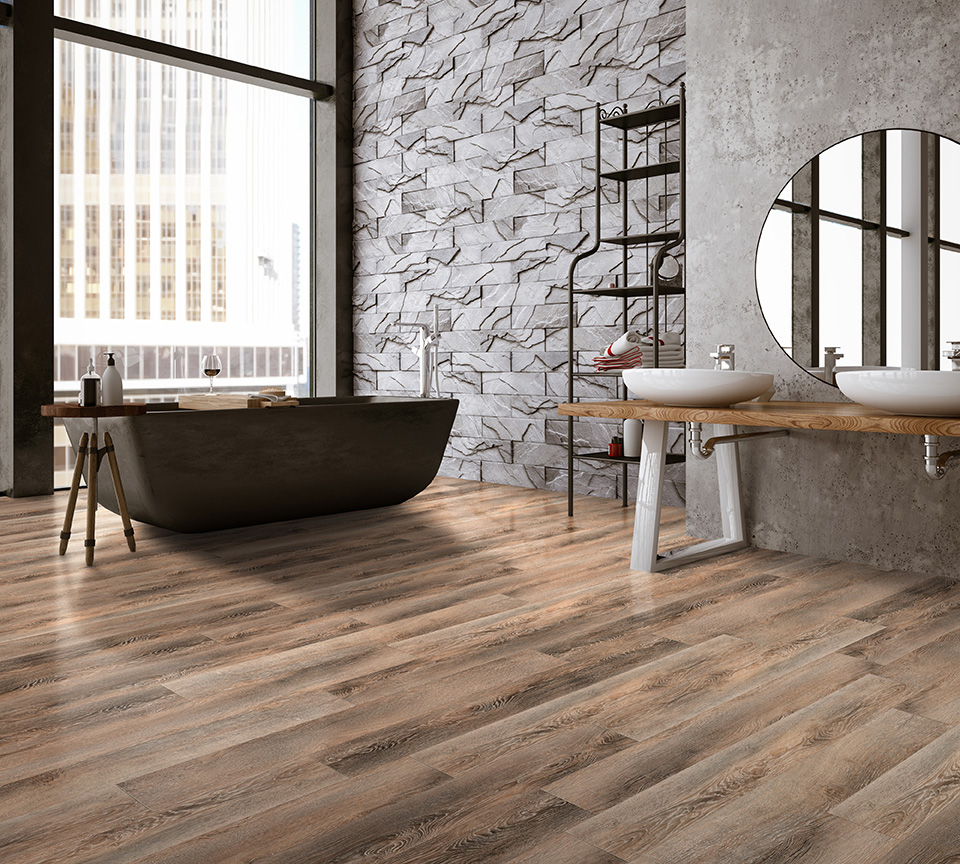 Prep the Floor to Install LVP 
Take a good look at your current tile floor. Is it in good condition? In order to provide a durable and stable base for luxury vinyl planks, there should be:
NO dips, 
NO chips, 
NO cracks in the tile's surface

. 
You should also replace any missing tiles to prevent spaces that "give" under pressure. 
The height of the planks compared to the height of the tile is a very important consideration, too. Measure the height of your chosen planks by laying them on top of your tile floor. You want to do this as part of the prep phase to ensure the final result will be the right height. For example, will you still be able to open and close doors easily, or will the door catch on the planks because, now, your floor is too tall? What about low cabinets? This is a small detail, but it is critical. 
Next, take a look at the baseboards in the room. You will have to remove all baseboards before installing LVP over tile. Set them to the side because you will reapply the baseboards after installing the planks to completion. To remove the baseboards, use a putty knife or box cutter and cut along the seam to break it away from the wall. Then, take a pry bar and hook it behind the baseboard, gently pulling it off the wall in one piece. 
Then, prep the tile's grout lines. This step in the prep phase varies based on the depth, spacing, and severity of the grout lines between each piece of tile. In case you need to level out the grout to create a smooth and even surface, you can follow two different procedures. 
Use a leveling compound to fill the grout lines and create a smooth, even, leveled surface. 

Install underlayment on top of the existing tile floor before laying down the LVP. 
Either option will prevent the luxury vinyl from settling into the grout lines. 
Finally, clean and dry the tile floors to remove any dirt, dust, and debris from every nook and cranny.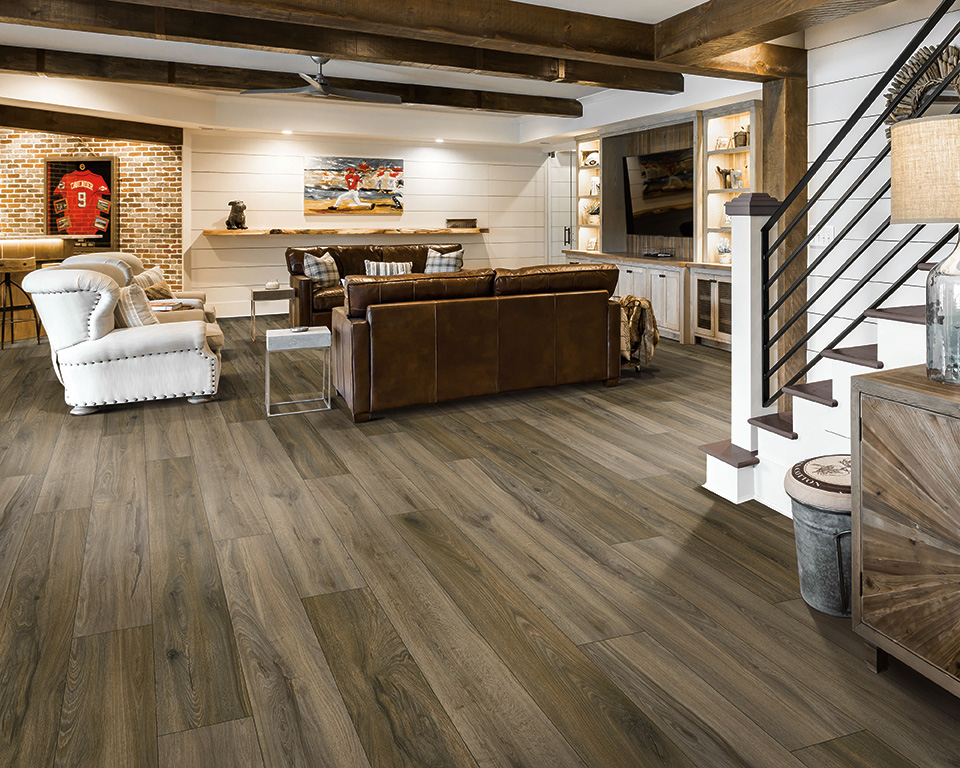 How to Install Luxury Vinyl Planks Over Tile Flooring
Now comes the part you've been waiting for: installing luxury vinyl planks over your tile floor. Thanks to LVP's snap-and-lock installation process, you only need to follow a few steps. 
First, consider which direction you want the planks to run. For example, you may want to lay the planks parallel to the longest dimension to create an illusion of a larger room. After you've decided, start at one corner against the wall and begin laying down the planks, snapping each plank together to lock the flooring in place. If you notice gaps between the planks, take a hammer and give the planks a tap to push them snug together.
Keep in mind that you may have to trim some planks so they can fit around built-ins, piping, vents, etc. Take careful measurements and cut the planks to size with a table saw. The saw will also come in handy when you reach the ending rows because you will need to cut off the locking tongue from the end of the planks that touch the wall. 
Finally, reapply the baseboards and wrap up your DIY project by installing molding in the doorway to create a seamless transition from this room to the next. 
Get Better Floors With Less Hassle
Whether you've decided to give vinyl floors a try or if you still have questions, our team of flooring professionals at any of our three San Diego, CA, locations can assist you through the process. Contact us at Coles Fine Flooring today to have your questions answered or to start browsing samples.