In today's day and age when most people are living a busy lifestyle, selecting flooring that fits your lifestyle can be challenging. Add cats and dogs into the mix and you can find yourself in a pickle wondering about what type of carpet is good for pets. If that's the case, Coles Fine Flooring has got your back – as your local flooring experts we are determined to help you find the best flooring that fits your lifestyle and budget! Learn more about what type of flooring is ideal for withstanding the rigors of pets and what type of flooring you should consider avoiding.
Nylon carpet is an ideal choice for pet-friendly carpeting due to three main characteristics:
durability
fade resistance
stain resistance
The synthetic fibers of nylon carpet are tightly woven together and can withstand frequent use under any condition including weather, spills, accidents, and pet urine, making it easy to clean and maintain. Its stain-resistant properties mean that it will resist being impacted by the accidents that can occur with our pets.
Since nylon flooring is a synthetic material it is typically more affordable than natural materials such as wool. The tight weave of the synthetic fibers is also much less likely to trap fur and dander, making vacuuming and maintenance easier. This type of flooring is available in a wide variety of colors and styles so finding the perfect one for your taste and home décor needs while still being able to protect your carpet from pet fur, dirt, and stains will be easy!
Ultimately, if you are looking for pet friendly high performance flooring that is both durable and affordable, nylon carpet might be the way to go as it traps less dirt and fur and, in turn, means that maintaining the beauty of your carpets for years to come will be a breeze.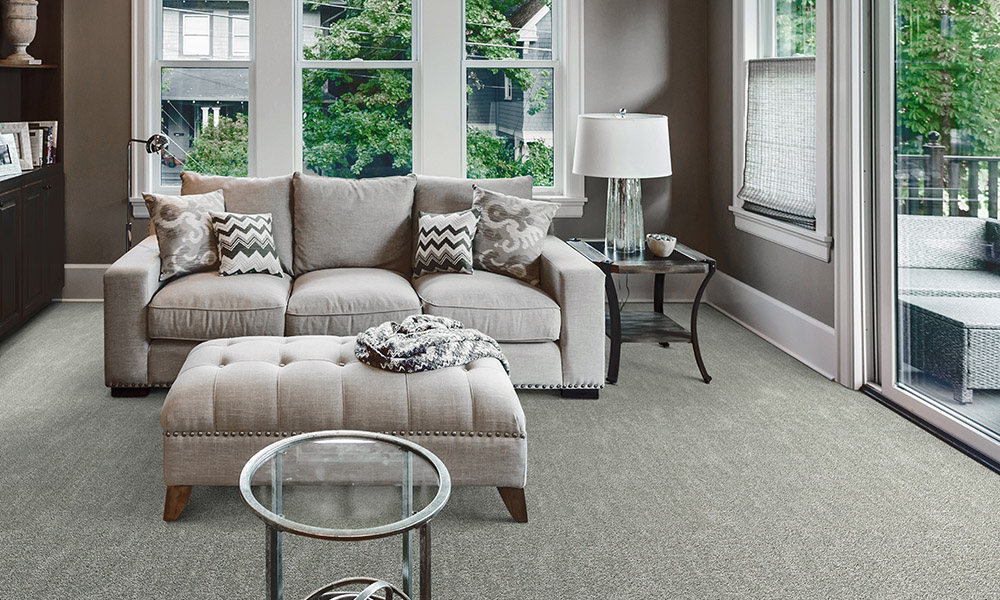 Another fine selection when looking for pet friendly flooring is to invest in wool carpet which is made of natural material that is known for its softness and luxurious feel. Wool is more resistant to wear and tear than other materials such as its countertype, inexpensive synthetic fiber flooring, making it an ideal choice to stand up to your busy life. The benefit of wool carpets lies in the inherent properties of its natural fibers. The tight weave of the natural fibers gives it a high degree of durability while the natural oils make it highly stain resistant and help to repel moisture, giving you peace of mind that any spills or accidents will not sink into the fibers as easily as they would with other materials.
Finally, wool is naturally fade-resistant so that UV rays or direct sunlight will not discolor or dull the colors of your carpets over time which is doubly important in households with pets since any stains or odors may be more noticeable in faded carpets.
Also, when compared to other types of flooring, wool has superior insulation properties which helps keep your home warm during winter months and cool during summer months—making it energy efficient as well as comfortable!
Thanks to advances in technology, wool is now available in a wide variety of styles and colors so you can find the perfect one for your home décor needs without sacrificing its pet-friendly properties.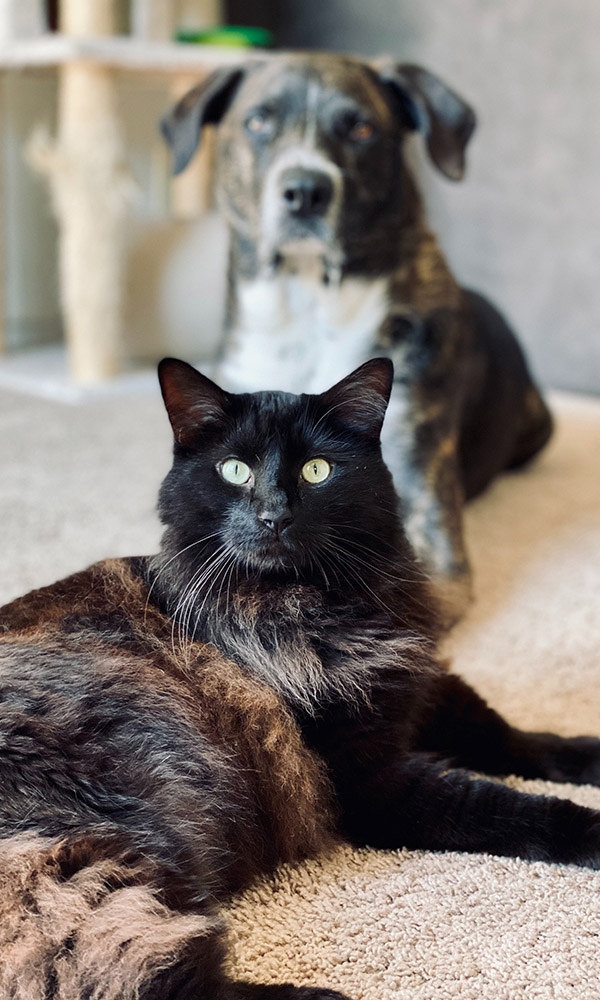 Avoid inexpensive synthetic fiber
It may be tempting to save some money and go with a cheaper flooring option, such as inexpensive polyester synthetic fiber, but these inexpensive options are not as stain resistant or fade resistant as their wool and nylon counterparts. While these cheaper synthetic materials are commonly used in carpeting, they are not ideal for households with pets because they are made of soft fibers that are easily damaged and worn down by pet nails, claws, and frequent traffic. The soft pile of these carpet types are also more likely to trap fur and dander that is difficult to remove with regular vacuuming making it problematic for households with multiple pets as the fur and dander will accumulate quickly. Pet dander is also a major allergen so those who are allergic may have difficulty living in or visiting a home with cheap synthetic fiber carpets.
If all of that doesn't convince you, trust us when we say that these synthetic options are less fade-resistant than wool or nylon, so direct sunlight or UV rays may cause discoloration or fading over time. This is especially important for pet owners since any stains or wear and tear may be harder to conceal if the colors are faded or dulled from too much exposure to sunlight.
What type of flooring should you choose?
If you're looking for pet friendly flooring we will always recommend nylon carpet or wool carpet due to their higher level of longevity and fade resistance which helps keep your carpets looking beautiful longer! Talk to a Coles Expert today!