Armstrong Laminate Flooring

Armstrong Laminate Flooring looks like the real thing. With distinctive grain patterns and authentic textures Armstrong creates realistic looks with the dramatic beauty and design sophistication that has come to define their flooring collections. They are durable affordable, and easy to install anywhere in your home – that's the real beauty of Armstrong laminate floors.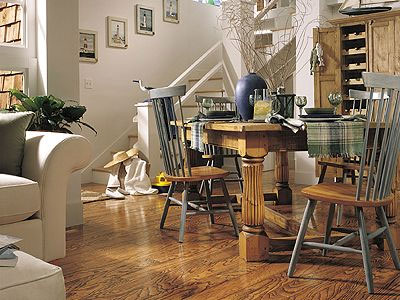 Armstrong Laminate's Durable Construction
Laminate flooring has four layers: a wear layer, a design layer, an inner core layer and a backing layer.
Wear layer – the clear top layer that protects the floor from stains and fading.
Design layer – a photographic image of wood, stone, brick or ceramic that creates the illusion of real wood or stone.
Inner core – high density fiberboard to provide impact resistance.
Backing – to reinforce & provide structural stability.
This layered construction makes laminate floors remarkably durable.
How Armstrong Laminate Offers A Realistic Look
EMBOSSING IN REGISTER (EIR)
Embossing in register is a manufacturing technique used to create a grain consistent with the photographic image on the laminate board.
Benefits of EIR
Increases depth, texture and the natural look of the floor
Emphasizes the design; especially when light is reflected off the surface
Allows for micro-grout lines and precise detailing